French Crews To Resume Efforts At Dawn To Reach Germanwings Wreckage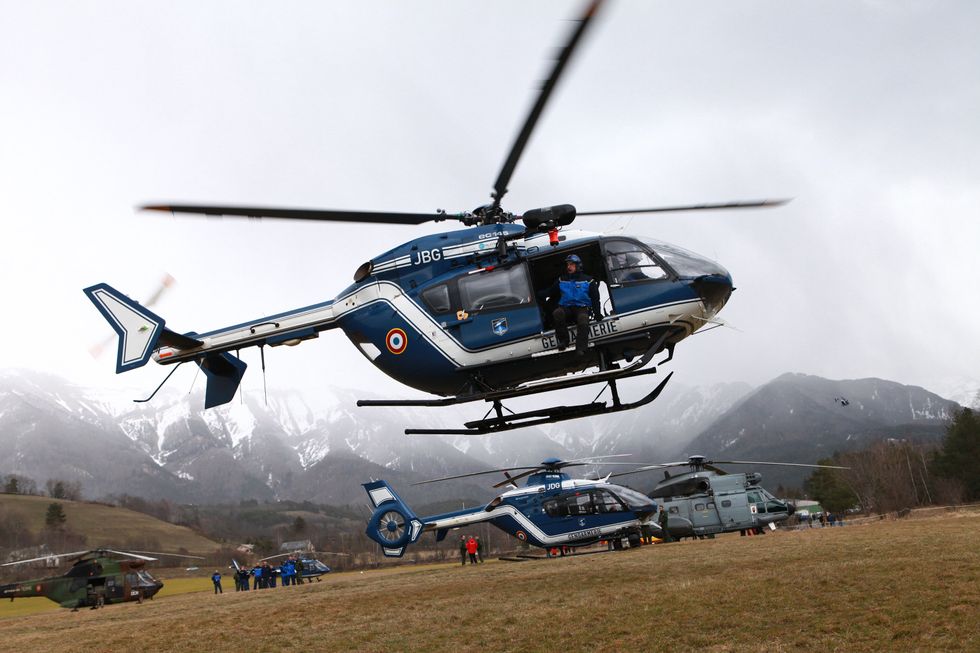 By Jessica Camille Aguirre, dpa (TNS)
PARIS — Search crews planned to resume helicopter flights around dawn Wednesday to remote mountainside in southern France where a Germanwings Airbus A320 crashed after a rapid descent, likely killing all 150 people aboard.
The crash, one of the deadliest aviation disasters in German history, occurred in apparent good weather Tuesday near the town of Prads-Haute-Bleone, in the French Alps.
Authorities said it was considered an accident, and German security officials told dpa there was no evidence of terrorism.
There were 144 passengers and six crew members on Flight 4U 9525, which was travelling from Barcelona, Spain, to Dusseldorf, Germany.
Germanwings is the budget carrier owned by Lufthansa.
After a helicopter tour before nightfall, German Foreign Minister Frank-Walter Steinmeier called the crash site a "picture of horror."
Police hoped to resume helicopter missions by 6 a.m. to shuttle crews to the inaccessible valley where jet's wreckage was strewn across steep terrain. Another team of about 65 rescue workers were climbing to the site on foot.
Prime Minister Manuel Valls said that the remote location and subsequent rain were slowing rescue workers, who might need days to recover victims' remains.
The 24-year-old Airbus had experienced a technical problem with its nose landing-gear door on Monday morning, a Lufthansa spokeswoman confirmed. The problem involved a hatch that opens and closes when the nose landing gear is deployed and was solved through a routine repair, the spokeswoman told dpa.
Lufthansa Chairman Carsten Spohr called Tuesday a "dark day" in a tweet: "My deepest sympathy goes to the families and friends of our passengers and crew." He said the aircraft was in "excellent" condition.
French Interior Minister Bernard Cazeneuve said a flight recorder had been recovered from the site and was handed over to investigators for analysis. Some 380 firefighters, 300 soldiers, 12 helicopters and a military plane have been deployed in the recovery efforts.
French President Francois Hollande called German Chancellor Angela Merkel to express condolences, and Spanish Prime Minister Mariano Rajoy said he also spoke with Merkel. The three leaders were due to travel Wednesday to the crash site.
Three days of mourning started Wednesday in Spain.
"I lament, as we all do, this sad and dramatic accident," Rajoy told journalists.
Images from the site showed obliterated aircraft wreckage strewn along a mountain face at an altitude of 6,500 feet.
"There are bits of debris, nothing more than tiny pieces," mountain guide Jean-Louis Bietrix, who accompanied searchers, told broadcaster BFM-TV. "The plane disappeared completely."
Officials said initial counts indicated that there were at least 67 German citizens and 45 Spaniards on board, as well as one Belgian.
Among those on the plane were 16 students and two teachers from the Joseph Koenig High School in the western German city of Haltern. The students, ages 15 and 16, had been on a one-week exchange program to Barcelona.
Opera singer Oleg Bryjak, 54, was a passenger, the Dusseldorf opera said. He was returning to Germany after performing the bass baritone role in Richard Wagner's "Siegfried" in Barcelona.
The Danish Foreign Ministry said one Dane was on the plane.
Australian Foreign Minister Julie Bishop confirmed that a woman and her adult son from Victoria state were on the flight.
In Israel, there were media reports that a 39-year-old Israeli businessman was aboard.
Flight 4U 9525 was scheduled to depart Barcelona's El Prat airport at 9:35 a.m. but was delayed until 10:01 a.m. It was scheduled to land in Dusseldorf at 11:55 a.m.
Germanwings Chief Executive Thomas Winkelmann said the aircraft reached its regular cruising altitude of about 39,000 feet at 10:45 a.m. but after one minute it left that height. He said the plane went into a steep eight-minute descent before hitting the ground.
French air traffic controllers lost contact with the airliner at 10:53 a.m. at an altitude of about 5,900 feet.
The French civil aviation authority said the crew had not sent out a distress call. Instead, an air controller sent one after losing contact with the aircraft.
(c)2015 Deutsche Presse-Agentur GmbH (Hamburg, Germany), Distributed by Tribune Content Agency, LLC
Photo: Rescue helicopters and a rescue team from the French Securite Civile fly over the French Alps during a rescue operation after the crash of an Airbus A320 near Seyne-les-Alpes, France, on Tuesday, March 24, 2015. (Julien Tack/Abaca Press/TNS)