Fresno ranks No. 1 on California pollution list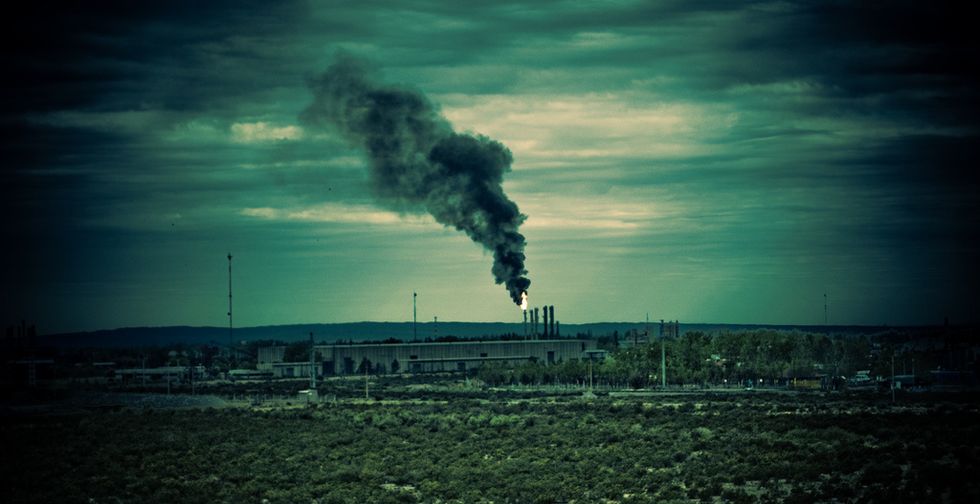 By Diana Marcum, Los Angeles Times
FRESNO, Calif. — California's new effort to map the areas most at risk from pollution features hot spots up and down California.
But nowhere are there more of the worst-afflicted areas than in Fresno — in particular a 3,000-person tract of the city's west side where diesel exhaust, tainted water, pesticides and poverty conspire to make it No. 1 on California's toxic hit list.
"I'm looking at this map, and all I see is red. We're right here," Daisy Perez, a social worker at the Cecil C. Hinton Community Center, said as she located the center of the red areas that represented the top 10 percent most-polluted census tracts in California. "It's so sad. Good people live here."
Pollution has long plagued the Central Valley, where agriculture, topography and poverty have thwarted efforts to clean the air and water. The maps released this week by the California Environmental Protection Agency show that eight of the state's 10 census tracts most heavily burdened by pollution are in Fresno.
For residents of the state's worst-scoring area, statistics tell only part of the story of what it is like to live there.
It's a place where agriculture meets industry, crisscrossed by freeways. The city placed its dumps and meat-rendering plants there decades ago.
Historically, it was the heart of the city's African-American community. The Central Valley's civil rights movement was centered in its churches. People referred to it as West Fresno, which meant a culture as well as a place.
These days, young community workers call it by its ZIP Code — the "93706 Zone."
It's home to a Latino community — the children and grandchildren of migrant workers; to Hmong and Cambodian farmers; and to a minority African-American community that includes those desperate to leave, and an old guard of those who say they will never abandon home.
"The voice of the community is still black. Because we're the ones who now have the wherewithal and time to speak," said Jim Aldredge, who took over running the community center when the city cut its budget. "Look, when you're just trying to survive, you don't have time to go before City Council and all that. Pollution data is the farthest thing from your mind when you're looking for your next meal."
Aldredge grew up in West Fresno and worked in city government for 20 years, once as city manager. He can point out better than most the stories literally buried beneath the landscape.
There's the grassy hill — just a mound, really — that constitutes Hyde Park, which was once a dump. Not a landfill, but an old-time dump where people took trash and tires to be burned.
The city is careful to keep the grass green on top of the mound, and a study done before building started on the new junior high school found the land no longer contaminated by chemicals that had seeped into the ground.
Across the street is an animal rendering plant, a chicken plant and an electric substation.
In front of the plants are fields of strawberries, giving way to orchards of pistachio and fruit trees.
This area ranks in the 90th percentile for pesticide applications, according to the state.
"But we don't talk about the pesticides," Aldredge said. "The agricultural folks are so strong."
On Tuesday, a bright blue day, a breeze kicked up dust devils in a wide open field of dirt across the street from a housing tract.
This was where Donald Trump once planned to build a golf course designed by Jack Nicholson, surrounded by country club homes. Now it is dust. Fine particulate matter is one of the leading causes of air pollution in Fresno during the winter months.
The most controversial industry in the area is the Darling International meat processing plant.
A vocal group of residents led by Mary Curry, who lives downwind from the stench, maintains a strong public outcry.
According to the Cal/EPA data, the nearby Cargill rendering plant actually releases more pollutants into the air than the Darling plant.
But there is no organized push against that plant, which sits near the intersection of two freeways in the census tract, known as Edison, with the most health risks in all of California.
The new data — the first of its kind in the country — looks at a community's level of education and ability to communicate with the power structure as well as environmental factors.
When Aldredge was a teenager — a standout baseball player intent on leaving West Fresno behind — he would walk by tallow plants with dead horses and cows outside and a slaughterhouse that always smelled.
"I don't know that I even knew different," he said. "It was just the way things were."
On Tuesdays, when the community center gives out food, part of Daisy Perez's work is to ask residents what they like about their neighborhood and what bothers them.
"They always say that they like that it's quiet. People like the country feel and the community feel," she said. "But they always complain about headaches, especially when the wind blows. They think it's the smell from the meat plants or maybe the pesticides."
A breeze carried a smell from a meat rendering plant. Perez said she found it a choking stench and had to fight a gag reflex.
Shakur Tyson, 14, who goes to school and works at the center, said at first he didn't smell anything.
Then he said he was starting to notice a bit of a smell.
"I'm just used to it. I guess," he said. "It's the way things are."
Flickr via Agustín Ruiz