From Front-Row Seat, Israeli Town Cheers Assault on Gaza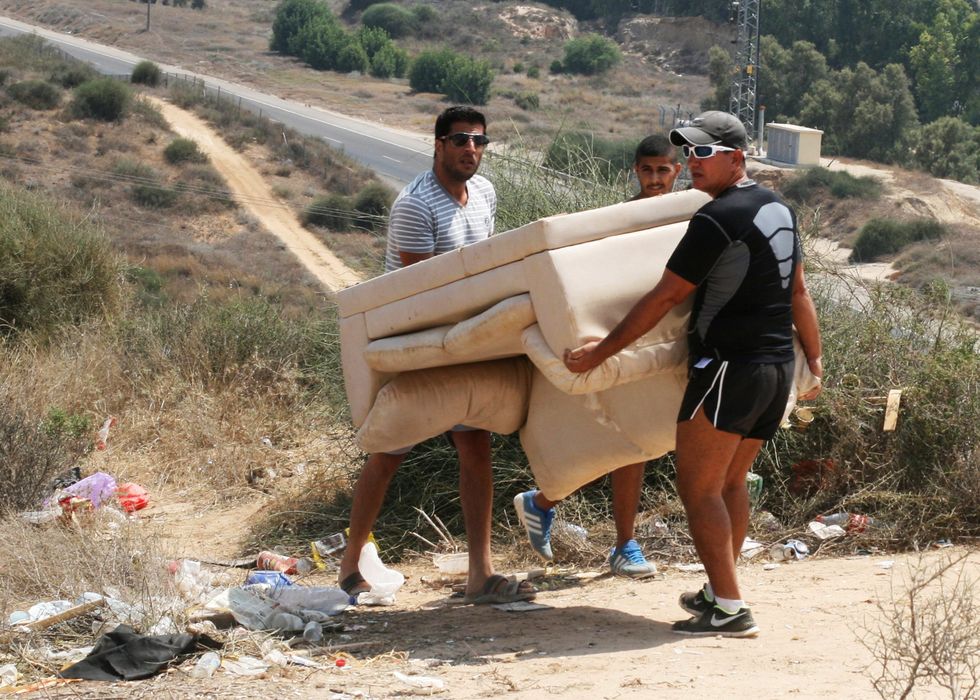 By Daniella Cheslow, McClatchy Foreign Staff
SDEROT, Israel — Dragging a sofa up a hill, residents of Sderot and other curious Israelis prepared for yet another night of watching their army bomb targets in Gaza during what the Israelis have dubbed Operation Protective Edge.
This town of 25,000 has borne the brunt of rockets fired from Gaza since 2001. Every bus stop is a concrete bomb shelter. Every school is built with reinforced concrete. During the current operation, residents have had to dash to bomb shelters throughout the day — sometimes 10 times, city council member Elad Kalimi said.
During this operation, there have been no civilian deaths in Sderot, but several close calls. One rocket hit a home Monday morning. Another had hit a home July 3. Residents avoided harm in both cases because they'd fled to bomb shelters. When they emerged, they found their ceilings collapsed, cracks in the walls, and shrapnel lodged in the sides of their homes.
The constant wail of sirens has pushed locals to enthusiastically back the Israeli military operation in Gaza. Signs outside Sderot urge cutting off electricity to Gaza. Other banners read, "The Home Front supports the Battle Front." Military vehicles rumble by on the highway to Gaza, and tank fire from Israel to Gaza thuds throughout the night.
Elraz Azran, 37, said business had plunged at his restaurant in central Sderot, but he keeps it open to show a sense of routine. Nonetheless, every time he drives his scooter to the restaurant, the rockets are on his mind.
"When you drive in the road you always think about the next bomb shelter," he said.
His younger son wets the bed with fear and has developed a blinking tic every time the rocket siren goes off.
That Israeli civilian deaths from Hamas rocket fire total two compared with hundreds killed by Israeli strikes in Gaza doesn't make it any easier to live with the threat of rockets.
"It's always on your mind," Azran said.
Sderot was founded in 1951 as a tent camp for Kurdish and Iranian Jewish immigrants. It's a relatively poor town, far from the economic center of Tel Aviv. It's less than a mile from Gaza.
Rocket fire has degraded life in the city so much that in December 2007, then-Mayor Eli Moyal stepped down to protest what he said was the Israeli government's failure to stop the firings. He returned to his post days later at the request of then-Defense Minister Ehud Barak.
Sderot has become a site of pilgrimage for Israelis, both volunteers and voyeurs. On Monday, religious volunteers with the Chabad organization assembled care packages for Israeli soldiers just outside the town. Others clambered onto the hilltops outside the city for a better look at the bombing of Gaza.
Nationalist feelings in Sderot are running high, and with them anti-Arab sentiment. On Monday, a wall in Sderot was sprayed with "Death to the Arabs." Someone etched in the dust of a van on the lookout hill, "Death to leftists" and "Kahane was right," a reference to the late Meir Kahane, who advocated expelling Arabs from Israel. A convoy of cars flying the flags of the Beitar Jerusalem soccer club honked through the streets. Beitar's fans are notoriously anti-Arab, and some fans screamed anti-Arab epithets, encountering little resistance.
This atmosphere is making a few people in Sderot uncomfortable. Nomika Zion is a member of Other Voice, an organization that advances dialogue between Israelis and Gaza residents. She spoke on the hilltop outside Sderot. The tank fire made her jumpy, and she imagined a siren alerting to incoming rockets.
"We always use military force to resolve this problem, and we always end up in the same place, maybe more and more destructive," Zion said. "But I think we have to be pragmatic. … We have to negotiate with Hamas, because any other alternative will be much worse."
Other Israelis on the hill overheard her.
"We hope Hamas digs a tunnel and gets to your house," one said.
"They should blow you and your children up," another said.
"I am a victim of shock and anxiety, and I suffer a lot," Zion responded. "But I can't stop thinking about what we do in Gaza and what we are responsible for."
Cheslow is a McClatchy special correspondent.
Photo: MCT/Daniella Cheslow
Interested in world news? Sign up for our daily email newsletter!