If You Use One Of These Banks, You're Helping Fund The Dakota Access Pipeline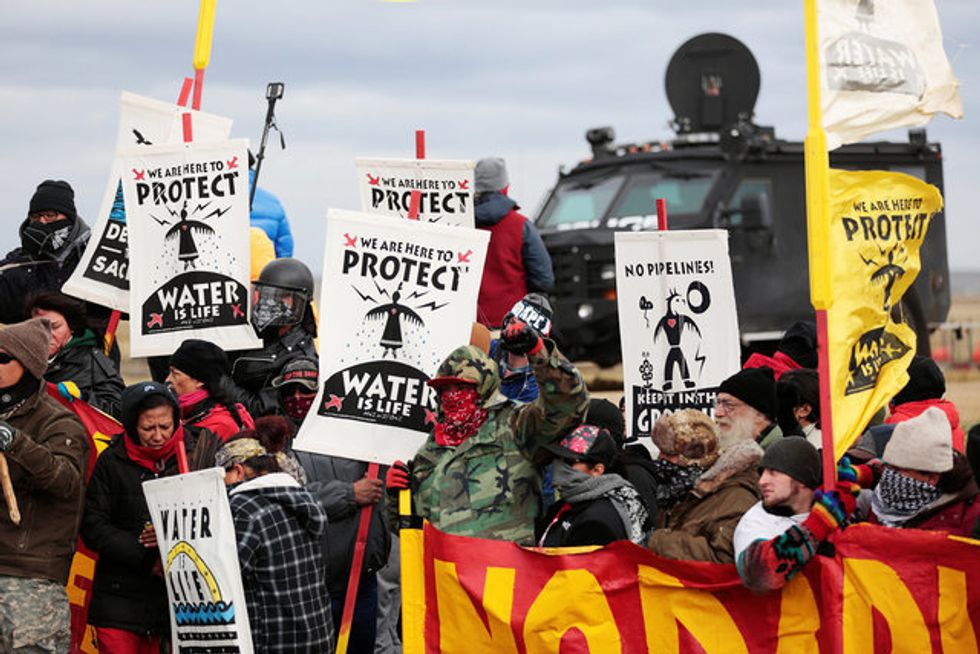 Reprinted with permission from AlterNet.
At a recent Standing Rock benefit in New York City for opponents of the Dakota Access Pipeline, co-hosts Mark Ruffalo and Josh Fox were clear about what people should do if they want to help stop the pipeline: Take your money out of the banks that are funding it.
Fox, an Academy Award-nominated filmmaker whose 2010 documentary Gasland helped launch the anti-fracking movement, called Wells Fargo, Chase, CitiBank, TD Bank and Bank of America "the biggest fracking sites that we have." But they're not the only ones: 17 banks are directly funding the pipeline, having given a total of $2.5 billion to Dakota Access LLC, the subsidiary of Energy Transfer Partners developing the pipeline. In addition, according to research conducted by Food & Water Watch, the companies involved in building the pipeline have been extended a credit line of $10.25 billion from 38 banks.
The 17 banks are Bank of Tokyo-Mitsubishi UFJ, BayernLB, BNP Paribas, BVA Securities, Citibank (CitiGroup), Credit Agricole, DNB Capital, ING Bank, Natixis, Intesa SanPaolo, ICBC London, Mizuho Bank, SMBC Nikko Securities, Societe General, Sun Trust, TD Bank and Wells Fargo.
The graphic shows which banks are involved in funding the entire Bakken pipeline.
Image © Foodandwaterwatch.org (click to enlarge).
If completed, the $3.8 billion, 1,172-mile pipeline would transport 500,000 barrels of crude oil every single day from the Bakken oil fields in North Dakota south to Illinois en route to terminals in the Gulf of Mexico.
Mark Ruffalo, an actor and activist who was instrumental in the successful movement to ban fracking in New York state, was confident that withdrawing money from pro-pipeline banks is a successful strategy. "This is real. We can stop this pipeline by doing this," he told the benefit attendees, who were gathered at Deepak HomeBase, at ABC Carpet and Home in downtown Manhattan. "You want to know how we can stop it? We stop it by doing this. This is the soft, gooey underbelly of the beast, of the black snake. The more pressure we put on them financially, the harder it is to move forward. It doesn't mean a damn thing what Trump does."
Last month, the U.S. Army Corps of Engineers announced it would not grant the final permit the Dakota Access Pipeline needs to be completed. Instead, officials said, an environmental impact review will be conducted to investigate the possibility of routing the pipeline in a way to prevent it from crossing the Missouri River. While the decision is a big victory for the Standing Rock Sioux tribe and its allies, who say the pipeline threatens drinking water supplies, proponents of the pipeline have a powerful ally in President-elect Donald Trump, who said he supports its completion. But without funding from banks, the pipeline is endangered.
But it's not only the pipeline that the banks—and possibly your money—is funding. Fox connected that money to the official violence being committed against the peaceful Standing Rock protesters and the environment at large. If you've got money in these banks, "you've got rubber bullets in the bank account that are being shot at these people, you've got tear gas that is being sprayed at the water protectors. You've got concussion grenades being hurled at your fellow New Yorkers. That's what's in the bank. You have an oil spill happening when you put that ATM card in. That has become an act of violence. That is our system."
Tokata Iron Eyes, a 13-year-old water protector who came to New York for the benefit, asked attendees to be vocal about taking their money out. "When you are pulling your money from the banks, be sure to be public about it because we need that message to spread. … They're paying for the traumas and the atrocities that children have to witness. I've had to see my mom be arrested, taken away from me. I've had to see my aunts and uncles on the front lines being beaten and maced. That's something that no kid should have to see, but that's what these banks are paying for."
Fox suggested recording the event. "When you walk into the bank, and you have your livestream going from your iPhone or whatever, or you just take a selfie with your banker, and you say, I don't want my money to be supporting these pipelines. I want the bank here to know."
Ruffalo advocated a harsher tone, suggesting the following statement as you withdraw your money: "I'm taking every dime out of this bank if by the 21st, you guys haven't made a formal statement to take the money out of this brutal, bloodless, taking of our health and the health of our future generations."
The call to withdraw money from the banks follows a letter signed by more than 400 environmental, human rights and other social organizations from more than 50 countries demanding that the banks pull their financial support from the project. The campaign is working: More than $45 million has been divested from the Dakota Access Pipeline so far, according to the activist group DefundDAPL. And the figure continues to rise as more people withdraw their money.
In an article last year, 350.org founder Bill McKibben put it bluntly. He said that although "most Americans live far from the path of the Dakota Access pipeline," if you keep your money in one of these banks, "you inadvertently helped pay for the guard dogs that attacked Native Americans as they tried to keep bulldozers from mowing down ancestral grave sites." McKibben suggested that withdrawing money from these banks is more effective than campaigning against the companies building the pipeline.
"Many of these banks may be vulnerable to pressure," he said. "For one thing, they're eager to appear green: Bank of America, for instance, recently announced plans to make all its bank branches 'carbon-neutral' by 2020."
Instead of keeping your money in pro-fossil fuel banks, consider credit unions, which are nonprofit cooperatives that pool deposits so that members can borrow at low interest rates and generally invest in local projects. Another type of bank worth looking into is a community development bank, which often invests in socially responsible projects. In New York, Fox recommended Amalgamated Bank. If you're on the West Coast, check out Beneficial State Bank, which supports local communities and the environment. Native American Bank, which is run and operated by Native Americans, is another option. For a list of alternatives, check the DefundDAPL website.
Watch the video "Who's Investing in the Dakota Access Pipeline? Meet the Banks Financing Attacks on Protesters," by Democracy Now:
Reynard Loki is AlterNet's environment and food editor. Follow him on Twitter @reynardloki. Email him at reynard@alternet.org.
IMAGE: Dakota Access Pipeline protesters square off against police near the Standing Rock Reservation and the pipeline route outside the little town of Saint Anthony, North Dakota, U.S., October 5, 2016. REUTERS/Terray Sylvester