Funny Thing Is, Barack Obama's 'Between Two Ferns' Segment Works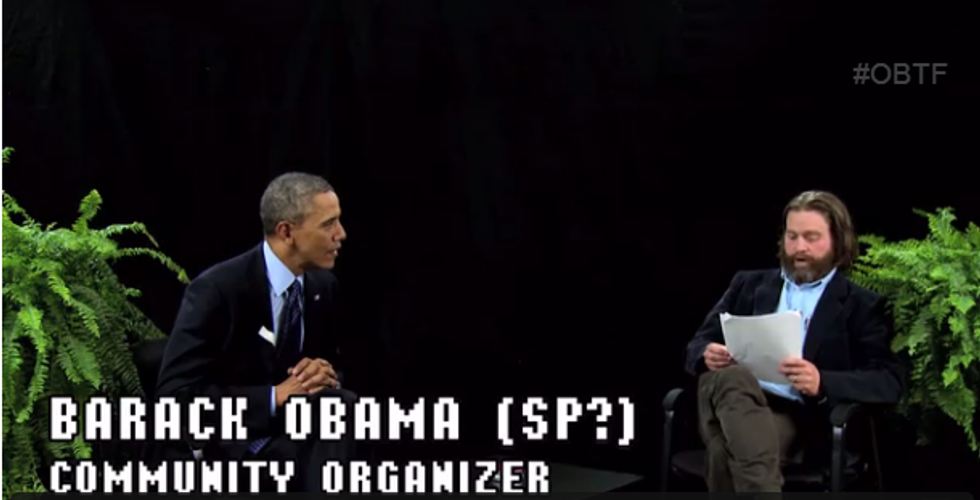 By Robert Lloyd, Los Angeles Times
Something historic happened in the early hours of Tuesday, March 11, 2014. The president of the United States was a guest on "Between Two Ferns With Zach Galifianakis," a highly occasional semi-fake talk show that lives on the website Funny or Die.
To say that Barack Obama has been no stranger to entertainment television is to put it mildly. He has done the late-night talk shows, guested on "MythBusters." Sunday night he introduced the rebooted "Cosmos."
But this was a step beyond, straight into the maw of the Internet — what some would still consider a disreputable backwater of the culture — to go one on one with a star of "The Hangover."
It was as if the leader of the free world had shown up one night to do a little improvisational comedy at the Upright Citizens Brigade.
Just as Willie Sutton famously robbed banks because "that's where the money is," Obama went to the Web to promote the Affordable Care Act to the people — the young people — who hang out there.
The choice of "Between Two Ferns," with its cable-access vibe, eight-bit graphics, halting pace and awkward, unprepared, inappropriate and antagonistic host seems an odd one, certainly, an unwelcoming or unseemly platform either for the president or his pitch.
But that is part of what makes it funny. And being funny is what makes it good.
Apart from the fact that it contains an actual public service announcement, it is also very much an episode of "Between Two Ferns," conducted in the same air of anomie and ironic contempt as always.
Galifianakis, after lamely apologizing for having twice canceled on him ("My mouse pad broke"), introduces Obama, as he has most guests, as if he is not quite sure who he is.
The identifying title reads "Barack Obama (sp?), Community Organizer."
For the first half of the six-plus-minute piece — pre-plug — the host asks questions that are sometimes whimsical ("So how does this work, do you send Ambassador Rodman to North Korea on your behalf?") but often satirically sharp: "I have to know — what is it like to be the last black president?"
Obama, who trades hit for hit throughout, replies, "What's it like for this to be the last time you ever talk to a president?"
"It must kind of stink though that you can't run three times?"
"If I ran a third time it would be sort of like doing a third 'Hangover' movie. It didn't really work out very well, did it?"

The exchanges, though hitting some clearly prearranged points, feel ad lib; the show is usually improvised.
Interestingly, Sonny Bunch, posting in the conservative Washington Free Beacon, criticized Obama for not understanding "the point of the show — the guest is not supposed to get in good zingers; he's supposed to be taken down a peg." In fact, Galifianakis, playing an idiot, is usually the one who looks bad.
The healthcare segment, though it was organized to impart information, maintained the passive-aggressive tone.
"OK," says Galifianakis halfway through the piece. "Let's get this out of the way. What did you come here to plug?" As Obama goes on to explain the program and its benefits to the young, Galifianakis checks his watch, "Is this what they mean by 'drones'?"
It is technically true that anyone can become president by the sweat of his brow or the luck of the draw. Nevertheless, even as, in good fun or ill will, we deride the office-holder — to be president is to be a sort of elevated punching bag — we invest the office with a mystical, even a holy power.
Before and to a great extent after his tenure, the chief executive is just another dude. But while he calls the White House home, he is subject to our expectations of what that means.
Just what the proper behavior is remains unclear. There is protocol surrounding the office, certainly, but nothing as definitive as, say, what delimits the behavior of British royals.
There is only what we imagine, and whether Obama's "Two Ferns" appearance will be seen as a bold stroke, a rash act or something tantamount to treason will depend largely on how one already feels about him.
Inevitably, it has been deemed "inappropriate," "tragic" and "desperate" by opposition commentators.
Whether or not the spot will be successful in its real-world aims, it was funny to me. And it seems to be the fact that, however much we mythologize the office, and claim insult on its behalf, we prefer our presidents life-sized and funny.
The last couple of election cycles have demonstrated that, for all hopefuls, the road to the White House leads through "Saturday Night Live," and I think that's fine. Whatever works, works.
Our leaders have all been guilty of worse things than participating in a skit.