Furious Trump Blasts Fox News Poll: 'I Don't Believe It'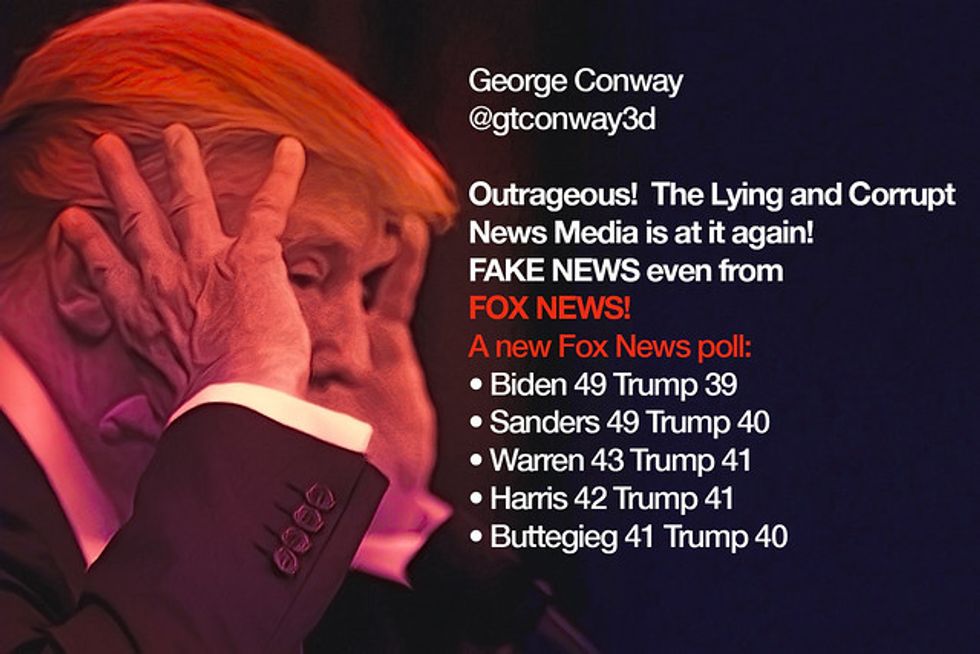 Reprinted with permission from Alternet
President Donald Trump is not happy about a new Fox News poll showing him trailing his potential Democratic competitors.
The recent figures showed him behind every major candidate in the 2020 race, failing to attain even 40 percent support when matched up against former Vice President Joe Biden, Sen. Bernie Sanders, Sen. Elizabeth Warren, or Sen. Kamala Harris:
And even on his own, Trump is unpopular.
"Overall, 56 percent of voters disapprove of Trump's performance, up from 51 percent in July," Fox News reported. "Record numbers of men (53 percent), white men (46 percent), and independents (64 percent) disapprove. His disapproval rating has only been higher once: 57 percent in October 2017."
When asked about these numbers, Trump rejected them outright — despite the fact that they came from his favorite cable news channel.
"I don't believe it!" Trump said. "I don't believe it. Every place I go, we have lines outside."
He then went on a rambling rant about how "we have phony stuff with that," suggesting that the size of his crowds is misrepresented. Of course, even assuming all his claims about his crowd sizes were accurate (he claimed the event space for his recent rally in New Hampshire said he "broke Elton John's record"), these facts are consistent with the scientific polling that shows Trump is unpopular nationally. First, this is because even widely unpopular people can still have devoted fan bases that make it out to their events; and second, Trump's rallies are specifically planned to target the places where his support is likely to be strong.
Watch the clip of his comments below:
REPORTER: A Fox poll has you underwater against the main Democra–

TRUMP: "I don't believe it. I don't believe it. Every place I go we have lines outside." pic.twitter.com/jRUrQYgZQ2

— Aaron Rupar (@atrupar) August 19, 2019