Gallup: Hillary's Supporters Are More Entusiastic Than Bernie's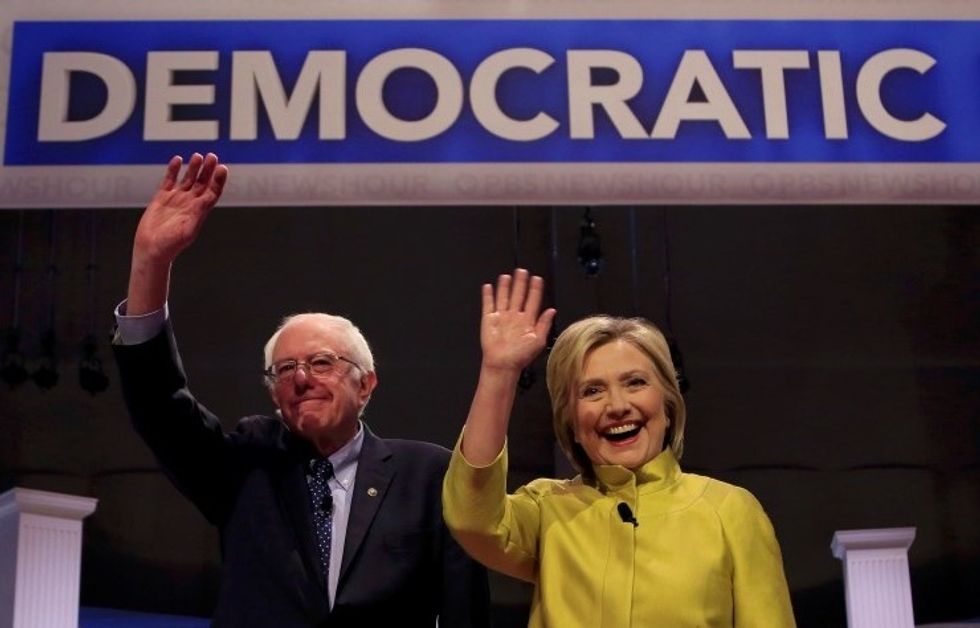 Don't believe your Facebook feed's pro-Sanders bias.
Bernie Sanders's fans are often portrayed as hyped-up youngsters infatuated with the Vermonter's long record of progressive legislation, and his passion for leveling out the economic playing field. In comparison, Clinton voters support the staid "establishment" – despite Clinton's being a trailblazer in nearly everything she's done.
Yet according to a recent Gallup poll, 54 percent of Clinton supporters are "very" or "extremely" enthusiastic about her candidacy, while the same is only true of 44 percent of Sanders supporters. While Bernie Sanders does dominate the under-30 vote, notably in Michigan and Iowa, his voters aren't more excited about him than Clinton's are about her.
Amanda Marcotte, writing for Alternet, argues that media bias could be clouding the real story:
It's not hard to see why this false narrative that Sanders inspires more enthusiasm has taken root. He is the challenger running up against the favorite, and it is known that everyone likes an underdog. That, and his surprisingly robust chances against Clinton suggest a rising tide narrative, again not unfairly.

On top of that, most journalists who echo the Sanders enthusiasm narrative spend a lot of time on social media, and if you do that, then it's safe to say that it looks like Sanders is inspiring a lot of enthusiasm. There is an explosion of memes and chatter about the "revolution" and sharing every single story they can find that says something positive about Sanders's chances.
It's not that Hillary doesn't have her own memes and pop culture moments — they just get lost in the sea of content, and are often drowned out by those who dislike her or her surrogates, whether pop confectionary Katy Perry, feminist punching bag Lena Dunham, or unexpected rabble-rouser Madeleine Albright. There's plenty of passionate prose about Hillary and how she's perceived, from sexism to the art of the smile.
On the Republican side, the contest isn't nearly as close. Although Donald Trump is revolting to millions of future voters, those who love him really love him. John Kasich and Ted Cruz are far more milquetoast to the Republican and Republican-leaning voters Gallup surveyed. Despite Cruz's reputation as an sharp-toothed constitutionalist, just 39 percent of those surveyed are enthusiastic about him, compared to Trump's 65 and Kasich's 33.
Democrats who are "not too" or "not at all" enthusiastic about their preference are nearly evenly split in their indifference to Sanders and Clinton, suggesting that they find the candidates similar, aren't paying much attention to the race, or simply want some Democrat to make it to the White House in January.
Cruz and Kaisch, by contrast, have much larger groups of supporters "not too" or "not at all" enthusiastic about them — 35 and 51 percent, respectively.
The survey was conducted via cellphone and landline interviews March 21-23 with a random sample of 1,358 registered voters (635 Republicans and independents who lean Republican, and 610 Democrats and those who lean Democratic). Voters were over 18 and lived in all 50 states including the District of Columbia.
Photo: Democratic U.S. presidential candidates Senator Bernie Sanders and former Secretary of State Hillary Clinton arrive on stage ahead of the start of the PBS NewsHour Democratic presidential candidates debate in Milwaukee, Wisconsin, February 11, 2016. REUTERS/Darren Hauck