Gallup Poll: Same-Sex Marriage Support At New High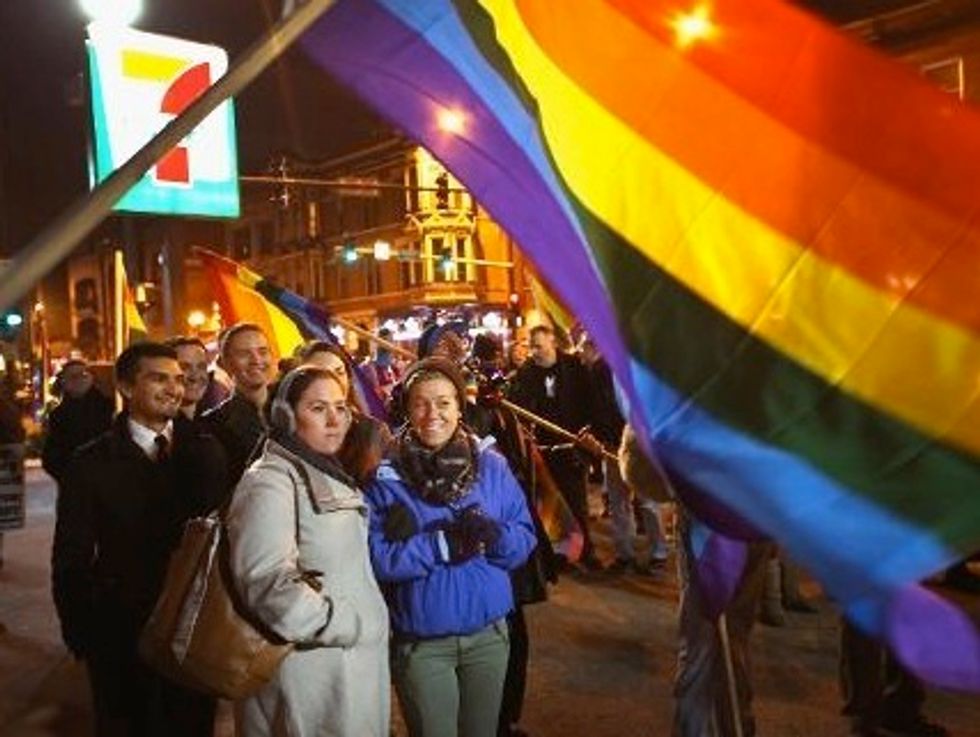 By Michael Muskal, Los Angeles Times
A majority of Americans across the nation continue to support same-sex marriage, but sharp regional differences remain, according to a poll released Wednesday.
The current Gallup poll shows that 55 percent of Americans support same-sex marriage, a percentage that has continued to rise since 2011, when support passed the majority point. In 1996, when Gallup first asked about the issue, just 27 percent of Americans surveyed said they believed that gay marriage should be legal.
The poll comes as federal courts this week in Oregon and Pennsylvania struck down state bans on same-sex marriage, meaning that 19 states and the District of Columbia now give gays the same rights as heterosexuals when it comes to matrimonial issues. The issue is pending in courts in almost every state and has been argued in two federal appeals districts involving cases from Utah and Virginia.
Most people expect the final decision will be made by the U.S. Supreme Court, which often waits for a variety of rulings from around the country before taking on an issue. While the court tries to insulate itself from polls, justices are aware of changing social mores and many think that it becomes a factor when deciding to tackle an issue. For example, the court acted when popular sentiment changed on race relations and abortion, among other issues.
According to the poll, 42 percent of those surveyed this year said gay marriage should not be valid, a number that has been falling from its high in 2011, when 47 percent opposed same-sex marriage.
The current poll is based on telephone interviews conducted May 8-11 with a random sample of 1,028 adults living in all 50 states and the District of Columbia. It has a margin of error of plus or minus five percentage points.
All age groups have shown an increasing acceptance of same-sex marriage, but the greatest gains have been among the younger group. In 1996, 41 percent of those aged 18 to 29 years said that gay marriage should be legal. But that figure jumped to 78 percent this year.
By comparison, those 50 years and older remained below the majority level, even though their support increased.
Those 50 to 64 years old jumped from 15 percent saying they support gay marriage to 48 percent. Those older than 65 increased from 14 percent to 42 percent.
Regional differences remain a major consideration with the South, often referred to as the Bible Belt, as the only area below majority acceptance of same-sex marriage. According to the poll, 48 percent of those surveyed in the South accept gay marriage.
In the East, 67 percent voiced support; the West stood at 59 percent in support and the Midwest at 53 percent.
Southern states have a variety of constitutional bans on same-sex marriage, from Louisiana in 2004 through North Carolina in 2012. Bans in Arkansas and Kentucky have been challenged in court. One of the key cases on state bans is in Virginia, the capital of the Confederacy during the Civil War.
Virginia was also the state where the Supreme Court in 1967 struck down the ban on people of different races marrying each other. That case, Loving vs. Virginia, has frequently been cited in the current federal rulings supporting gay marriage.
AFP Photo/Scott Olson
Interested in more polling data? Sign up for our daily email newsletter!