Could Gary Johnson And Bill Kristol Keep Trump Out Of The White House?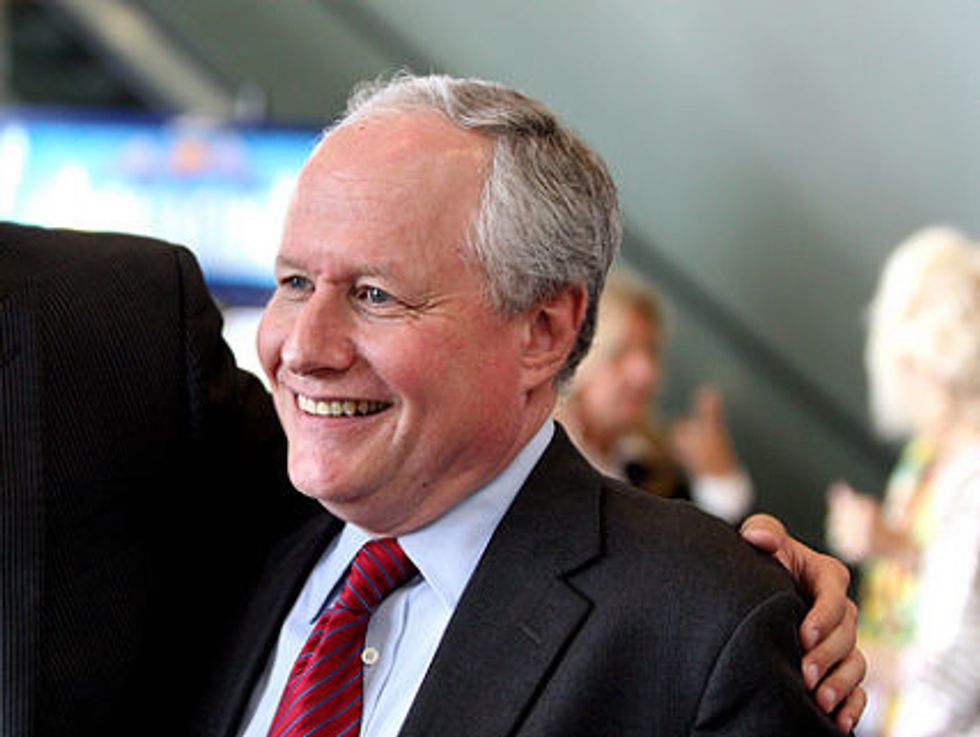 Donald Trump might have some trouble on his hands.
On Sunday, the Libertarian Party chose its presidential nominee, former Republican Governor of New Mexico Gary Johnson. Also on Sunday, Bill Kristol — the neoconservative editor of The Weekly Standard and the most vocal proponent of the #NeverTrump movement — posted the following tweet: "Just a heads up over this holiday weekend: There will be an independent candidate–an impressive one, with a strong team and a real chance."
Good to know, even if the tweet rings like a hollow threat: For months Kristol has been organizing a conspiracy against Trump, seeking out candidates to run against him, ostensibly to protect the integrity of the conservative movement and to give #NeverTrump conservatives a reason to vote for down-ballot races. Kristol wants Trump to pay for defying the conservative order, even if it means losing the White House. No third-party candidate has ever won the presidency.
Speaking on Fox News Sunday, Trump's campaign manager Corey Lewandowski said, "A third party run by any candidate is a complete disaster."
Lewdanowski said such a run would be "handing the White House over to the Democrats," which in turn would mean "four or five potential U.S. Supreme Court Justices that Hillary Clinton would have a chance to appoint, if she does that you can say goodbye to the 2nd Amendment amongst other things; you can say goodbye to your rights."
Kristol, apparently, is content in losing this battle for the White House, though his ranks are dwindling. After all, the #NeverTrump movement has dissipated from the once thundering echo chamber of condemnations that included denouncements from multiple Bushes and nearly every elected Republican politician on the national stage. Even one time rising star Florida Sen. Marco Rubio, who called Trump a dangerous con man, has gotten behind the billionaire-candidate.
Either way, Kristol isn't backing down. When contacted for comment Monday morning, Kristol told CNN there are still "lots of I's to dot and T's to cross."
Earlier in May, the Washington Post reported that Kristol had already begun strategizing with a team of appalled Republicans — including former Massachusetts Governor Mitt Romney, talk-radio host Erick Erickson, and strategists Mike Murphy, Stuart Stevens and Rick Wilson — to keep Trump out of the White House. Kristol, Romney & co. have been commissioning private polling and courting possible candidates while organizing funding to launch a desperate #NeverTrump candidacy.
Potential third-party contenders include freshman Sen. Ben Sasse, of Nebraska, Ohio Gov. John Kasich, and billionaire businessman and "Shark Tank" reality television show host Mark Cuban.
The three Republicans don't want Trump, but they also say they don't want the job.
Cuban told the Post he doesn't see it happening. "[Trump] could come after me all he wanted, and he knows I would put him in his place," said Cuban. "All that said, again, I don't see it happening. There isn't enough time."
Kasich's advisors said the governor will not run as an independent. His chief strategist, John Weaver, said the Never Trump'ers "had plenty of time and opportunity to influence the [GOP] nomination battle in a constructive way, and they didn't for whatever reason. The idea of running someone as a third party, particularly the way they're going about it, is not going to be effective and is not practical."
Sasse, 44, is popular among conservative leadership and is considered to have potential for being a national candidate in the future — but he also said no to the prospective run, despite having previously voiced desire for "some third candidate — a conservative option, a Constitutionalist."
Other ruled-out prospects include former Republican Sen. Tom Coburn of Oklahoma and retired Marine Corps Gen. James N. Mattis. Consideration has also been given to former secretary of state Condoleezza Rice and retired Army Gen. Stanley A. McChrystal.
McChrystal told the Post he isn't "entertaining any candidacy," and Mattis rejected the offer after meeting with Kristol and his team in the middle of April. Kristol then turned to Romney for help.
Romney, who unsuccessfully ran against President Obama in 2012, met with Kristol at the beginning of May to strategize.
Kristol told CNN he isn't actively trying to get Romney to run, but did suggest the former Massachusetts governor should consider it. Romney has previously stated that he wasn't interested in an independent bid, though at the beginning of 2015 he did ponder a third presidential run before removing his name as a possible contender for the GOP nomination. A vocal Never Trump'er, in March Romney called the presumptive nominee a "phony" and a "fraud" who is "playing the American public for suckers."
Romney might be right, but would throwing another hat into the ring help conservatives?
Pat Buchanan, who ran for president in 2000 on the Reform Party ticket, doesn't think so. Buchanan told the Washington Post that Kristol, Romney, and the rest are "mice trying to bell the cat — only they can't get one mouse to go out and do it."
Buchanan offered a bleak prediction for the future of any "mouse" with the guts to take that chance: "The career of the individual would come to an end, and he would have a difficult spot in history for being responsible for putting Hillary Clinton in the White House."
Libertarian Party candidate Gary Johnson would apparently be happy to play that role, and recent polling indicates he may just get the part.
FiveThirtyEight reports a Morning Consult survey published last week showed Clinton getting 38 percent of the vote, Trump 35 percent and Johnson 10, with 17 percent undecided; a Fox News poll conducted between May 14-17 put Trump ahead of Clinton, 42 to 39 percent, with Johnson again at 10 percent; and in a Monmouth University survey conducted during mid-March, Clinton got 42 percent, Trump 34 percent and Johnson 11 percent.
Considering Johnson's Republican history and the right-wing tendencies of the Libertarian Party at large, if Johnson siphons votes from anyone, it will be from Trump. However, Johnson's running mate, former Massachusetts Gov. Bill Weld, thinks the Libertarian ticket could succeed in this race on its own terms.
"Someone doesn't have to be disaffected with Ms. Clinton to think that we have a good story," Weld told CNN. "One doesn't have to be Never Trump to see that we were two of the most fiscally conservative governors in the United States."
Photo: Gage Skidmore via Flickr