George W. Bush And Karl Rove Reunite To 'Save' The GOP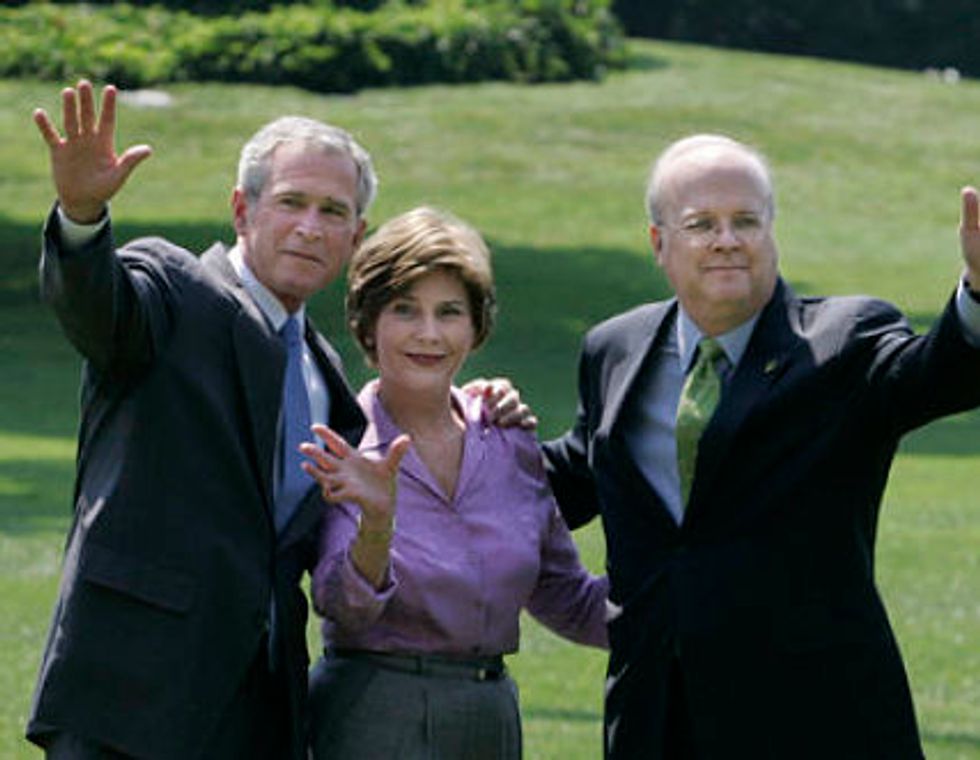 Republicans — who are generally well trained in the art of repeating talking points — just don't know what to say about immigration reform.
Last week, Governor Scott Walker (R-WI) came out for a "path to citizenship" and seemed to come out for the Senate's comprehensive immigration reform bill, which passed with 68 votes last month. A few hours later, a Walker aide made it clear that the governor wasn't endorsing the Senate bill, and he wasn't opposing it either.
Walker then decided to move on signing a bill that included something all small-government Republicans agree on: state-mandated ultrasounds.
As a serious frontrunner for the 2016 GOP nomination (he really is… I know it's hard to believe, but he is), Walker is keenly aware that the billionaires and millionaires who would have to fund his campaign all support immigration reform now — not in 2015 when the presidential campaign has already begun and the GOP can't risk the kind of comic YouTube-able xenophobia that's bound to come out of certain House members' mouths during the debate.
Yes, I mean you, Rep. Steve King (R-IA).
But Walker also knows that the populist wing of his party — who see immigrants as "them"; lazy un-Americans who will suck off the government teat so hard that they'll ingest "my Medicare!" — may soon rise up and destroy reform because it can even get a vote in the House, as they did in 2007. That's what populist candidates for the 2016 GOP nomination, senators Rand Paul (R-KY) and Ted Cruz (R-TX), are counting on.
You may remember that last week, unserious frontrunner for Fox News' Employee of the Year Sarah Palin threatened to help divide the GOP over "amnesty" in the name of Ronald Reagan — the one president who signed a bill that granted "amnesty."
And we know that is the kind of argument that works in today's GOP because it's clearer and clearer that Speaker John Boehner (R-OH) doesn't have the votes or the courage to pass a reform bill that could get through the Senate.
That's why the last Republican president who tried to grant undocumented immigrants citizenship has decided it's time to weigh in.
Yes, America's least popular ex-president, George W. Bush, did an interview with ABC's This Week and is holding an immigration event at his presidential center on Wednesday, the exact day House Republicans begin to consider immigration reform.
It's unclear whether Bush will endorse the Senate bill, which is in many ways similar to the 2007 legislation he backed, but the ex-president has been consistently supportive of reform for the "right reason," he claims.
 "The right reason is it's important to reform a broken system. I'm not sure a right reason is that in so doing we win votes," Bush said, in May. "I mean, when you do the right thing, I think you win votes, as opposed to doing something that's the right thing to win votes. Maybe there's no difference there. It seems like there is to me, though."
LOL. Do you miss him yet?

Of course, many people have taken for granted that the only reason Karl Rove wants immigration reform is because it's the only way the GOP will ever get back in the White House.
Rove has said as much in his constant appeals for reform in the Wall Street Journal: Of course, all Republicans want lower taxes on the rich, a military capable of building a Death Star, no regulation for big business and the end of Roe v. Wade, but the only way we'll ever get that is if 35 percent of Latinos vote Republican, dummies.
But even Republicans are starting to be suspicious of how the financial motives of billionaires like the Koch brothers and Sheldon Adelson — who are all for a path to citizenship — are being ignored.
The New York Times' Ross Douthat believes that right-wing donors are getting the kind of favorable treatment liberal donors generally get from the lamestream media because journalists happen to be pro-reform:
It's absurdly credulous about how the rich and powerful inside the G.O.P. tent are supporting comprehensive immigration reform for purely selfless reasons, because it's the only way to save the party from the yahoos, and displays little of the "follow the money" skepticism that you would normally expect from the press when there's a united corporate front on one side of a given debate.
The fact that America's business community is overwhelmingly for reform is supposed to raise the hackles of the left, who are unknowingly enabling the business wing of the GOP in the legalization of millions of workers who will lower wages, which are already falling at a record pace.
But it's Douthat who is absurdly credulous here. He doesn't seem to get that win or lose, these big donors on the right are helping liberals who are trying not to spook the Kochs and Adelsons from lighting a fire under Republicans.
Labor leaders like the AFL-CIO's Richard Trumka support reform because it will help end the exploitation of undocumented workers going on now, and will make it more difficult to hire illegally in the future, which will help keep wages from sinking.
It's also personal.
"My grandfather came to this country, landed at Ellis Island, and was immediately shipped to the coalfields in southwestern Pennsylvania," Trumka told The National Memo. He worked two years before he could send for my grandmother; he worked even longer before he could send for his daughters…That shouldn't happen to any family."
Liberals support immigration reform because the idea of deporting grandmothers and forcing mothers, sons and daughters to live in the shadows where the government is only to be feared is repugnant to human decency, especially when illegal border crossings are at a 40-year low.
But you can't ignore the amazing politics of this issue for the left, which has successfully shrunk the GOP's share of the Latino vote in every election since 2004.
The Kochs waging war on the Heritage Foundation and the GOP base is exactly the kind of conflict that foments fantastic primary battles.
If the establishment gets a bill President Obama will sign, the base will be in revolt and the growing Latino vote will push America to the left faster than putting Sarah Palin on a presidential ticket. If the base gets what it wants, voters will be appalled and the ticking time bomb that will eventually turn Texas blue and end the GOP as a national party starts to tick a little faster.
Drawing George W. Bush out to help Karl Rove save the GOP and the Kochs to save on labor costs is just a bonus. Because America can always use a reminder that this modern GOP is too right-wing for even George W. Bush.
Don't miss the next LOL of the Week… subscribe to the National Memo now for free.