Georgia Governor Signs Broad Gun Rights Expansion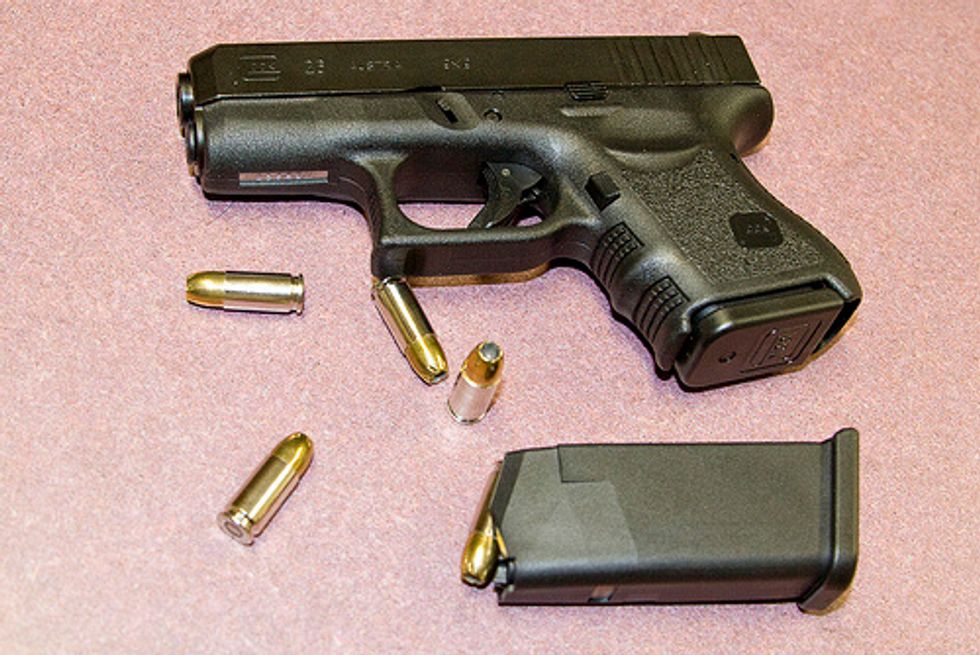 By Greg Bluestein, The Atlanta Journal-Constitution
ELLIJAY, Ga. — Gov. Nathan Deal signed legislation Wednesday that would vastly expand where Georgians can legally carry firearms, a proposal that has drawn heaps of praise and scorn from outside groups.
"People who follow the rules can protect themselves and their families from people who don't follow the rules," said Deal, adding: "The Second Amendment should never be an afterthought. It should reside at the forefronts of our minds."
House Bill 60, which passed in the final hours of this year's legislative session, allows Georgians to carry firearms legally in a wide range of new places, including schools, bars, churches and government buildings. A recent analysis also said it could let felons use the state's "stand your ground" rules to claim self-defense if they feel threatened.
In an interview this week, Deal said voters shouldn't forget what got left out of the bill. Among the controversial proposals that didn't survive were the "campus carry" provision, which would have legalized the carrying of guns on campus, and changes that would have required houses of worship to allow guns unless leaders ban them. (Instead, religious leaders can "opt-in" to allow guns into their congregations.)
Said Deal: "There are always opportunities for people to use any piece of legislation as a political tool if they don't like it. But there was bipartisan support for the bill. The main story that should come out of it is the final product is significantly different from earlier versions. And some of the more … interesting parts were removed."
Critics have dubbed it the "guns everywhere" bill for its broad scope, and opponents including former Rep. Gabby Giffords (D-AZ), have tried to block its passage. Supporters flooded Deal's office with pleas to sign the measure, which the National Rifle Association called "the most comprehensive pro-gun reform bill in state history."
There was never serious doubt that he would sign it. The powerful gun rights lobby has made it their top priority, and Deal doesn't want to give his two GOP primary challengers any opening. Even Democratic state Sen. Jason Carter, his party's nominee for governor, voted for the bill. Echoing Deal, Carter told MSNBC this week that he believed he helped "make the bill better than it was when it first started."
Deal, for his part, tried to downplay the warnings from critics that the law could endanger police officers and lead to more violence. Said Deal: "The important premise we all should remember is these are people who have their fingerprints taken, their backgrounds checked and they have been licensed to carry a weapon. It's not just someone walking out of the clear blue with none of those background checks. They've been subjected to scrutiny of the state."
The bill, which takes effect July 1, also legalizes the use of silencers for hunting, clears the way for school staffers to carry guns in school zones and lets leaders of religious congregations choose whether to allow licensed gun holders inside. And it allows permitted gun owners to carry their weapons in government buildings — including parts of courthouses — where there is no security at the entrance.
To some groups, though, even word of Deal's impending signature wasn't enough. Georgia Gun Owners, one of the more strident Second Amendment groups, told members on Facebook they shouldn't feel obligated to attend the Ellijay signing ceremony with Deal and House Speaker David Ralston. It called the duo "ethically challenged Big Government moderate Republicans."
From the post: "Gun owners should be congratulated for your enormous pressure put on the General Assembly … but shouldn't feel pressure to serve as a political prop for two lifetime politicians looking for political cover."
Both Carter and Deal shouldn't expect the national attention to let up. MSNBC and CNN ordered a TV crew up to Ellijay for live coverage of the event — a measure of the role the gun bill is likely to play the rest of the year.
State Rep. Rick Jasperse, a GOP sponsor of the bill, welcomes the attention. He told the hundreds of supporters, many wearing sidearms, to ignore the "misinformation" about the law.
"This bill is about the good guys — you guys," he said.
Photo: Rob Bixby via Flickr