Georgia Grand Jury Subpoenas Giuliani, Eastman And Graham
@DevilsTower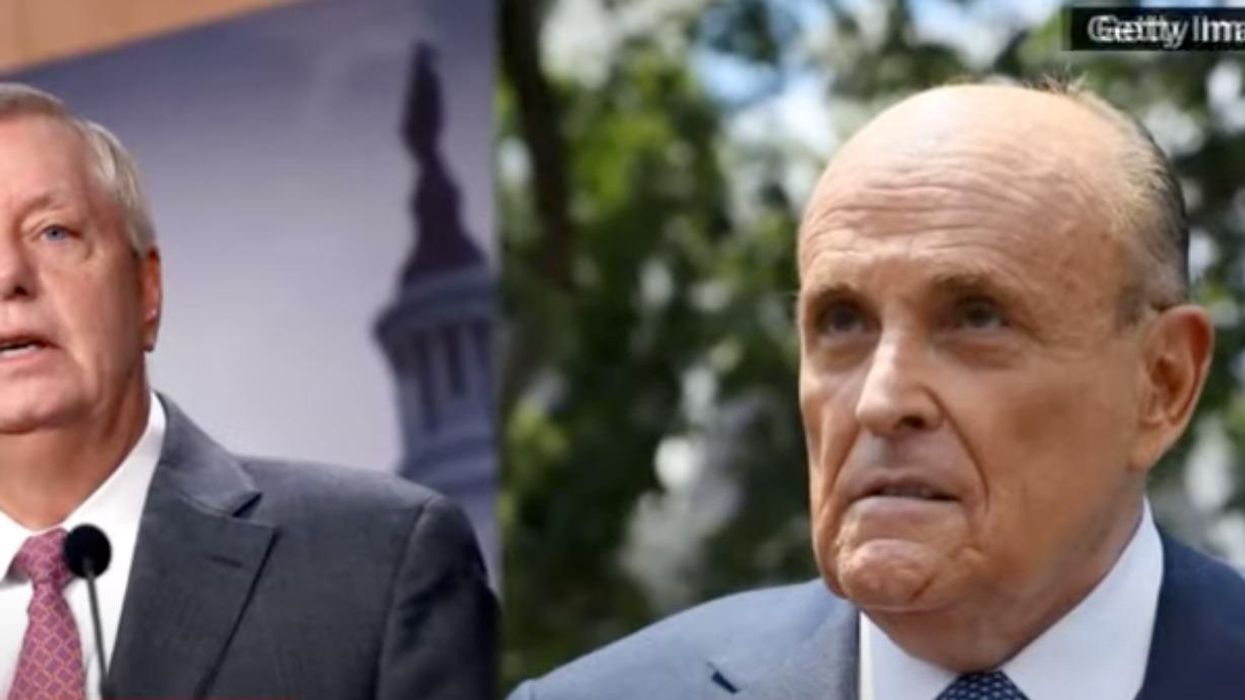 Youtube Screenshot
It's not just the House Select Committee on January 6 that wants a better look at many of those involved in Donald Trump's scheme to overturn the results of the 2020 election. Thanks to their wide-ranging activities in many states, investigations are going on at the local, state, and federal level into actions that Trump's team took in attempting to reverse the will of the American people.
No state may have borne more of Trump's focused fury than Georgia. President Joe Biden carried the state by over 12,500 votes, making it second to Arizona when it comes to the the narrowest margin of victory. This was far outside the realm of possible change that might be addressed by a recount, but Georgia conducted a recount anyway. When that didn't make things any better for Trump, he requested that Georgia count a third time, which it did. Trump still lost, and by a bigger number than ever.
But Trump wasn't done with Georgia. Right up until January 6, Trump's team tried every possible way to steal Georgia's electoral votes. And now some of the most familiar names in MAGA land are getting hauled before a grand jury in Fulton County, Georgia. That includes Rudy Giuliani, Sen. Lindsey Graham, and attorney John Eastman.
An incomplete list of how Trump attempted to overturn the results in Georgia includes:
An "absurd" lawsuit that was blasted by Republican Gov. Brian Kemp as being nothing more than a collection of lies that had been flatly rejected in other states. (That lawsuit was actually withdrawn the morning of January 6.)
Trump's call to Secretary of State Brad Raffensperger in which Trump was caught on tape asking for Raffensperger to "find" enough votes to defeat Biden, and threatening the official if he didn't come through for Trump.
Giuliani appeared three times before Georgia state legislators, spreading claims of voter fraud he knew were unfounded and encouraging them to take control of the election process and simply ignore the votes.
Eastman also appeared before a legislative hearing and argued that there was "more than enough" evidence of voter fraud and that it was the "duty" of the legislators to appoint alternative electors.
Drafting a slate of 16 fake electors who then pretended to be the "lawfully elected electors" of the state and submitted false documents to Congress.
Sen. Lindsey Graham called Raffensperger and urged him to simply toss out mail-in ballots in counties that favored Biden.
Trump, Giuliani, Powell, and a cast of dozens if not hundreds went on to insist that Kemp and Raffensperger were part of an international plot to deny Trump a repeat visit to the White House.
Now, as the Atlanta Journal-Constitution reports, Trump's team is going to get another day in court, but not the day they wanted.
The grand jury has subpoenaed Giuliani, Graham, and Eastman, along Trump advisers Cleta Mitchell, Kenneth Chesebro, and Jenna Ellis. They've also subpoenaed conspiracy-mongering podcast host Jacki Pick Deason.
Giuliani, Eastman, Mitchell, Chesebro, and Ellis are all expected to argue attorney-client privilege when it comes to their conversations with Trump. However, this can't protect Giuliani or Eastman when it comes to their own claims before the legislature, especially since it is now clear they were aware their claims of election fraud were unfounded. When it comes to Graham … well, nothing can justify Lindsey Graham.
State officials who went along with the false elector scheme are also likely to see subpoenas.
Reprinted with permission from Daily Kos.