It's Germany vs. U.S… In Low-Earth Orbit
@AFP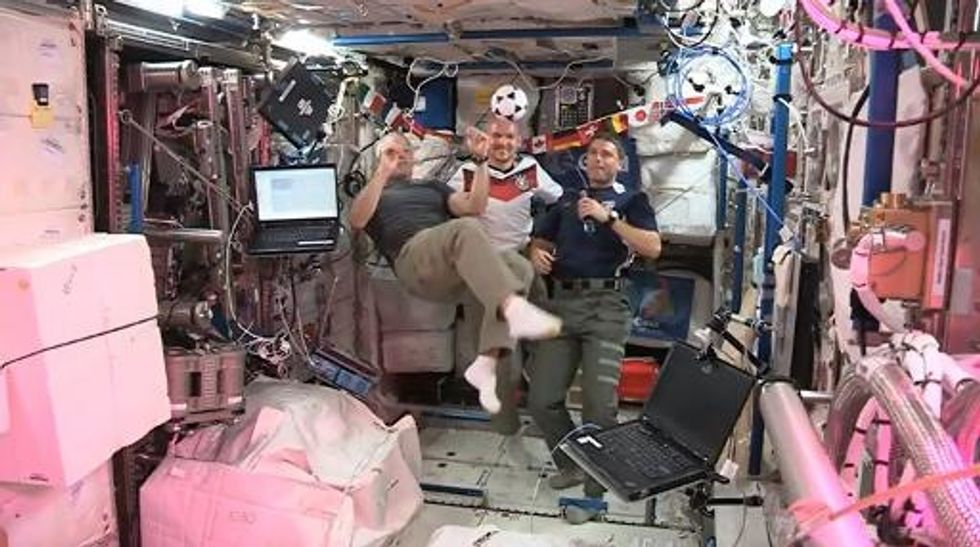 Paris (AFP) — In space, no-one can hear you scream 'GOOAAALLL!'
But this did not deter German and U.S. astronauts from facing off in a zero-gravity kickabout aboard the International Space Station (ISS) ahead of their countries' earthly World Cup encounter.
A video released by the European Space Agency (ESA) on Thursday shows Alexander Gerst of Germany and NASA's Reid Wiseman and Steve Swanson showing off crowd-stunning bicycle kicks and saves made easier by the weird, weightless conditions of low orbit.
Not once was there a problem getting the ball to float into the penalty area as the astronauts defied gravity to score while floating head-down.
On the downside, they sometimes found themselves suspended helplessly between floor and ceiling while trying in vain to intercept their opponent.
Gerst was clad in the jersey of die Mannschaft while Wiseman wore a Team USA shirt. A U.S. space robot, Robonaut 2, got into the spirit of things, waving its arms to egg on the game.
A 53-second snippet of the encounter, played just for laughs with a child-sized soft ball, can be seen on https://www.youtube.com/watch?v=Kq3iZbV9s6Ys.
AFP Photo
Interested in sports news? Sign up for our daily email newsletter!