Gerry Goffin, Songwriting Partner Of Carole King, Dies At 75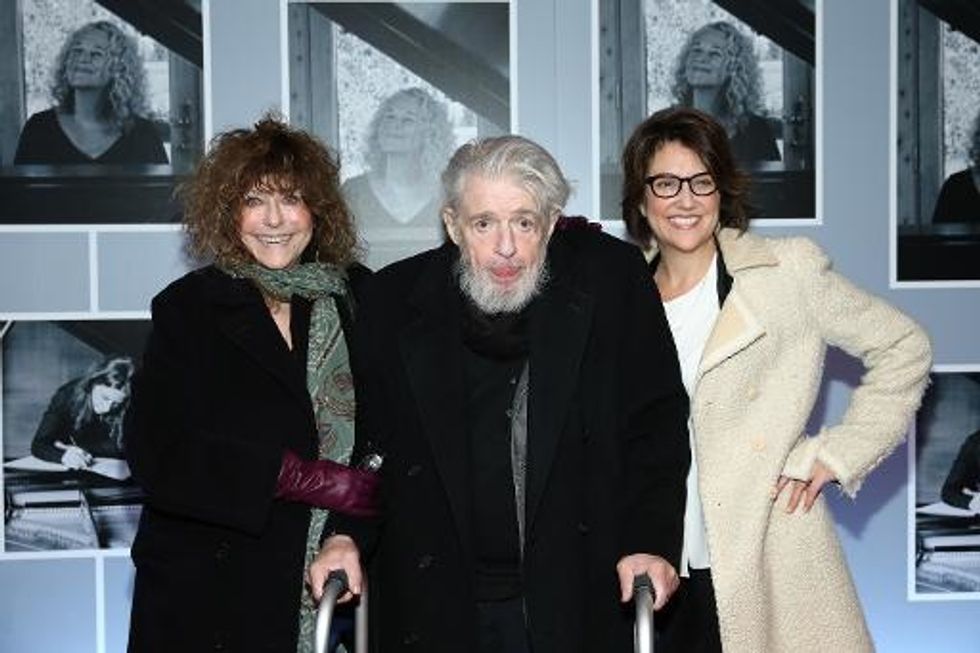 By Meredith Blake, Los Angeles Times
Lyricist Gerry Goffin, whose songwriting partnership in the early 1960s with then-wife Carole King yielded some of the most indelible hits of the era, died Thursday at home in Los Angeles, said his wife, Michelle Goffin. He was 75.
Michele Goffin said the death was due to natural causes. Among the hit songs Goffin wrote with King were "(You Make Me Feel Like) A Natural Woman," sung by Aretha Franklin; "Take Good Care of My Baby," performed by Bobby Vee; and "Up on the Roof," sung by The Drifters.
But perhaps their most enduring song was their first smash hit. It was in 1960, not long after the couple had their first child. They were working for music producer Don Kirshner, whose publishing company Aldon Music was across Broadway from the famed Brill Building in Manhattan, home to numerous successful songwriters.
Goffin came home one night from a bowling excursion with his buddies to find a note on the tape recorder from King, asking him to write lyrics for a melody she had composed for the girl group the Shirelles. Goffin said the lyrics came easily.
"Tonight you're mine, completely,
You give your love so sweetly,
Tonight, the light of love is in your eyes,
But will you love me tomorrow?"
"Will You Love Me Tomorrow," which hit the top of the charts in January 1961, showcased Goffin's sensitivity as a lyricist, a trait that would resonate in many of the duo's best songs.
"His words expressed what so many people were feeling but didn't know how to say," said King in a statement Thursday.
Goffin was born on Feb. 11, 1939, in Brooklyn, N.Y., and began writing lyrics as a child. But he was a chemistry major at Queens College when he met fellow student and aspiring songwriter King, then known as Carol Klein. Despite his major, Goffin was working on a musical about beatniks, and was looking for someone to compose the music. King was looking for a partner to provide thoughtful lyrics for her infectious rock melodies.
The two struck up a creative partnership, meeting in the lounge at Queens College to write music together. "Eventually it came to be a boy-and-girl relationship," Goffin recalled in a 2001 interview with Vanity Fair. "Eventually I began to lose heart in my play, and we stuck to writing rock 'n' roll."
They married in August 1959.
Together, King and Goffin wrote more than 50 top-40 hits and became one of the most successful songwriting duos of the many working in and around the Brill Building. For a while, it seemed they could do no wrong, professionally. They even enlisted their baby-sitter, Eva Boyd (stage name, Little Eva), to sing their song "The Loco-Motion," which became a No. 1 hit and spawned a dance craze.
Throughout the 1960s, Goffin and King's music evolved with the changing tastes of the era, and their songs were recorded by artists as diverse as The Chiffons, Dusty Springfield, Vee, the Animals, and The Byrds.
But the King-Goffin marriage was troubled. Goffin struggled with mental health problems exacerbated by his use of hallucinogenic drugs; at one point, King made the anguished decision to admit him for shock therapy, an experience detailed in her memoir, A Natural Woman.
His extramarital relationship with singer Jeanie McCrea Reavis of the girl group The Cookies led to the birth of a daughter in 1964.
The fruitful but troubled relationship between King and Goffin, which ended in divorce in 1968 as their growing lifestyle differences became irreconcilable, is the subject of the current Broadway hit Beautiful: The Carole King Musical. The show won two Tonys earlier this month.
After the breakup, King went on to have a successful solo career. Her 1971 album Tapestry was one of the best-selling of all time.
Goffin wrote with several other collaborators, including Michael Masser, with whom he earned an Oscar nomination for "Theme From Mahogany (Do You Know Where You're Going To)" sung by Diana Ross. Masser and Goffin also wrote "Saving All My Love for You," for which Whitney Houston won her first Grammy in 1986.
And with Barry Goldberg, he wrote "I've Got To Use My Imagination" for Gladys Knight & The Pips and "It's Not the Spotlight" for Rod Stewart. "Gerry was one of the greatest lyricists of all time and my true soul brother," Goldberg said in a statement Thursday.
Goffin also released two solo albums, but they were not successful.
He and King were admitted into the Songwriters Hall of Fame in 1987 and the Rock and Roll Hall of Fame in 1990.
"Carole loved me for what I was," Goffin said in a United Press International interview in 1996. "I've had a lot of guilt. It's been almost 30 years, and I'm finally feeling expurgated.
"I feel like I've worked it off, but maybe you never work it off."
Goffin is survived by his wife, Michele, whom he married in 1995; daughters Louise Goffin, Sherry Goffin Kondor, Dawn Reavis, Lauren Goffin; son Jesse Goffin; and brother Al Goffin.
Photo: Neilson Barnard via AFP
Interested in national news? Sign up for our daily newsletter!