Getting Started: New College Grads Entering A Strong Job Market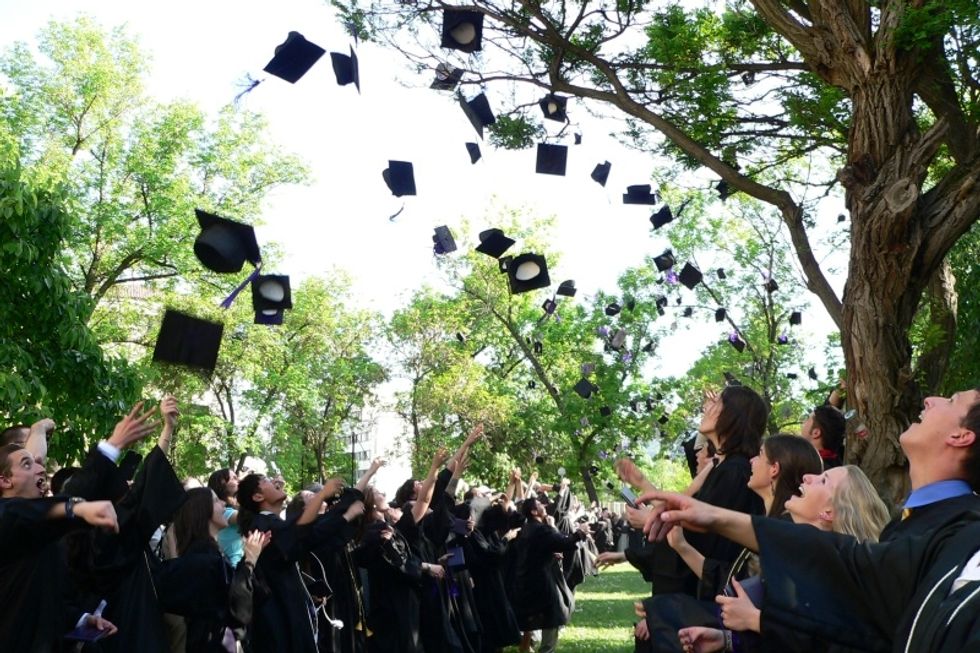 By Carolyn Bigda, Chicago Tribune (TNS)
This spring, students graduating from college will have more to look forward to than the end of exams and term papers. They can also expect a strong job market.
According to a survey by the Collegiate Employment Research Institute at Michigan State University, hiring of new grads is expected to jump 15 percent this year. The survey, which asked employers about their recruitment plans for the 2015-16 academic year, is based on responses from more than 4,730 firms.
"We're seeing hiring rates that resemble the really strong job markets of past years," said Philip Gardner, director of the Collegiate Employment Research Institute. He noted that hiring has improved annually since the 2010-11 school year, but that recruitment has really ramped up in the last three years.
"We've needed it," Gardner said, pointing out that hiring must increase by 5 percent to 7 percent annually, "just to soak up new grads, never mind the students who graduated during the recession and may still be looking for suitable work."
If you're preparing to graduate in the spring, here's what to expect.
Hiring is up throughout the country.
"There's not one region that's lagging," Gardner said.
However, in some areas recruitment is off the charts. So-called super hirers — companies that plan to increase their hiring by more than 100 percent — are mostly in Virginia and California, followed by Michigan, Wisconsin and Texas.
"California and the D.C. metro area are home to power players in the job market right now," Gardner said, such as technology firms, and companies in the aerospace, consulting and manufacturing industries.
Most sectors are hiring. In most cases, it doesn't matter what career you want to pursue. Job growth is strong across industries too.
Take construction. In the aftermath of the 2007-09 recession, jobs for recent graduates all but disappeared in construction. But this year, hiring of grads with an associate's degree is expected to climb by 37 percent in the industry. For graduates with a bachelor's degree, recruitment is projected to jump 19 percent.
Other industries that could experience big hiring gains include automotive, health care, technology and professional services, such as accounting and marketing.
"One of the best pieces of news is that everyone is benefiting from the stronger job market, with the exception of big banks that are still sorting things out after the financial crisis," Gardner said. "There's not just one sector that's going crazy."
Still, while it will likely be easier to find a job this year, don't expect to earn a fatter paycheck than last year's college graduates.
According to CERI, 61 percent of companies plan to keep starting salaries at the same level as last year. Among employers that will raise wages, the median increase will be 3 percent.
Another 7 percent of companies will offer signing bonuses. Before the recession, 17 percent offered such bonuses to new college graduates.
"I'm surprised there's not more wage pressure because competition for good job candidates is getting tough," Gardner said. "But it's just not there yet."
Internships are key. Recruitment on college campuses is already in full swing, but internships are still one of the best paths to landing a gig after graduation.
According to CERI, 96 percent of employers use their internship programs, along with summer and co-op jobs, as a source for finding new hires.
"Building an internship pool is still a top strategy for companies, big or small," Gardner said. "So if you're a student and you haven't done an internship, summer job or co-op (job) yet, it's time to get on it."
ABOUT THE WRITER
Carolyn Bigda writes Getting Started for the Chicago Tribune. yourmoney@tribune.com.
©2015 Chicago Tribune. Distributed by Tribune Content Agency, LLC.
Photo: Visha Angelova via Flickr