Ghost Towns — Where Boom Turned To Bust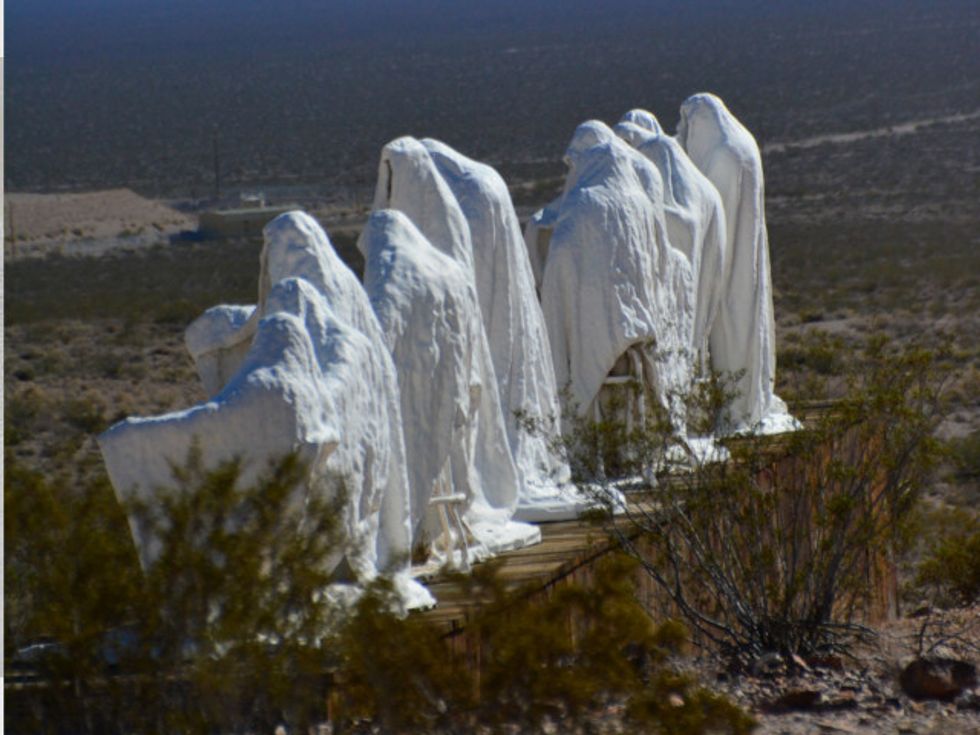 By Jill Schensul, The Record (Hackensack, N.J.) (TNS)
Here, in the desert, nothing moves. Nothing but the dust in the wind.
Oh, and maybe the occasional lizard, like this little guy, doing push-ups on a rock in the shade of a mesquite bush.
Lizards, and snakes, probably scorpions, and the wind are the only inhabitants of the places I am looking for here in the desert. Because in these places, it is the ghosts of the American West who hold forth.
Not the average creepy individual ghosts, the vengeful murder victims and the lost halfway widows and the peripatetic poltergeists — though yes, you may find those here, too.
These are the ghosts whose skeletons are the crumbled bones of buildings, whose headstones are the signs bleached to illegible by the sun. The spirits here are not of individuals, but of humanity in general, from its hopes and its dreams to its greed and its folly.
These are the phantoms of places, of history that have come to be known as ghost towns.
All were places once booming, places the dreamers moved heaven and earth to get to. They came for a treasure, a mother lode, an impossibility made true. On a rumor, through the grapevine, at great peril to life and limb, they came. Pioneers, lone men, hard men, with determination or nothing left to lose, who came and laid claims, and picked up shovels and planted dynamite. Lives and fortunes played out in accelerated real time, but the heydays were numbered. The hard times may have taken decades, but more often only years, to draw to swift and disastrous ends.
That's when the people — the bankers, the paupers, the ladies of the night and the families who believed their futures would always be bright — saw the end looming. They left in droves.
The towns were all the evidence that remained of what had gone before. The ghosts of boomtowns past.
There are ghost towns everywhere — you'd be surprised at where you can find them, all over the world. But the American West is where you'll find those quintessentially busted boomtowns.
Today some have gotten a second wind as tourist attractions; others remain "Hey, look at that!" places occasionally stumbled upon by the lost. Many have been tarted up again, with signage and souvenirs, while others remain virtually untouched – except by the wind, the occasional rain and the sweep-swish whisking of the sidewinder.
On a recent trip to Las Vegas, I built in some extra time to go in search of ghost towns. In this part of the country, you can't roll a pair of dice without hitting someplace romantically abandoned.
So I rented a car and headed out, along interstates that went from traffic jams to better-carry-water-in-case-I-get-stuck-or-I'll-die-before-someone-finds-me; that went from 65 mph limits to 70 and then 75 and then 80 (would have taken photos as evidence, but was driving too fast); that went from neon billboards advertising casinos and Penn & Teller to the sides of semi-trucks painted with NUDE GIRLS and big yellow lettered store signs for Area 51 Cafe decorated with aliens.
I knew, then, that I was getting close. The wind picked up. The ghost towns were waiting at the end of the road.
RHYOLITE, NEVADA
The most common instigator in the boom-to-bust-to-ghost-town evolution, as you can guess, is the mother lode. Or at least finding traces of minerals that promised ore galore and commensurate riches.
And, contrary to the name, Rhyolite, about 120 miles northeast of Las Vegas and situated at the eastern edge of Death Valley National Park, was not established to unearth the eponymous mineral. Rhyolite was just the most common mineral miners hit while extracting the gold (and some silver) in this godforsaken part of Nevada. Or, as one local explained it, "Rhyolite was what the miners swore at."
Two wandering miners, Shorty Harris and Ed Cross, are credited with making the find on Aug. 4, 1904, when they noticed an errant piece of quartz with rhyolite and flecks of gold.
"The quartz was just full of free gold," Shorty said. "Talk about rich! Why, gee whiz, it was great."
Mining began in earnest in 1905. Industrialist Charles M. Schwab got a piece of the action early on and invested heavily in infrastructure, including piped water, electric lines and railroad transportation. By 1907, Rhyolite had electric lights, water mains, telephones, newspapers, a hospital, a school, an opera house and a stock exchange. But the boom began to bust quickly after the San Francisco earthquake and fire in 1906 began drying up the pool of excited investors. A failing U.S. economy further slowed operations. By 1911 mining was over.
Rhyolite was once the biggest town in southern Nevada. And today it's a pretty extensive ghost town. Well known, as ghost towns go, it is a relatively popular tourist draw. Not like it's swarming with humanity. No, I probably saw a total of two dozen people all day. But it was harder to catch that all-alone-with-ghosts-of-miners-past feeling than, say, my first and truly eerie encounter decades earlier at the one-shack-plus-snakes town of Bumble Bee, Ariz.
Still, as the day wound down, and I got thirstier, and the dirt and pebbles and rocks and old pillars of the once-mighty bank cast longer and longer shadows, and the people in their rental Hyundais and Porsche convertibles snapped their last images and drove off in search of cold beers and hot showers, I got some alone time.
Time to think about Shorty and Ed, the miners, the exhilaration, the bankers, the greed, the TNT, the spam, the hopes, the shysters … all gone now. Out here in the blasting sun, your pupils get a workout. The size of pinpricks when you get outside, maybe that does something to your vision. I started thinking about gold here. Thought maybe these guys bugged out fast, and missed some. Thought, as I crunch-crunched around the back of the bank, thought maybe I saw a glint of something yellow just a little… bit… farther… ahead.
Notable features: The ruins are extensive, with a bank, miners shacks, print house, mercantile shop, etc. The train depot (privately owned) and the Bottle House are both entirely intact. The bottle house, yes, was built almost completely of actual bottles — 51,000 beer bottles cemented with adobe mud. It was restored by Paramount Pictures in January 1925 for a movie, "The Airmail."
Before you get to the ghost town, you'll find Goldwell Outdoor Art Museum, a pretty cool collection of seven large sculptures — most notably a ghostlike "Last Supper" started by a Belgian artist and some of his compatriots.
SILVER REEF, UTAH
It took a while to find the ghost town at Silver Reef. It's only about 15 miles northeast of St. George, which happens to be a big town — a reference point — in western Utah. It's also either one mile west of Leeds — or it is in Leeds, depending on your source. The area today is vast vistas of sandstone in red and gray, worth the drive even if you never did find the little ghost town that sits at the end of a development of tony houses at the end of a quiet residential road.
Quite a different scene from the one 150 years ago, after John Kemple, a prospector from Nevada, discovered a vein of silver in a sandstone formation here in 1866. It is one of only two places on earth where silver was actually found in sandstone, and for a while nobody believed the silver was real. It was, and there was enough of it to generate this particular flash in the pan boomtown, which lasted seven years before its fortunes began to decline.
Notable features: There's a museum, as well as the Cosmopolitan Restaurant, restored to a more or less original version from the 1870s.
The ruins are surrounded by and interspersed among modern upscale houses, and even the rather crazy-looking (turrets, for one) studio/art gallery of bronze sculptor Jerry Anderson. In fact the scenery has made this area a magnet for artists, and several communities in the area offer galleries and studio tours.
OLD IRON TOWN, UTAH
About 25 miles west of Cedar City, Utah, down an increasingly lonely Route 56 and then 5 miles down Old Iron Town Road are the fenced-in ruins of this former boomtown. Originally called Iron City, the ghost town was begun by Brigham Young, the head of the Mormons, who quickly realized that the fastest way to an independent Mormon state was to make the new colony self-sufficient. And one important factor in this plan was iron, which was very expensive to ship from the eastern United States. The operation was set up to take advantage of nearby Iron Mountain.
At its height, Old Iron Town had a schoolhouse, a furnace, an arastra for grinding fine sand for molds, a blacksmith shop, a general store, charcoal kilns and cabins for its workers. It was a productive effort, but several obstacles, including a lack of transportation, led to its demise after seven years; the site was abandoned in 1876.
Iron Mountain remains one of the richest iron deposits in the country.
Notable features: Preservationists decided not to restore the ruins but leave them in their natural state. Visitors today will see the blast furnace chimney, ruined walls of the foundry, the arastra, a charcoal kiln and a cabin. The beehive kiln is impressively intact. Though off the beaten track, the site has bathrooms and a picnic area. There are also two short hikes through the ruins and the desert.
Nearby is the old pioneers cemetery in Little Pinto. And on your way to Snow Canyon — definitely worth a visit for its stunning, poured-rock-looking lava formations — is Mountain Meadows, site of the 1857 massacre of the Fancher Party Wagon Train by local Mormon settlers. There are memorials to the victims off Route 18.
IF YOU GO
RHYOLITE, NEV.: Heading north on U.S. 95 from Las Vegas, travel 116 miles to Beatty, Nevada's gateway to Death Valley National Park. Rhyolite is 4 miles west of Beatty on State Route 374 and is overseen by the Bureau of Land Management. More info: nps.gov or travelnevada.com.
GOLDWELL OPEN AIR MUSEUM: You'll come to the museum just before you get to Rhyolite. The art is accessible 24/7; the visitor center, which has some history of Rhyolite, a small guide for 50 cents (or download your own guide online in advance for free), plus beautiful handmade flutes for sale by visitor center overseer Richard Stephens, is open most days from 10 a.m. to 4 p.m. except Sundays (in summer, usually closed by 2 p.m. because of the heat). More info: goldwellmuseum.org.
SILVER REEF, UTAH: The ghost town is 18 miles north of St. George, Utah. From Las Vegas (or St. George) take I-15 north to exit 22 toward UT-228S/Leeds. Take that 0.7 mile and turn left onto Silver Reef Road (it becomes Oak Grove Road) and just past Juniper Way turn right on Wells Fargo Road, which takes you to the ghost town. The Wells Fargo Express Building Museum offers guided tours at 10:30 a.m. and 1 and 3 p.m. during regular hours, 10 a.m. to 5 p.m. Monday and Thursday through Saturday; $3 per person or $10 per family (435-879-2254). More info: silverreefutah.org.
OLD IRON TOWN, UTAH: From Cedar City, Utah, head west on Highway 56 for approximately 20 miles. Turn south onto Old Iron Town Road and go south for approximately 5 miles to the ruins. The park service recommends visitors first stop at the Frontier Homestead State Park Museum in Cedar City to get an overview of the history of the area and to pick up a self-guided tour brochure. Old Iron Town is open year-round during daylight hours. More Info: frontierhomestead.org, 435-586-9290 or scenicsouthernutah.com.
RESOURCES
Ghosttowns.com: Comprehensive and easy-to-use site for background information on ghost towns in general as well as a search engine for ghost towns in the U.S. and Canada.
freepages.history.rootsweb.ancestry.com: Another good list of ghost towns, most in the United States, some in Canada and a few links to those in the U.K.
©2015 The Record (Hackensack, N.J.). Distributed by Tribune Content Agency, LLC.
Photo: The Goldwell Open Air Museum is located just before Rhyolite, Nev., and features seven outdoor sculptures by Belgian artists. The biggest work is the "Last Supper" by Charles Albert Szukalski. (Jill Schensul/The Record/TNS)