Giuliani: Cohen Made Payoffs To Bolster Trump Campaign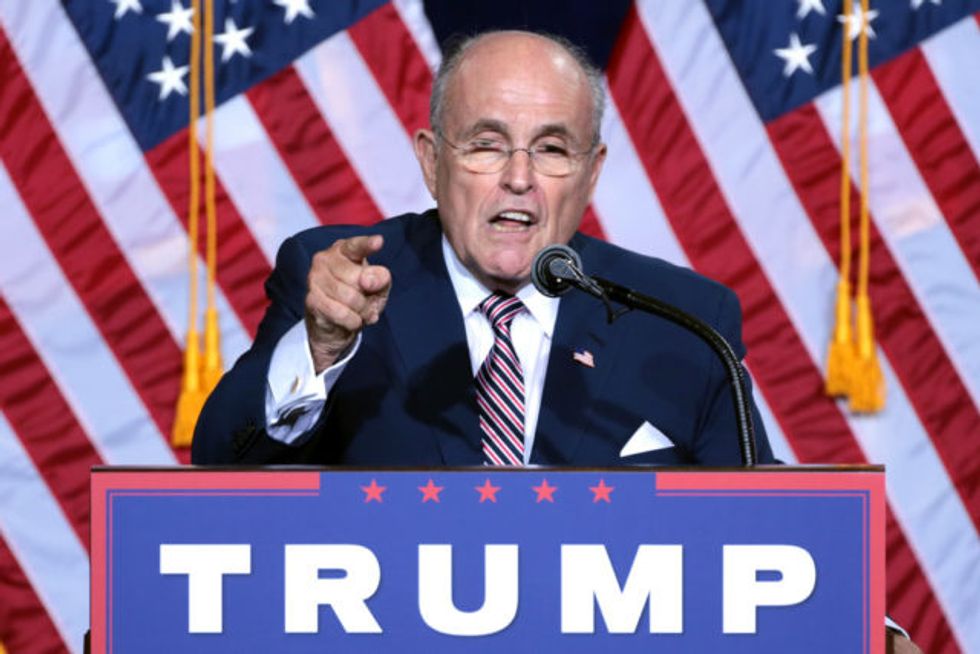 Reprinted with permission from AlterNet.
Rudy Giuliani, President Donald Trump's lawyer, may end up being the strongest witness against president we've seen thus far. He just may not realize it yet.
In his short stint as Trump's legal defense attorney, his embarrassing habits have not just been a spectacle — they've seemed to raise serious legal problems for the president.
The case where his behavior has seemed most damaging has been in the Stormy Daniels and Karen McDougal hush money cases, for which Trump's former fixer Michael Cohen has been sentenced to prison. Speaking with "Fox & Friends" on May 3 about the Daniels allegations, Giuliani said, "Imagine if that came out of October 15, 2016, in the middle of the last debate with Hillary Clinton . . . Cohen didn't even ask. Cohen made it go away. He did his job."
This implied, clearly, that the payment was a campaign contribution — as Cohen, the parent company of the National Enquirer, and federal prosecutors have all said — which is why it was illegal.
Since Cohen pleaded guilty to the crimes, the president's team has tried to claim the hush money payments weren't campaign contributions. But as Washington Post reporter Aaron Blake pointed out Monday, Giuliani's Sunday ABC News interview actually undermined this argument.
Giuliani tried to claim that, as long as the payments were made for a reason other than the campaign, then they wouldn't run afoul of election law.
"If there's another purpose, it's no longer a campaign contribution — if there's a personal purpose," said Giuliani.
But Blake explained why this is wrong:
The law does not say that a campaign finance violation exists only if the "sole purpose" of it is to affect a campaign. In fact, it says a contribution is "any gift, subscription, loan, advance, or deposit of money or anything of value made by any person for the purpose of influencing any election for Federal office." This definition doesn't carve out exceptions for things that were also for personal purposes (indeed, if that were the case, basically nothing would qualify). Instead, it says anything with a campaign benefit is a contribution.
So clearly, Giuliani doesn't understand the law in question. But even worse, his comments appear to be an admission that helping the campaign was a clear purpose of the payment.
When, during his ABC New interview, George Stephanopoulos said that the AMI payment to Karen McDougal would be "clearly illegal" as a campaign contribution, Giuliani said, "No, it would not be."
He continued: "It's not a contribution. It's not a contribution if it's intended for a purpose in addition to the campaign purpose."
This would seem to be a clear admission that the AMI payment was made, at least in part, for a campaign purpose. Since Giuliani is wrong that any additional purpose excludes the payment from being a campaign contribution, it seems nearly certain that he just admitted his client broke the law.
Watch the clip below:
Cody Fenwick is a reporter and editor. Follow him on Twitter @codytfenwick.