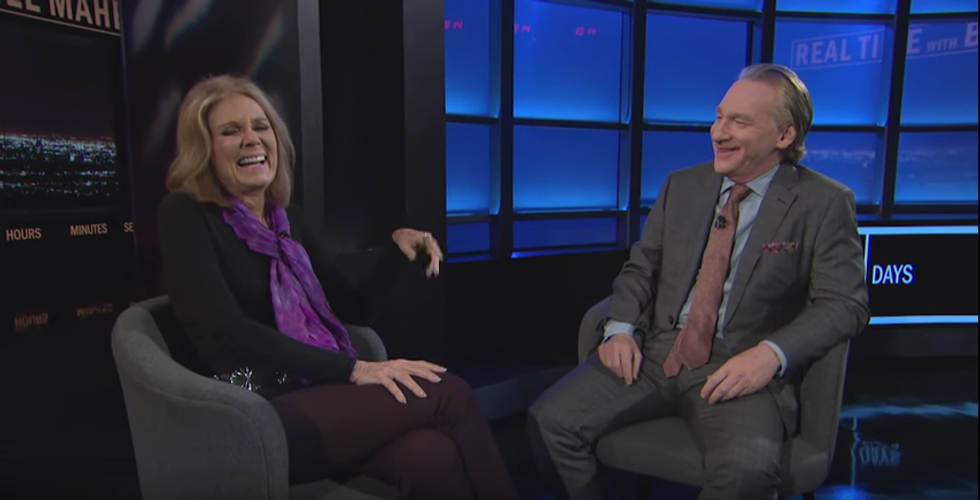 The last time I stood in front of Gloria Steinem, in the fall of 2012, she spent little time talking to me.
Instead, she trained her laser-focus on the 24-year-old woman next to me. This was my daughter, whose favorite doll in early childhood was a blonde Cabbage Patch girl named Gloria Steinem.
We were in Hartford for a sold-out panel discussion for the Connecticut Forum — featuring Ashley Judd, Michelle Bernard, Gloria and me — on "The State of Women." When Cait heard that I would be less than two hours from her home in Providence, she considered driving up. When I told her Gloria Steinem was also on the panel, I closed the deal.
What I remember most about that evening was the glow on my daughter's face as Gloria leaned in and asked her about her life. I couldn't recount a word of their exchange, but I will never forget the full-circle joy that blurred my vision.
I share this story not to excuse what Gloria said on Bill Maher's show last week but to explain why I won't let one clumsy comment diminish who I know her to be.
Maher asked her why so many young women are supporting Bernie Sanders. She has since apologized for this response: "Women get more radical as we get older. Men tend to get more conservative because they gain power as they age, and women get more radical because they lose power as they age. … When you're young, you're thinking, 'Where are the boys?' The boys are with Bernie."
I understand the angry response of many young women, but when the outrage turns to rancor and declarations of her irrelevance, I bristle. Gloria Steinem has been a steadfast champion of this millennial generation of women, many of whom have likely never said her name aloud before this week. At 81, she has earned our benefit of the doubt.
It didn't help that, in the same weekend, former U.S. Secretary of State Madeleine Albright stood next to Hillary Clinton and warned younger women, "There's a special place in hell for women who don't help each other." She has said the same thing countless times, often to rapturous cheers, but her timing was off.
At 58, I'm young enough to have found Steinem and Albright inspiring for many years. I even admire their impatience in this presidential year. It is comforting to see a small part of me in my heroes.
How to explain this? I think about that a lot. It's not that I believe young women have to support Hillary Clinton. I just want them to understand why it's so personal for many of us who do. We can rattle off all Clinton's qualifications as the reasons to elect her, and we mean it. But there's also the woman-ness of it all. Why are we still such a tough sell, even to one another?
In our family, three daughters and a daughter-in-law have careers and young children and a sense of self that triggers a deep longing in me. Sometimes I watch them and wonder, "Who are you?" It is a question of awe, not envy, and a reflection of my own what-ifs. Who might I be now had I been like them in my 20s? It took me so much longer to turn up the dimmer on my own ambition.
Not this generation. Everywhere I go, it seems, I meet young women who leave me breathless. They are teaching and preaching and delivering babies. Once a year, one of them calms my nerves before she walks behind the wall and tells me to hold my breath for the mammogram.
Sometimes, I am at my clumsiest with them, feeing a rush of unearned pride. Who am I, a stranger, to take glory in these young women's lives? I feel so silly, so full of this song in my heart.
Finally, it seems, I understand how my own mother felt as she watched her daughters leave her behind to navigate a world she had never imagined for herself. Days before she died, she told me she wished she had stuck up for herself more in her marriage.
I braced myself and said, "What would you have done differently, Mom?"
She lifted her weak, manicured hand and pointed to her head. "I would have dyed my hair red," she said. "And I would have had cats."
They used to ask for so little, the women in my family.
Maybe that, too, is why I want it all.
Connie Schultz is a Pulitzer Prize-winning columnist and professional in residence at Kent State University's school of journalism. She is the author of two books, including "…and His Lovely Wife," which chronicled the successful race of her husband, Sherrod Brown, for the U.S. Senate. To find out more about Connie Schultz (con.schultz@yahoo.com) and read her past columns, please visit the Creators Syndicate Web page at www.creators.com.
COPYRIGHT 2016 CREATORS.COM