God: The Most Powerful Republican Swing Voter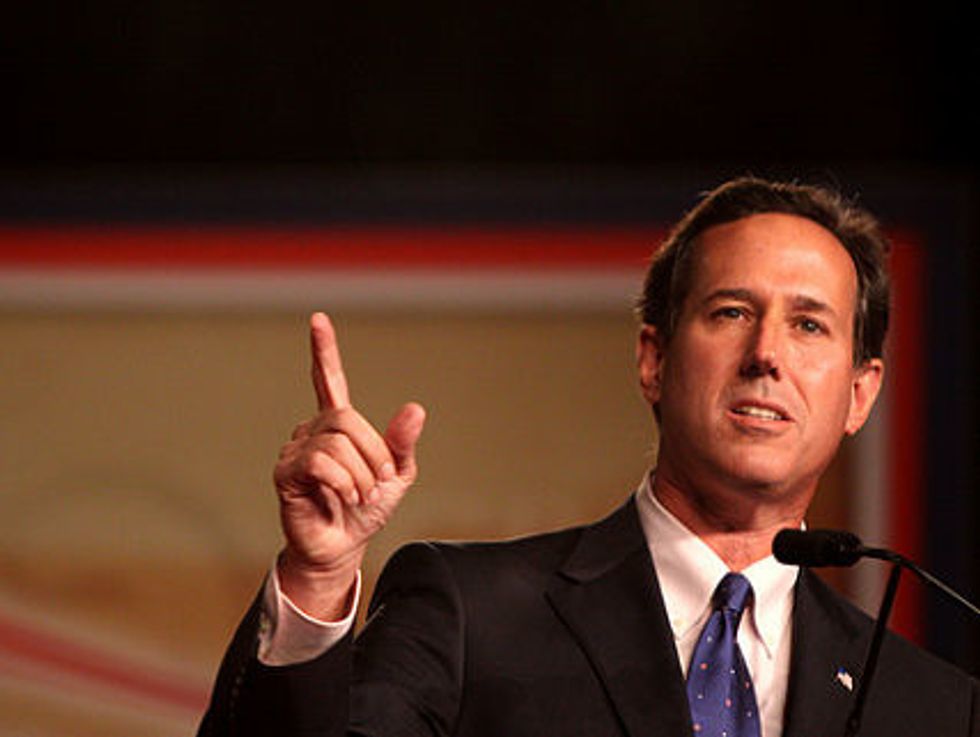 Rick Santorum's wife, Karen, made headlines on Thursday when she told conservative talk show host Glenn Beck that it was "God's will" that her husband runs for President.
"I did always feel in my heart that God had big plans for Rick. Eventually it was there, tugging at my heart," she said.
But Santorum is not the only candidate who God has pushed into the race. Judging from the comments of the Republican candidates, God is the ultimate Republican swing voter. Like the Republican electorate, He apparently can't decide who He supports for the nomination, and He is constantly hoping for a new candidate to enter the race.
Former Godfathers' Pizza CEO Herman Cain was the first candidate to hear God urging him to run for President. Cain told the audience at a Tea Party rally in April that God helped him beat cancer in 2006 because He presumably wanted to see the 9-9-9 plan in action.
"You want to know why? God said, 'Not yet Herman,'" Cain told the crowd. "God said, 'Not yet. I've got something else for you to do.' And it might be to become the president of the United States of America."
God also pushed Michele Bachmann to jump into the race. In late May, Bachmann told Iowa Public Television that "every decision that I make I pray about as does my husband and I can tell you, yes, I've had that calling and that tugging on my heart that this is the right thing to do." Just two weeks later, Bachmann announced her candidacy during a Republican debate.
Apparently God wanted more than just Bachmann and Cain, so the lord of the universe encouraged Newt Gingrich to seek the nomination. When asked in 2010 if he was planning to run for president, Ginrich replied "I suspect that will be up to God and the American people."
A little over a year later, God apparently gave Newt the go-ahead — despite his multiple religious conversions and three marriages.
God wasn't done yet though. Last summer, as Republican voters vocally expressed their dissatisfaction with the field that He helped put together, God urged another Republican — Texas Governor Rick Perry — to jump into the field.
"I'm not ready to tell you that I'm ready to announce that I'm in," Perry told the Des Moines Register in late July. "But I'm getting more and more comfortable every day that this is what I've been called to do."
Perry soon jumped into the field, fully confident that he was God's favorite candidate. As his wife told NBC news in October:
"We are being brutalized by our opponents, and our own party. So much of that is, I think they look at him, because of his faith. He is the only true conservative — well, there are some true conservatives. And they're there for good reasons. And they may feel like God called them too. But I truly feel like we are here for that purpose."
In the same interview, Anita Perry compared her husband's decision to run for president to Moses encountering the burning bush. Unlike Moses, however, neither Perry nor the other Republicans who God called to run were destined to lead anyone anywhere.
So overall, at least five Republican candidates feel that God called upon them to run for president. In an interesting twist, they happen to be the five candidates who have caused the most controversy throughout the campaign, and arguably done the most damage to the Republican brand. If you believe that this is the field that God has assembled for the Republican primary, then it is hard not to conclude that He must be seriously pulling for the Democratic Party.