Goetze Strikes As Germany Win World Cup
@AFP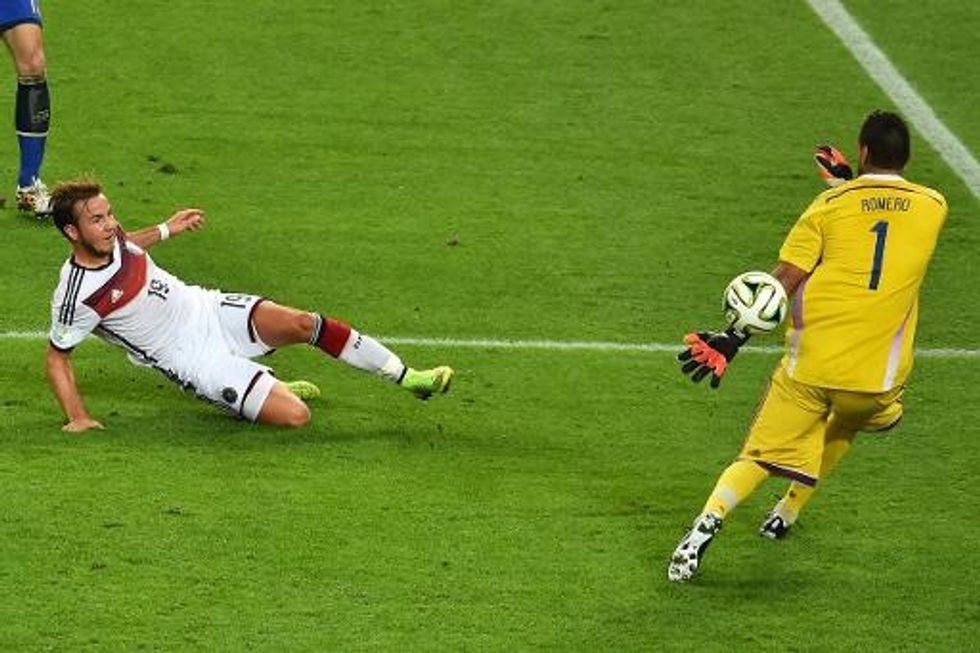 Rio de Janeiro (AFP) – Mario Goetze scored a superb extra-time winner as Germany beat Argentina 1-0 to become the first European team to win a World Cup held in South America on Sunday.
Bayern Munich star Goetze struck in the 113th minute to finally break Argentina's resistance as Lionel Messi's dream of emulating Diego Maradona ended in defeat.
The decisive moment of a World Cup brimming with wonderful goals came with penalties looming in front of 74,738 fans at Rio de Janeiro's famous Maracana Stadium.
Andre Schuerrle burst clear down the left flank and crossed for Goetze.
The 22-year-old took the ball on his chest and then volleyed past Sergio Romero to spark delirium amongst the largely pro-German crowd.
Argentina and Messi were left squandering a handful of gilt-edged chances, including one that fell to Messi in the second half.
Messi was largely anonymous for most of the evening and his miserable evening was summed up when a late free-kick to equalize sailed over the bar.
The victory was celebrated raucously by Brazilians in the crowd, who had dreaded the prospect of sworn South American rivals Argentina lifting the title in their backyard.
An absorbing first half saw Germany forced into a reshuffle moments before kick-off with inexperienced Christoph Kramer replacing Sami Khedira after the Real Madrid star injured a calf in the warm up.
With Bastian Schweinsteiger running midfield the Germans laid siege to Argentinian territory, passing smoothly and denying Messi a route into the game.
Yet for all Germany's early dominance they created little in the way of clear chances.
And it was Argentina who were presented with a glorious chance to open the scoring.
Toni Kroos misdirected a header back to Manuel Neuer to send Gonzalo Higuain racing through on goal.
But with only Neuer to beat the Napoli striker dragged his shot wide to disbelief from fans and team-mates.
Germany continued to probe for openings, and a Philipp Lahm pass almost put Thomas Mueller clear.
The pace of Argentina on the counter-attack continued to unsettle Germany however.
Schweinsteiger picked up a yellow card for bringing down Ezequiel Lavezzi just after the half hour mark.
Moments later, Argentina had the ball in the net only to see the goal disallowed for offside.
Messi released Lavezzi down the right who swept in a low cross for Higuain who drilled his finish past Neuer before wheeling away in delight.
Higuain's roar of celebration was cut short however after Italian referee Nicola Rizzoli whistled, correctly, for offside.
Germany's personnel problems deepened when Khedira's replacement Kramer himself limped off, prompting the introduction of Andre Schuerrle.
The Germans remained unfazed by the setback however, and quickly set about reimposing their control of the game.
Schuerrle drew a fine near-post save from Romero on 37 minutes with a rasping shot after Mueller's cutback.
But the latent threat of Messi meant Germany could never entirely relax.
Messi burst away down the right and raced into the box, toe-poked past Neuer only for Jerome Boateng to clear.
On the stroke of half-time Benedikt Hoewedes came within inches of scoring, crashing a header from a Kroos corner against the post.
The second half followed a similar pattern, Germany controlling possession but Argentina often threatening on the break.
Messi squandered another golden Argentinian chance two minutes after the restart, latching onto a pass from Lucas Biglia but scuffing his shot wide of Neuer.
The hard-fought nature of the contest led to a flurry of cards from referee Rizzoli, who cautioned Javier Mascherano and Sergio Aguero in quick succession for fouls on Miroslav Klose and Schweinsteiger.
The remainder of the half saw neither stride able to get on top.
Germany controlled possession without really testing Romero, while Argentina were unable to pass a German defence superbly marshalled by Mats Hummels and Boateng.
Schuerrle came closest to breaking the deadlock in the first period of extra-time, forcing Romero into a desperate block.
Penalties looked to be the likeliest outcome, but Goetze had other ideas.
AFP Photo/Gabriel Bouys