Good Riddance To Tom Price, Trumpcare's Snake Oil Salesman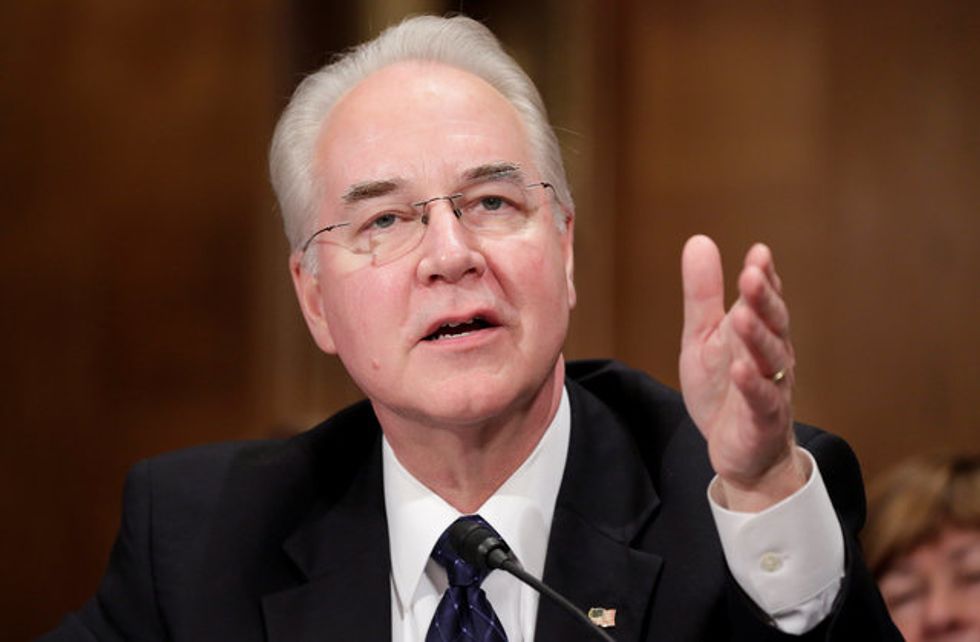 Reprinted with permission from AlterNet.
Tom Price, the Secretary of Health and Human Services who led the four failed Republican efforts to repeal and replace the Affordable Care Act, resigned because of improper use of private charter jets and even more costly military transport.
He should have been fired for his repulsive lies about the Affordable Care Act and the cruel plans offered by House and Senate Republicans these past eight months.
Tom Price doesn't deserve a lengthy review. Let's just take a quick look at his biggest lies and celebrate his banishment.
The Failure Lie
Tom Price: "But the important thing is to appreciate that the market as it is right now is failing. Obamacare, the ACA, has failed."
There was never a death spiral or an implosion of Obamacare, although Tom Price and President Trump did everything in their power to sabotage and undermine the Affordable Care Act.
The Premiums Lie
Tom Price: "You've got premiums going up, you've got deductibles where people have an insurance card but they don't have any coverage."
According to Price Waterhouse Cooper, in 2007, the last year of the Bush administration before the ACA, insurance premiums grew almost 12%. In 2016, the last full year of Obama's presidency, the rate was 6.5%. The ACA had slowed the rate of premium increases by close to half.
The Coverage Lie
Tom Price: "A third of the counties in this nation that only have one insurer offering coverage, five states with only one insurer offering coverage."
Today, according to the Kaiser Family Foundation, 91% of Americans are insured, more people than at any time in American history.
The Choice Lie 
Tom Price: "I firmly believe that nobody will be worse off financially in the process that we're going through, understanding that they'll have choices that they can select the kind of coverage that they want for themselves and for their family, not the government forces them to buy."
This was the sleaziest lie.
The Affordable Care Act put an end to empty, threadbare insurance plans where people would reach a limit of coverage and go bankrupt. Tom Price was always talking about "freedom." As if someone feels free when they find out their insurance doesn't cover a procedure or disease. Medical bankruptcies have been cut in half since the ACA. Freedom is coverage, not the "choice" to have inadequate insurance.
Goodbye Tom, you will not be missed.
Enjoy his resignation announcement below: