Google To Make Your Life Easier During Presidential Debates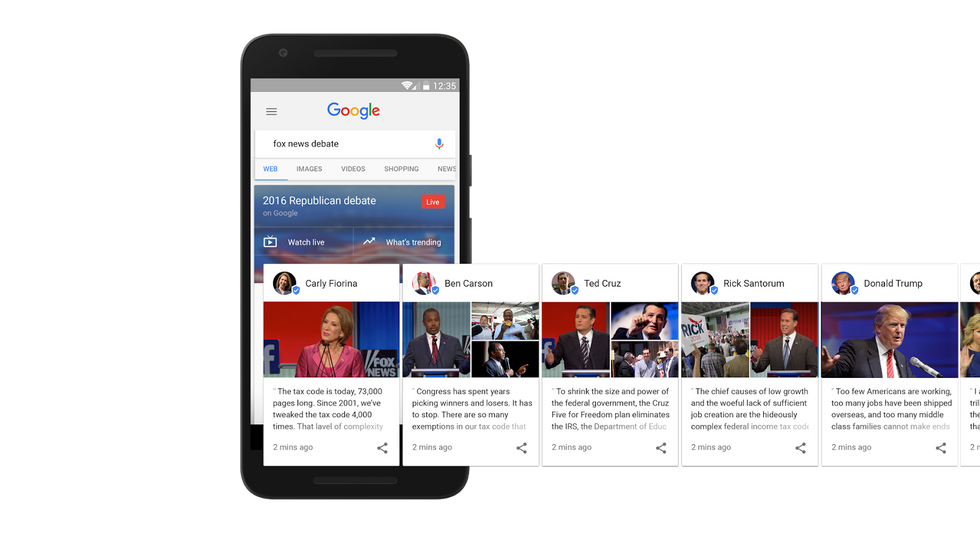 What do you do while watching the presidential debates?
Besides yelling at Carly Fiorina every time she opens her mouth, roll your eyes at Donald Trump, or cheer on Megyn Kelly, you'll have the opportunity to do more than check Twitter while you chug away your beer. Google announced a partnership with Fox News that enables users to find more about candidates.
In what they bill as an "experimental feature," when users search for "Fox News Debate," photos, videos and statements from each of the candidates, in real time, will appear, including answers to questions they may not have been asked to answer on stage. Candidates' campaigns can also add extended responses and clarifications to what they said during the evening.
Google Trends, Google's arm that surfaces trending content based on searches, will also surface questions, catchphrases, and other useful content.
According to Google, searches related to politics rise 440 percent during the debates. So instead of furiously Googling what Carly Fiorina's thoughts are on abortion or Jeb Bush's record in Florida, Google is making it easier to find what you're looking for, directly from the candidates.
The information isn't meant as a fact-checking enterprise, as some early reports might have led you to believe. Google is positioning it as a way for voters to stay informed; it's certainly a boon to those who won't be watching, though Fox News will be live-streaming the debate, available even to those without a cable subscription, on their website.
The feature is available starting at 7 p.m. Thursday, Jan. 28, in time for the Republican debate. A spokesperson from Google was unable to return phone calls seeking clarification as of press time.
Photo: This is a mockup of what you can expect to find from Google's new feature. Credit: Google