GOP Congress Seems Determined To Make Mass Shootings Even Deadlier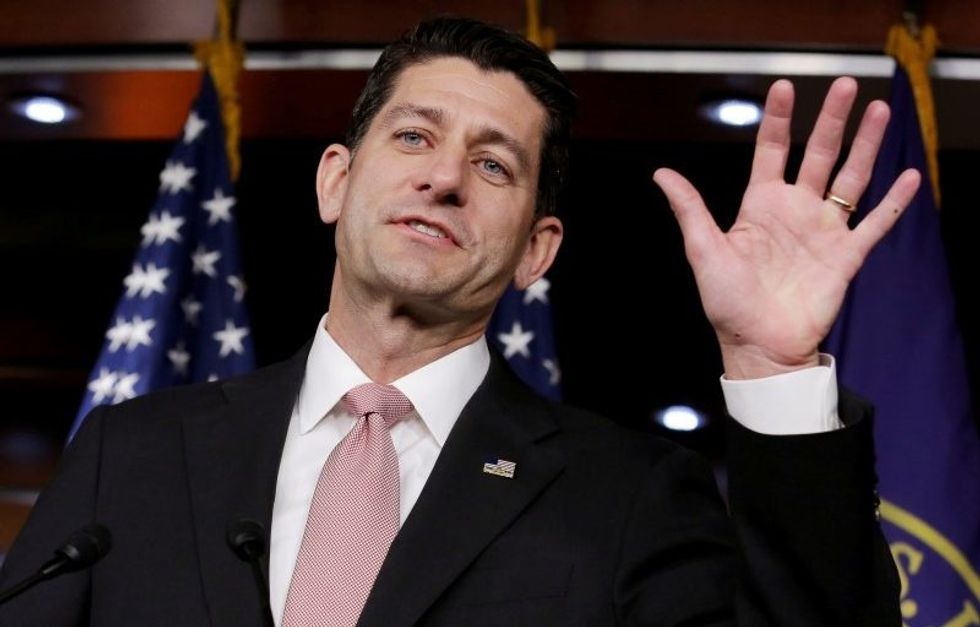 The mass shooting in Las Vegas, the largest in U.S. history, has left 59 dead and more than 500 injured. Now, thanks to the deceptively named Sportsmen's Heritage and Recreational Enhancement Act, the Republican Party appears hell-bent on making the next massacre that much deadlier.
The new legislation, which is wending its way through Congress, would make it harder for the Bureau of Alcohol, Tobacco, Firearms and Explosives to designate bullets as "armor-piercing," thereby allowing consumers to purchase ammunition that can penetrate the protective vests police officers wear. (Shows you how much Republicans think blue lives matter when NRA dollars are at stake.) Under the law, bullets that can puncture body armor would still be legal to sell, so long as the manufacturer is careful to declare the ammunition is made for "sporting purposes."
Rob Bishop, the Utah Republican who introduced the legislation, states on his website, "The Founding Fathers were clear when they drafted the Bill of Rights….Vagaries in today's legal code pose a real threat to the right to keep and bear arms. The Obama Administration exploited this ambiguity to forward its agenda of restriction. It's time to ensure no future Administration tramples on these freedoms guaranteed by our Constitution."
Along with the armor-piercing ammo provision, the bill would make it far easier for criminals to purchase gun silencers. Politico notes that under the 1934 National Firearms Act, silencers have been "treated similarly to machine guns or explosives." The so-called SAFE Act would lift prohibitions on silencers, which, when used, make it far more difficult to hear the source of a shooting. Republicans are attempting to sell the bill as a way to protect hunters' hearing, though most hunters say earplugs work just fine.
"What it does is it disperses the sound, so you can't identify where the sound is coming from," Mike Thompson, a California Democrat and self-professed "avid hunter" told the San Francisco Chronicle. "It puts both law enforcement and the public at risk."
"The National Rifle Association thinks Congress owes them more armor-piercing rounds and gun silencers on the streets, and today our Republican colleagues showed they're happy to do what they're told," Rep. Raul Grijalva (D-AZ) told Politico earlier this month. "I've been here since 2003, and passing these bills in the name of 'helping sportsmen' is one of the most cynical excuses I've ever heard."
The Chronicle notes that in addition to making gun laws even more lax, the new legislation would "loosen restrictions on hunting and shooting on public lands":
"It would, for example, reverse an Obama administration ban on lead tackle and ammunition from most federal lands; amend the Migratory Bird Treaty Act to allow shooting of birds over unharvested cropland; ease fishing restrictions in marine sanctuaries; remove Endangered Species Act protections for Great Lakes gray wolves; and ban the purchase of new wetland and bird habitat."
House Minority Leader Nancy Pelosi pointed out the absurdity of the GOP's efforts to sell the legislation as a bill for hunters.
"Hunters need armor-piercing bullets? They need silencers?" she told the Chronicle. "They need to conceal and carry to hunt?"
The SAFE Act is one of a pair of gun bills expected to move through Congress in the coming months. The Chronicle also highlights the Concealed Carry Reciprocity Act of 2017, which "would allow people to carry concealed weapons in any state if it is allowed in the state where they live [and]…undermine regulations in states such as California and New York that require applicants for such a permit to demonstrate a need and submit to background checks."
Basically, the law would make a concealed carry license as easy to obtain as a driver's license.
While Republican members of Congress would have you believe the only people opposed to the SAFE Act are coastal elites and their elected representatives, many police officers have voiced their concern about the law. Back in March, the National Law Enforcement Partnership to Prevent Gun Violence released a statement noting that, "the primary target for silencer manufacturers has been military tactical teams who use silencers to confuse the sound of gunfire and confound an enemy's response to surprise attack."
"Widespread and uncontrolled distribution of silencers to an unwary civilian population," it continues, "combined with the sheer number of firearms freely available in America, is a step in the wrong direction and will result in tragedy, including violence directed at police officers that will be difficult or impossible to investigate effectively."
A House hearing on the SAFE Act was originally set to place in June, but was delayed after House Majority Whip Steve Scalise was shot during a congressional baseball practice.
Kali Holloway is a senior writer and the associate editor of media and culture at AlterNet.