As GOP Considers Immigration Strategy, Hopes For Appropriations Omnibus Dwindle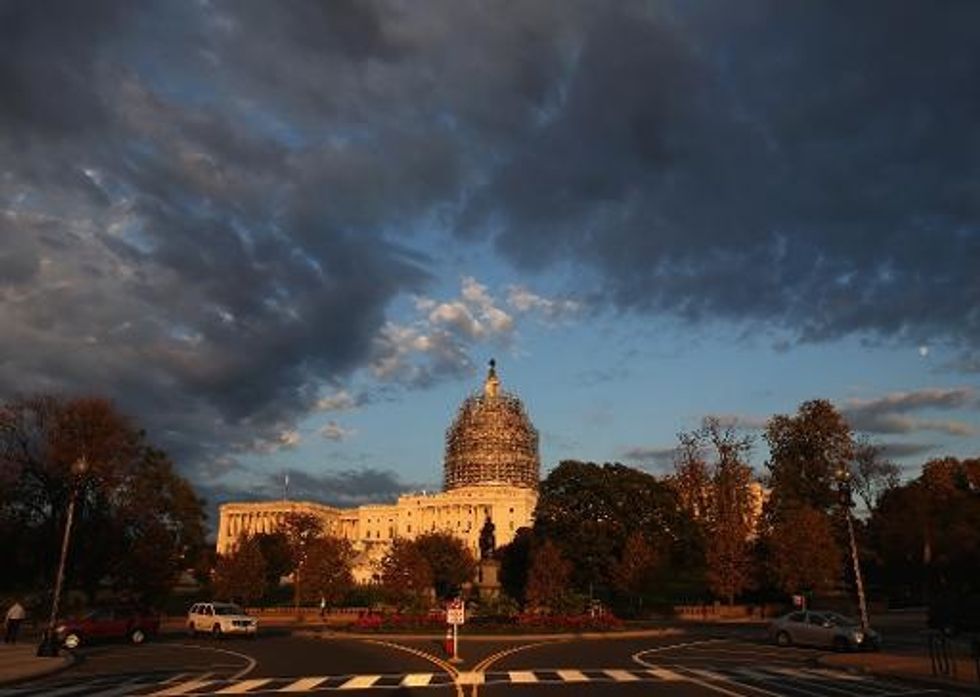 By Tamar Hallerman, CQ Roll Call (TNS)
WASHINGTON — Between the timing of President Barack Obama's immigration actions and House Republicans still undecided about how to respond, the door is quickly closing for the full-year, government-wide omnibus that appropriators are hoping to move by mid-December.
Instead, a short-term continuing resolution is becoming the more likely course of action to wrap-up fiscal 2015 spending, unless leaders demonstrate a serious commitment to an omnibus by early December.
Fractious House Republicans have yet to coalesce around a strategy for how to respond to executive actions on immigration the president announced last Thursday. Conservatives insist that their response should be tied to the best leverage they have against the White House — a spending bill that must be enacted by Dec. 11 — while appropriators and more moderate Republicans are urging a decoupling of the two.
When lawmakers return to Washington on Dec. 1, they will have less than two weeks to settle on an approach before the current stopgap expires and Congress will need to enact a new spending agreement to avert a government shutdown.
Republicans are on the same page in two respects: They think the president has overstepped his constitutional authority and that Congress should act. But the breadth of suggestions for how to respond means that House GOP leaders, as they look to corral members of their conference behind a single strategy, when lawmakers return in early December, will have a hard time settling on an approach that appeases both conservatives and the more moderate wing of their party.
If history is any indication, a short-term CR is likely the fallback approach.
Speaker John A. Boehner of Ohio offered few hints about how the House plans to respond, saying only that "we're working with our members and looking at the options that available to us." Boehner promised action, but his lack of specifics indicates that leadership is still sorting out its strategy.
With the clock ticking and little new guidance from leadership, House and Senate appropriators have been left in a tight spot.
An omnibus is still a possibility, but appropriators know they will have to finish up their work quickly — no later than the first few days of December — and sell it in the right way if they want any chance of floor action. Cover from leadership will be essential in the weeks ahead.
Senior appropriators and their staffs will continue to negotiate the details of a government-wide, 12-bill omnibus over the Thanksgiving recess. They're looking to get as many spending and policy disputes between the two chambers as possible resolved by Dec. 1, when the "big four" appropriators — House Chairman Harold Rogers (R-KY), his Senate counterpart Barbara A. Mikulski (D-MD), and their ranking members — are scheduled to meet to resolve the remaining disputes.
Appropriations aides have for weeks been working toward the goal of having the $1 trillion spending bill ready for floor action by Dec. 8. But they will need to have most of the differences resolved by the first few days of December if they want any hope of moving forward; Rogers will need to sell the plan to his conference on Dec. 2, and many of his conservative colleagues will undoubtedly be pushing for a short-term stopgap in order to quickly confront the president in the new Congress.
In the meantime, appropriators are keenly aware that they need to have built up some momentum by the time lawmakers return to Washington, and that's the message that Rogers and Mikulski continue to broadcast to their colleagues and the public.
Mikulski said appropriators were making "steady" progress on the spending package and urged lawmakers to keep immigration action separate from the omnibus.
"If you're mad at the president … then deal with the president. Don't take it out on people and programs that are in the omnibus. We have important national security concerns, we have legislation that meets compelling human needs and deals with everything from jobs to public health and safety," Mikulski said. "We want to do our job. We're on track."
Inside the negotiating room, appropriators and their aides have significant issues to overcome between now and the first week of December. Pell grants, Ebola funding, school nutrition standards and Commodity Futures Trading Commission funding continue to be sticking points in negotiations, according to senior appropriators.
Some key figures are already beginning to express pessimism that an omnibus can be completed this year.
Richard C. Shelby of Alabama, ranking Republican on Senate Appropriations, said Wednesday that the president's executive action "poisons the waters" on the spending plan. "It doesn't help us in any way toward building the omnibus and passing the omnibus, which I would prefer," Shelby said. "I think it would lean toward the other way," to a continuing resolution.
Boehner and Mitch McConnell (R-KY), who will be Senate majority leader in January, are both thought to favor wrapping up the overdue spending bills in the lame-duck session. They want to clear the decks for the new Congress, respect the appropriations process and limit any fiscal standoffs with the White House so early in their tenure.
But if momentum builds in their conferences for a short-term CR, they may be forced to oblige, especially if they don't want to rely on Democrats for votes to advance a spending bill.
Sen. Jeff Sessions of Alabama has continued to beat the drum for a short-term stopgap in order to maximize leverage against the White House, and many House conservatives are beginning to follow suit.
"We want a short-term CR. A strong majority of conference says there's no reason to give up until October," said Tim Huelskamp (R-KS), arguing that Republicans would lose a key piece of leverage against the White House if they were to pass a full-year spending bill.
Conservatives are also insisting on language in any spending bill blocking the executive action, something that Obama administration officials have already warned will prompt a veto threat.
Unless House GOP leadership can convince conservatives to back a "clean" omnibus or CR — perhaps with the promise of action elsewhere on a lawsuit, standalone immigration legislation or a rescissions bill — another shutdown showdown could be in order.
AFP Photo/Mark Wilson