GOP Doctors Unable To Answer Simple Trumpcare Question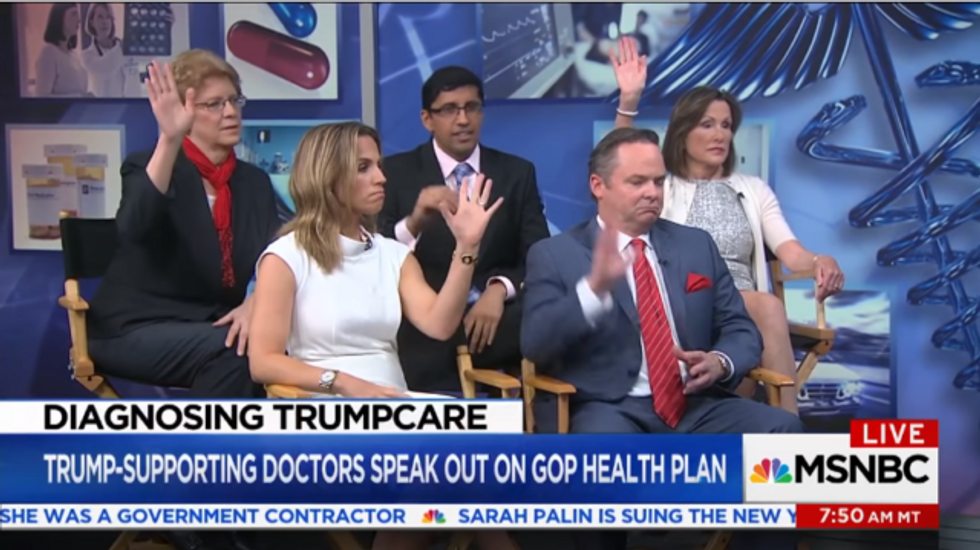 Reprinted with permission from Alternet.
Senate Majority Leader Mitch McConnell has delayed a vote on Republicans' new health care bill, the Better Care Reconciliation Act. On Thursday, MSNBC's Stephanie Ruhle hosted a panel discussion with five Trump-supporting doctors from around the country.
Ruhle began with a softball: "Who here thinks Obamacare made health care better for patients?"
Predictably, no one did. But her line of questioning would grow considerably more aggressive.
"If you were to sit down with Mitch McConnell and say, Leader McConnell, here is what you need to do to get this thing through, speaking as a doctor, what would you tell him right now?" she continued.
Alieta Eck, a New Jersey internist, offered this head-scratcher: "How about letting other groups form, not just employer-based. So, if a group like the NRA or, I don't know, some other group… a township—"
"Let's have the NRA create health care," Ruhle cut in. "I'm gonna go with no."
But Eck wouldn't let it go.
"How about a township?" she pressed. "You buy into your township plan and then you'd have 50,000 people that are all buying into the same health care plan, or any kind of group of people — churches — let them form a health plan."
Eck is also a columnist who believes "we need doctors who are out of control" according to a critque of Obamacare she authored in January 2014.
Watch:
Alexandra Rosenmann is an AlterNet associate editor. Follow her @alexpreditor.
This article was made possible by the readers and supporters of AlterNet.
Photo Credit: MSNBC / YouTube