GOP Donors Need To Pretend Republican Primary Voters Don't Exist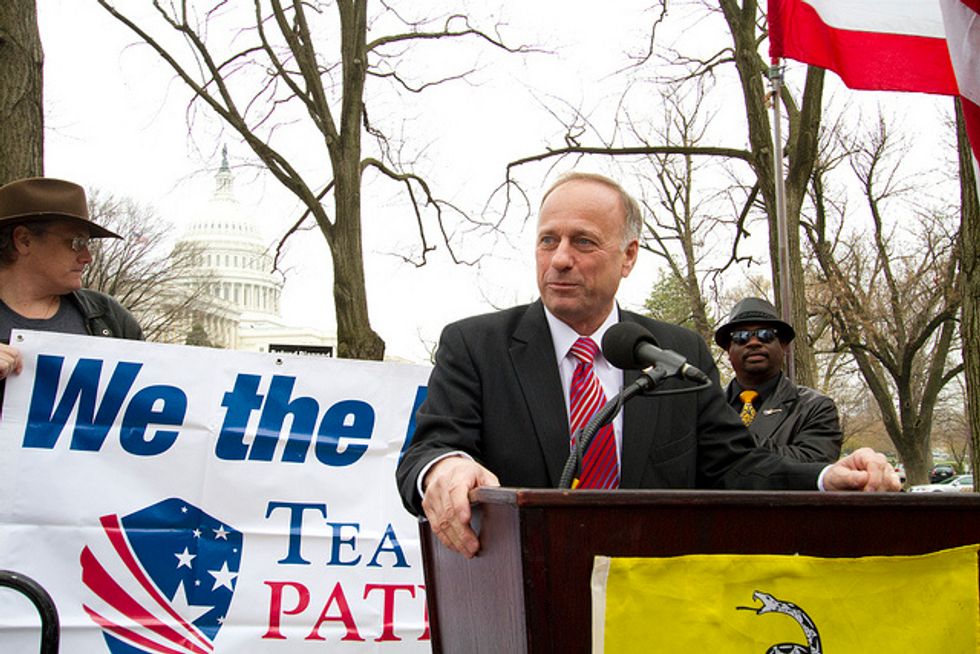 Just a day after a College Republicans report found that young voters believe the GOP is "closed-minded, racist, rigid, old-fashioned," House Republicans decided to prove their point.
Led by Rep. Steve King (R-IA) — whose high-school yearbook accomplishments included being "closed-minded, racist, rigid, old-fashioned" — the House majority overwhelmingly voted to deport millions of students and veterans who were brought to America as kids. Instead of supporting the DREAM Act, which is backed by 91 percent of Latino voters, the House GOP offered the DEPORT Act.
A couple of days later and a couple of thousand miles away in Utah, a group of high-level Republican Party donors met with Mitt Romney to discuss the future of the party and say things that sound the opposite of "closed-minded, racist, rigid, old-fashioned."
"The party needs to tie itself to social inclusion and fiscal responsibility. That means any race, any creed, any sexual orientation, any issue related to the reproductive power of women — any of those groups need to feel at home in the Republican Party," Anthony Scaramucci, a RNC national finance co-chairman, said.
Susan Crown, a key Romney fundraiser, said that the GOP "really has to reconcile its fundamental principle, of government staying out of the people's lives, with its recent history."
"We're losing for a policy that we couldn't even implement," donor Andrew Puzder said, addressing the notion that 11 million undocumented immigrants should just be deported. "We have to be more careful with our selection of candidates."
Of course, the candidate who most famously embraced "self-deportation" was the host of the event — Mitt Romney.
LOL.
This sums up the GOP's central crisis: Instead of being the party that wants to stay out of people's lives, they're the party that wants you to get out of their country. And this stand, this policy position of "get off my lawn," is extremely popular with the only voters who actually matter to House Republicans — GOP primary voters. And that's why Mitt Romney embraced it.
These primary voters say they want smaller government but they also want their representatives to use the government to round up the folks they don't like for a one-way, non-stop Greyhound ride south of the Rio Grande. They don't want Washington, D.C. telling them what their business can throw in the water, but they do want it not only banning abortion but also allowing bosses to decide if women get birth control. They want to spend less and continue to grow a military that will soon cost us a trillion dollars a year.
Contradictions are inevitable in politics. But the House GOP manages to invariably come down on the side of being "closed-minded, racist, rigid, old-fashioned."

Imagine if the House Republicans had voted 37 times to repeal the PATRIOT Act. Right now they'd be able to oppose the president on what has become the issue of the moment, privacy.
Instead they're busy making sure insurance companies can deny people who have pre-existing conditions and we can keep paying for the uninsured who inevitably end in emergency rooms.
The Republican Party's problem is they've gerrymandered a safe majority that will probably easily be re-elected in the next election, which will feature an "older and whiter electorate at a time when older whites have become the core of the GOP electoral coalition," according to The National Journal's Ron Brownstein.
This will go on to cost them any chance of winning The White House and possibly even the House in 2016, "when the millennial generation and minorities will likely return in larger numbers."
This is a nightmare scenario if you're one of the people who needs to raise a billion dollars every four years so the GOP can compete for the presidency. You're basically inviting your friends to dump their cash down a toilet bowl for the chance to look "closed-minded, racist, rigid, old-fashioned."
That's why GOP donors want to ignore what's going on in D.C. and focus on what's going on in New Jersey, where they have one potential national candidate who is as far to the right as the House GOP when it comes to taxes, regulation and defunding Planned Parenthood but is willing to talk about compromise and — literally — embrace Democrats if it helps him win elections.
Governor Chris Christie (R-NJ) was the only potential 2016 GOP nominee who got a standing ovation at that donors' summit in Utah.
Unfortunately, the day before Christie spoke, the first NBC/Wall Street Journal poll ranking the potential Republican candidates among primary voters came out. Among the seven possible candidates — Rep. Paul Ryan (R-WI), Senator Rand Paul (R-KY), Senator Marco Rubio (R-FL), Jeb Bush, Christie, Governor Scott Walker (R-WI) and Senator Ted Cruz (R-TX), Christie was the fifth most popular.
Among conservative voters, those most likely to vote in a primary, Christie has the highest unfavorable rating.
Photo: Mark Taylor via Flickr.com