GOP Forced To Walk Thin Line After Hobby Lobby Ruling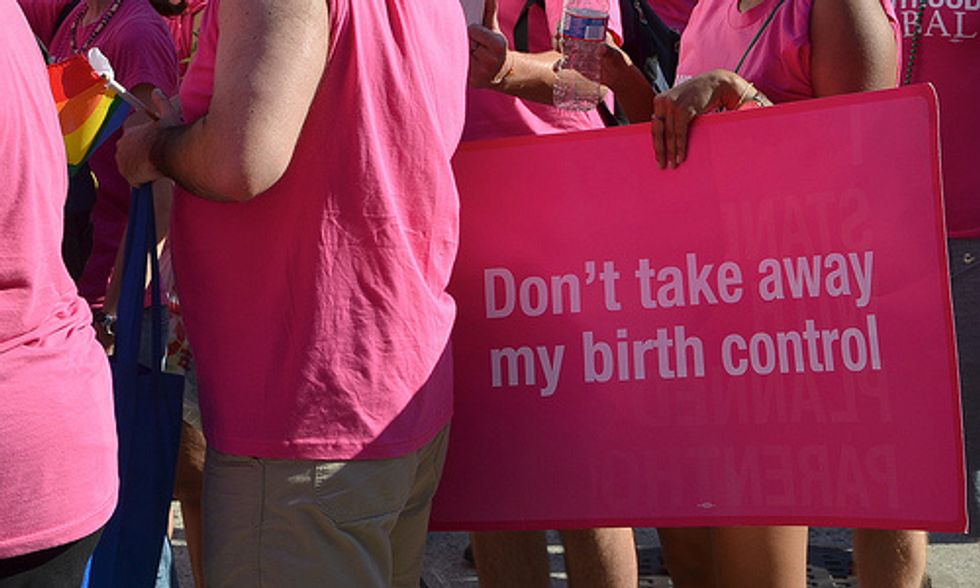 The Supreme Court officially adjourned for the summer on Monday, but not before bestowing Republicans with a double-edged sword in the form of a major ruling.
The Court's 5-4 decision in Burwell v. Hobby Lobby struck down a key provision of the Affordable Care Act that had required employer-provided health care to include contraception coverage for women, even if the employer objected to birth control on the basis of religion. Republicans hailed the decision as a victory for religious freedom and the Republican National Committee released a statement thanking the Court for ruling "on the side of liberty."
For the GOP, the Hobby Lobby decision does present some cause for celebration: The ruling calls attention to religious freedom — a cause touted by the right — and serves as ammunition for Republicans who claim that Obamacare is a flawed and oppressive law.
However, the Court's ruling also serves as a reminder of just how cautiously the GOP must tread when speaking on any issue in a social and cultural context. In 2012, Republicans paid a heavy price for their increasingly militant and unpopular positions on social issues, and in 2014 they cannot afford to speak too loudly on social issues just months ahead of midterm elections.
As a Democracy Corps analysis pointed out in February, 2012, the public has long disagreed with Republicans on contraception and Planned Parenthood funding. According to the survey, voters "wonder why at a time of great economic distress, Republicans are consumed with denying birth control coverage for women." With the Hobby Lobby ruling dominating the news, the GOP must again confront contraception and women's access to health care services, among other social issues — ones on which women and young voters tend to side with Democrats.
Voters have not shifted towards the Republican point of view on the issue. Just one day before the Supreme Court released its Hobby Lobby decision, Reuters revealed the findings of a new Reuters/Ipsos poll: When asked "whether employers should be able to choose what forms of contraceptives their health plans provide based on their religious beliefs," 53 percent of Americans disagreed — and only 35 percent agreed.
A Gallup poll released in May similarly found that a massive 89 percent of Americans — including 88 percent of Republicans — say that the use of birth control is morally acceptable.
Recognizing public support for contraception methods, the GOP must make sure that its praise for the Hobby Lobby ruling does not translate into anti-contraception or anti-women's rights cheers. But early returns suggest that controlling politicians' reactions to the decision might prove difficult.
On Monday, Senator Mike Lee (R-UT) agreed with Andrew Wilkow, host of Sirius XM's The Wilkow Majority, that women use contraception to protect themselves from "recreational behavior." Meanwhile, Karl Rove made sure to remind America that the true issue concerns women's access to birth control and abortion, telling Fox News' America's Newsroom that the "country is becoming more pro-life."
"Should somebody be forced to violate their moral beliefs by having to pay for something they believe causes an abortion?" Rove asked.
Along with having to rein in the jolliest of the right, the GOP must also now fend off attacks from Democrats who say that Republicans' response to the Court's decision proves the GOP platform is anti-women. The Democratic Senatorial Campaign Committee has already attacked Republican Senate candidates who would support "radical, anti-woman measures that would go even further than today's decision." The DSCC specifically called out GOP Senate hopefuls "including Cory Gardner (CO), Joni Ernst (IA), Thom Tillis (NC), [and] Terri Lynn Land (MI)" for supporting policies that could "outlaw popular forms of birth control" — an attack that will surely be repeated throughout the remainder of the midterm campaigns.
Photo: Afagen via Flickr