GOP Health Care Gambit Is Just The Beginning
@AlterNet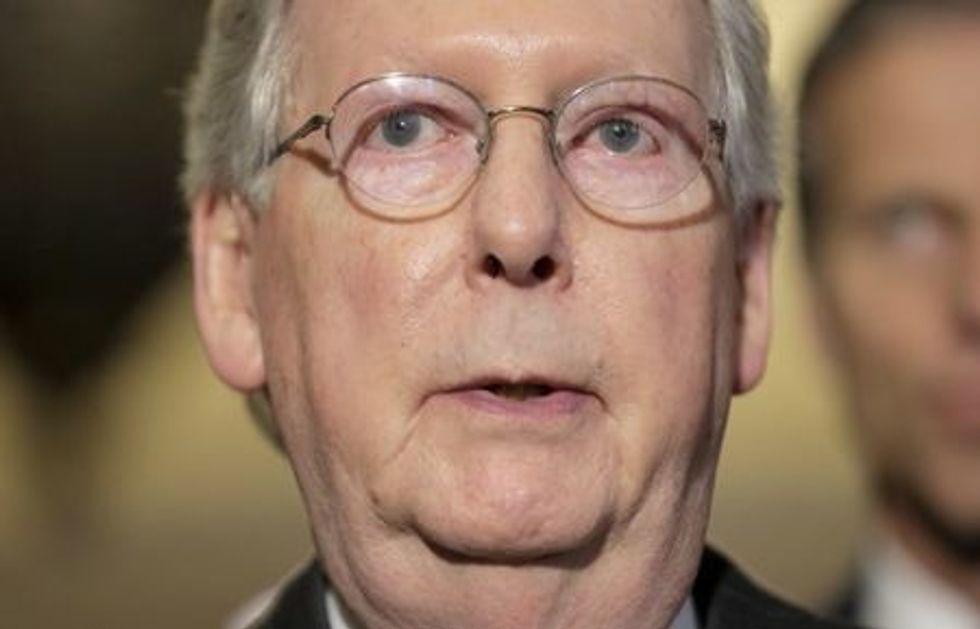 Reprinted with permission from Alternet.
Before postponing a vote on the Better Care Reconciliation Act, Trumpcare's latest incarnation, Senate Majority Leader Mitch McConnell hid the legislation from his Democratic colleagues and the public, refused to hold a single committee hearing and limited debate time on the bill to just 20 hours.
As appalling as this break from procedure is, it is not without precedent. The GOP is merely following a blueprint that state Republicans have been assembling for the better part of a decade.
When Democratic House members launched a sit-in last year to force a vote denying gun sales to consumers on the no-fly list, one of its most aggressive opponents was Senator Thom Tillis of North Carolina.
"The business of the House is more important than the antics that we see going on there," Tillis said on the Senate floor at the time, "and if it were my chamber, it would be cleared and people would be arrested, if that's what's necessary to get us back to the task at hand."
Tillis speaks from experience. As speaker of North Carolina's House of Representatives from 2011 to 2014, he helped turn a genuinely purple state into a playground for conservatives, rolling back rights and protections for the LGBTQ community, people of color, immigrants, women, and workers at large. More crucially, he showed the Republican Party it can ram through legislation without even a pretense of transparency.
In early March, the House's Obamacare replacement was kept so tightly under wraps, Republican Senator Rand Paul created a small media circus when he endeavored to find it. Paul Ryan would ultimately withdraw the legislation after the Congressional Budget Office's evaluation showed it would leave millions without health insurance. When the bill was revived, Republicans learned their lesson: the American Health Care Act was passed 19 days before a new CBO score was released.
Senate Republicans have proven even less transparent with the BCRA, leaving national political reporters understandably flummoxed. "Republicans do not want the country to know what is in their health care bill," Vox's Sarah Kliff wrote on June 15. "The extreme secrecy is a situation without precedent, at least in creating health law," added longtime Kaiser Health News reporter Julie Rovner. (Rovner blamed three decades of decreasing congressional transparency.)
For those of us in North Carolina, what's happening at a federal level looks shockingly familiar. Although the Tar Heel state has long had a reputation for opacity over its 100-plus years of conservative and moderate Democratic rule, Republicans have implemented a far more authoritarian brand of politics since assuming power in 2010.
Perhaps the most glaring example arrived in 2013 when Tillis' House of Representatives took a bill aimed at "motorcycle safety" and tacked on provisions imposing numerous new restrictions on abortion. The legislation was ridiculed as the "motorcycle abortion bill," but that didn't stop Governor Pat McCrory from signing it into law.
This process continued after Tillis left the legislature. Last year's HB 2, which has been described as the most homophobic legislation in the United States, was introduced at 10am on March 23, when Democrats saw it for the first time. McCrory would approve the bill 13 hours later.
When McCrory lost the governor's race to Democrat Roy Cooper, another special session was convened in order to deal with funding for areas affected by Hurricane Matthew. After the bill passed, legislative leaders conferred for a few minutes before calling yet another special session, this one aimed at disempowering the governor and the state Supreme Court.
In none of these three instances were legislative Democrats, let alone the public, included in the process of governance. As a reporter covering HB 2 and last year's extra special session, it was a bewildering spectacle to watch. Rumors swirled across the state legislature, as Republicans ruthlessly wielded power to make decisions for their constituents without their knowledge or approval.
Since becoming governor, Cooper has held fast to the notion that North Carolina is a purple state rather than a red one, upbraiding Republican leaders for refusing to negotiate with him. (The GOP holds a supermajority in both chambers because it has refused to redraw districts that have already been ruled to be gerrymandered by a federal court). A recent piece in the New York Times Magazine captures the tension at the heart of his administration. "It is Cooper's misfortune to have finally arrived at his apparent destiny," writes reporter Jason Zengerle, "in a political climate that does not have much use for the sort of cautious, consensus-seeking governor he has spent his life preparing to be."
Compare that with this cautious, consensus-seeking quote from Republican State Senator Ralph Hise: "You'd be hard-pressed to find a more conservative record of any state legislature in the nation than what we've had since 2011."
North Carolina's problem is now congressional Democrats' problem. While Sen. Chris Coons (D-De) champions bipartisan petitions to save the historically reactionary filibuster and Sen. Joe Manchin (D-Wv) signs pledges not to campaign against his esteemed conservative colleagues, Republicans—those who run things anyway—have decided that they have absolutely no use for norms anymore.
Democrats are fighting a losing battle against the New Right because they still believe in a spirit of bipartisanship that died an unceremonious death some time before Bill Clinton's impeachment and was never very useful to begin with. And while they see politics as an instrument for people to come together, the right is executing its agenda with brute force, to the delight of their corporate backers and hyper-conservative base.
Republican leadership has decided that transparency is a hindrance to its political aims. What Democrats and national political reporters alike need to understand is this: there is no norm that can't ultimately be discarded. If those norms failed to stop Donald Trump, then what chance do they have against Congress?
Paul Blest is a freelance writer based in Raleigh, North Carolina. His work has appeared in Vice, Salon, Noisey, New Republic, Indy Week and Deadspin. Follow him on Twitter @pblest.
This article was made possible by the readers and supporters of AlterNet.