Rebrand Redux: GOP Hopes To Appeal To Middle Class Through New Book Release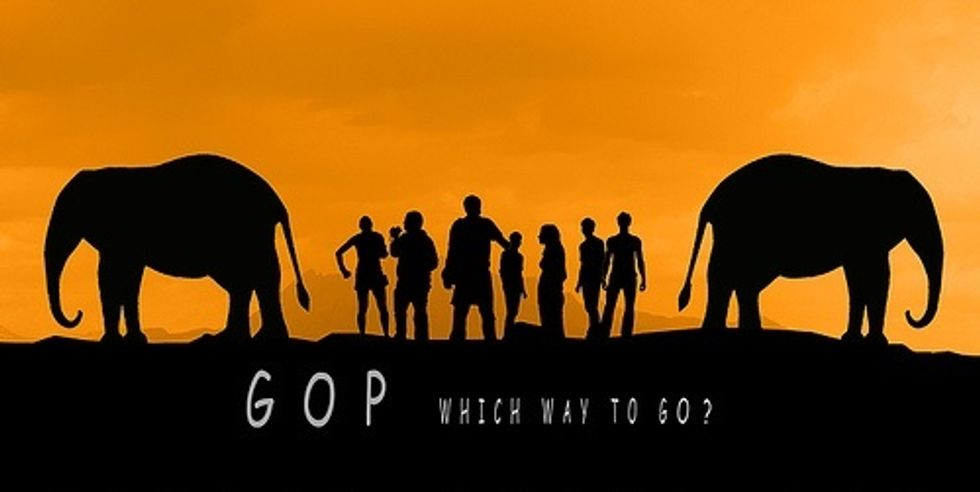 On Thursday, the Republican Party unveiled the latest strategy in its ongoing struggle to appeal to the middle class, or any class outside of the 1 percent. The release of a new conservative manifesto, entitled Room to Grow: Conservative Reforms for a Limited Government and a Thriving Middle Class, is meant to serve as a first step in "building a post-Obama conservatism," as contributor Ramesh Ponnuru told The New York Times. The 121-page document is a collection of articles from a number of self-described "reform conservatives," and attempts to rebrand the GOP as more accessible and in touch with today's voters.
Largely backed by the YG Network, which calls itself a "non-profit dedicated to supporting conservative policies and the efforts of policymakers who fight for those policies," the book points to the "demonstrable failure of the liberal welfare state" as motivation for "an innovative agenda that empowers individuals by increasing competition and replacing failed government policies." The agenda includes 10 essays addressing issues like health care, tax, and education reform, as well as pro-family and employment policies.
The book focuses on the issues that affect the everyday lives of middle-class Americans, a markedly different approach from that of Mitt Romney, who focused on the entrepreneurial vote in 2012. As YG advisor Kate O'Beirne told the Times, "News flash: Most people don't own their own businesses."
According to Peter Wehner, author of the introduction entitled "The Problem: The Anxieties and Worries of Middle America," the 85 percent of the population that comprises the middle-class serve as "America's center of gravity," and are the key to Republican success. Wehner believes that "conservatives in American politics need to understand constituents' concerns, speak to those aspirations and worries, and help people see how applying conservative principles and deploying conservative policies could help make their lives better." However, this seems to be much easier said than done.
On Thursday, House Majority Leader Eric Cantor (R-VA) and Senate Minority Leader Mitch McConnell (R-KY) will attend the book's release party in hopes of advancing its proposed policies. Since President Obama took office in 2009, however, the GOP has seemed more concerned with opposing his policies than with presenting ideas of their own. The health care debate is a prime example of Republicans' lack of creativity, as party members have voted more than 50 times to repeal the Affordable Care Act without ever unifying around an alternative.
Room to Grow fills this gap, suggesting that the government offer tax credits for those without employer-based health insurance, which James C. Capretta — who authored the chapter on health care reform — says will "generate intense price competition in the marketplace." However, with continued infighting among Republicans, it seems unlikely that the party will be able to come together to support a single Obamacare substitute. To date, the party has debated several other options — including allowing insurance companies to sell policies across state lines, creating health savings accounts, and forming high-risk pools — none of which have addressed the quality of health care, and none of which have been fully supported by the GOP.
More importantly, however, is the issue with the proposed tax credit alternative itself. In September 2013, the Republican Study Committee suggested a $7,500 tax deduction for individuals and $20,000 for families in order to incentivize the uninsured to purchase health coverage and reduce costs for the already insured. In order to pay for this tax break, however, tax breaks on employer-provided insurance would have to be eliminated, which would likely increase the costs of health care for those who received insurance through their employers. So while such a plan might allow some uninsured Americans to purchase coverage, it would result in an overall increase in costs.
Similarly, a bill proposed in June of 2013 by Rep. Tom Price (R-GA) requested a $5,000 tax credit to families at or below 200 percent of the federal poverty level. This bill, according to the Congress.gov bill tracker, was referred to the Subcommittee on the Constitution and Civil Justice last July, and has seen no further action since. With this sort of track record, it is unlikely that the Room to Grow alternative will make it into law, much less work for the middle class.
As for tax reform, the report certainly hopes to address middle-class worries that they bear the brunt of the tax burden. But while Robert Stein says in his chapter that conservatives should offer benefits to middle-class parents, it does not appear that Republicans will agree with such a policy. Rep. Paul Ryan's (R-WI) budget, released in April and passed by House Republicans, actually raised taxes for many middle-class Americans. An analysis of the budget by the Office of Management and Budget showed that middle-class parents in Aurora, Colorado would see a $2,000 tax increase, while those making over $1 million would receive a $200,000 tax cut, according to Citizens for Tax Justice.
Furthermore, the Ryan budget points to several "good plans," including proposals from Rep. Michael Burgess (R-TX), who hopes to replace the income and payroll tax with a flat 17 percent wage tax, and Representative Rob Woodall (R-GA), who would use a national retail sales tax to replace the current tax code. Neither of these plans is particularly good for the middle class either. Economists have consistently found that a flat tax results in a tax break for the wealthy, and a tax hike for the middle class, who must pick up the slack.
On energy policy, Room to Grow recognizes the need for reform given last year's frigid winter, which resulted in average spending of 5 percent more on electricity and 10 percent more on gas. But the chances of the GOP passing meaningful energy reform that decreases reliance on natural gas and increases investments in alternative energy sources is slim at best.
Finally, the manifesto's conspicuous lack of female authors makes it clear that the Republican Party is still not the women's party. Carrie Lukas, the sole woman involved in writing the document, is the managing director at the Independent Women's Forum, and wrote — you guessed it — about how to balance work and family.
As the GOP attempts to move forward with the middle class in tow, it seems that even with the release of its new book, there's still plenty of room for growth in the party.
Photo via Flickr 
Want more analysis of GOP policies? Sign up for our daily email newsletter!