GOP Leader McCarthy Insists House Retirements Are 'Good'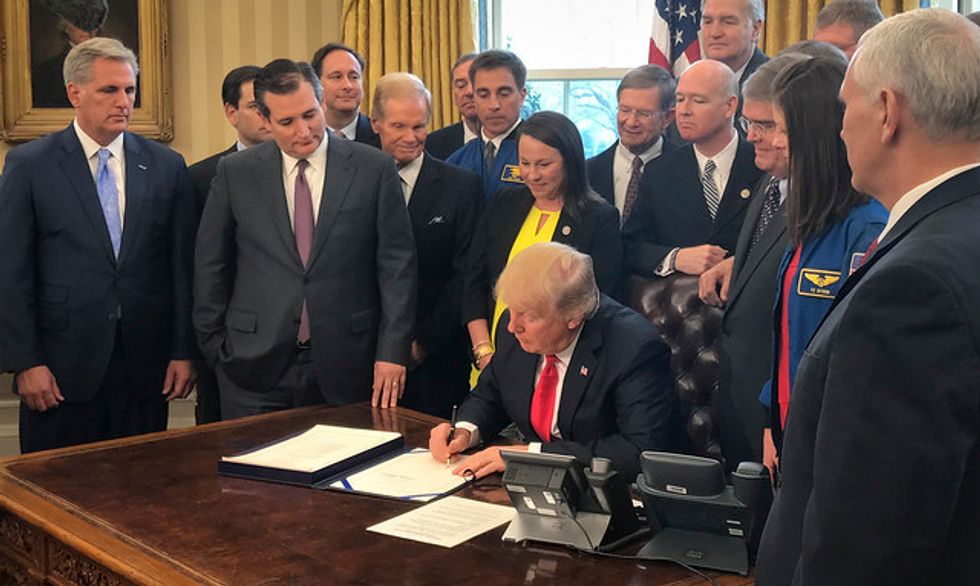 As Republican after Republican announces they will not run for reelection again in 2020, Minority Leader Kevin McCarthy went on Fox News to claim the flood of retirements is a good thing.
"How do you stop the tide of retirements in the House, sir?" McCarthy was asked.
"It's good to have new blood going through," McCarthy said after praising freshman Rep. Dan Crenshaw (R-TX), who replaced Rep. Ted Poe (R-TX) after the 2018 election.
"We have a transformation that's happening in the Republican Party with new blood coming in that's only going to make the team stronger," McCarthy added.
Defying predictions of other Republicans, McCarthy went so far as to say he is confident that Republicans will regain the majority in the 2020 election.
The pace of Republican retirements (16, including Rep. Tom Marino of Pennsylvania, who quit in January 2019) is eclipsing the pace leading up to the 2018 midterm election, where Republicans faced a massive blue wave that swept Democrats into power for the first time in a decade.
Contrary to McCarthy's claim about "new blood," many of the retiring Republicans are relatively young and new.
Rep. Will Hurd (R-TX) is only 42 years old and won his seat in 2014. The only African American Republican in Congress, Hurd is one of several Texas Republicans who refuse to run in 2020.
In Wisconsin, Rep. Sean Duffy is only 47 years old, yet he is also calling it quits. The former MTV reality show contestant, Duffy has only served in Congress since 2011, and he won't even finish out this term, quitting in September.
Alabama's Rep. Martha Roby is just 43, but she won't be seeking reelection next year despite only being in Congress since 2011.
Indiana's Rep. Susan Brooks, the second of only 13 Republican women in the House to call it quits, only won her seat in the 2012 election.
Hurd, Duffy, and Roby are a decade younger than the average age of House members, 59. Brooks is 59, and all have served less than a decade.
Despite McCarthy's rosy outlook, other Republicans are terrified that the slew of retirements means at least a couple more years in the minority.
"The odds are against us retaking the majority," one Republican House member said in July, before a torrent of Republicans announced their retirements in August and September. The member pointed to Trump as a major reason so many Republicans are bailing.
"Serving in the era of Trump has few rewards," the member said. "Every day there is some indefensible tweet or comment to defend or explain. It is exhausting and often embarrassing."
Democrats have their own thoughts as to why Republicans are standing down.
"It's clear the continued drain of having to defend their toxic, unpopular agenda and the misery of serving in the minority is what's driving Washington Republicans to head for the exits in record numbers," Cole Leiter, DCCC spokesperson, said in Thursday statement following two more Republican retirement announcements.
Yet for McCarthy, seeing the only African American Republican and 15% of Republican women refuse to run is somehow making the Republican team stronger.
Published with permission of The American Independent.