GOP Leaders Won't Back Off Election Denial That Spurred Pelosi Attacker
@next2godwin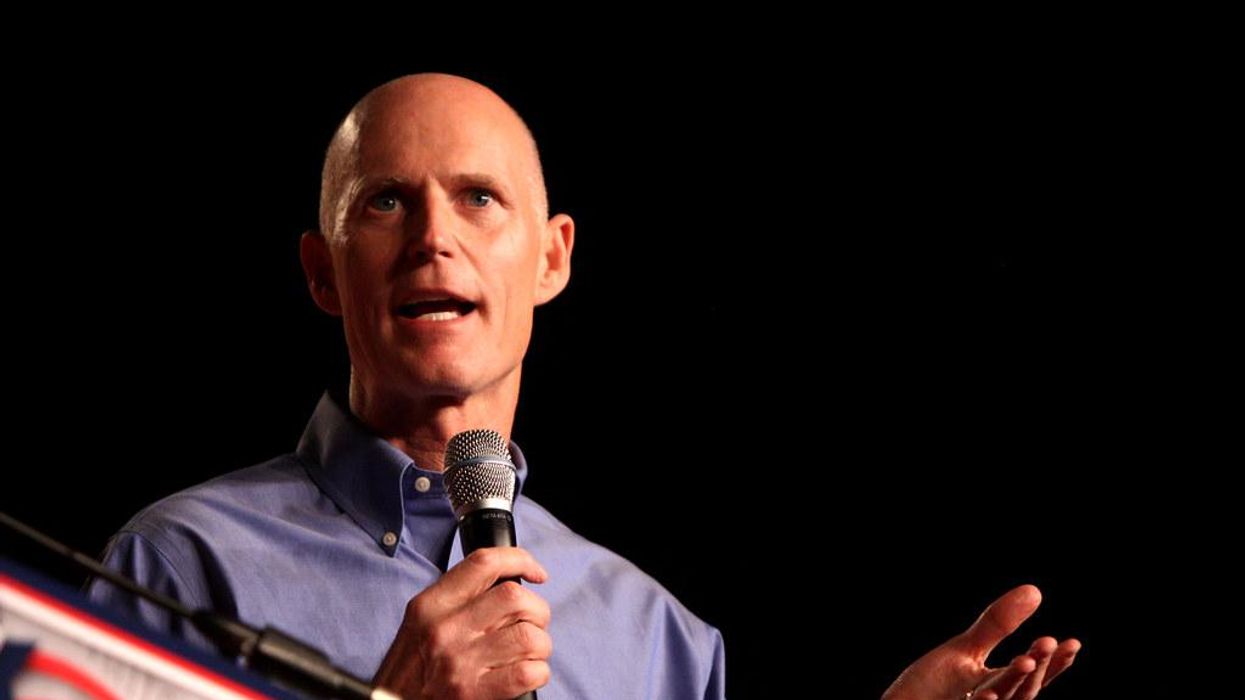 In an interview with CNN on Sunday, GOP Sen. Rick Scott (R-FL) condemned the violent attack on Paul Pelosi, the husband of House Speaker Nancy Pelosi (D-CA) but stopped short of denouncing the right-wing conspiratorial claims that reportedly incited the intruder.
"It's disgusting; this violence is horrible," Scott told host Dana Bash on CNN's State of the Union, after which the senator — taking a leaf from his Republican colleagues — quickly pivoted to a talking point that painted Republicans as victims of political violence, too.
"We had a door-knocker in Florida that was attacked. So, I mean, this stuff has to stop," Scott continued. "…And my heart goes out to Paul Pelosi, and I hope he has a full recovery."
Neither local nor federal law enforcement has backed up GOP rage-fueled assertions that the assault suffered by the elections canvasser Scott mentioned, Christopher Monzon, was politically motivated; however, the "door-knocker" allegedly has ties to white supremacist groups, including the neo-fascist Proud Boys, according to CBS News.
When Bash asked whethere Republicans should "do more to reject" the sort of baseless claims that incited the attacker — including disproven claims of fraud in the 2020 elections, which she said the attacker "embraced" — Scott, an election denier himself, alluded to those same lies.
"...We have to do everything we can to get people — make sure people feel comfortable about these elections," the senator said. "I think what's important is everybody do everything we can to make these elections fair," he reiterated when Bash pressed him further about whether top Republicans needed to tone down their conspiracy theories.
\u201cDANA BASH: Should Republicans do more to reject conspiracy theories and dangerous rhetoric?\n\nRICK SCOTT: *immediately pivots to flirting with election conspiracy theories, doesn't answer the question*\u201d

— Aaron Rupar (@Aaron Rupar) 1667135835
A personal blog allegedly maintained by the assailant, identified by law enforcement as 42-year-old David DePape, contained hoax-filled posts, including topics such as "Manipulation of history" and "Holohoax," a term used by Holocaust deniers, the LA Times reported Friday.

According to CNN, a string of blog posts tied to a "daviddapape" username peddled fringe right-wing rants, antisemitic screeds, and the QAnon conspiracy theory.
"Other posts from the last few weeks [tied to the same username] featured videos accusing LGBTQ people of "grooming" children, and declared that 'any journalist saying' there is no evidence of election fraud 'should be dragged straight out into the street and shot,'" read the report, jointly authored by CNN's Casey Tolan, Curt Devine, Daniel A. Medina, and Majlie de Puy Kamp.
Scott's deflection mirrored that of House Republican Tom Emmer (R-MN), who sought to defend a tweet that contained footage of himself firing a gun and calling for voters to "#Fire Pelosi" in an interview on CBS's Face the Nation.
"I never saw anyone after Steve Scalise was shot by a Bernie Sanders supporter trying to equate Democrat rhetoric with those actions," Emmer told CBS host Margaret Brennan, referencing an attack Speaker Pelosi condemned strongly at the time.
Emmer didn't commit to pulling his Pelosi-attack advertisement, one of many far-right ads released over the past several years targeting the House Speaker, whose name was mentioned in nearly $40 million worth of Republican ads dispatched in the last weeks before the midterms, per the Washington Post.
The Post also cited political trackers as saying that the attack on Paul Pelosi was a high-profile example of the threat posed to election workers and other public servants nationwide by widespread election denialism, propagated as gospel by prominent figures on the right.
\u201c\ud83e\uddf5 And it's not just Fox News. The entire right-wing media ecosystem is feeding extremism in lockstep with Tucker Carlson.\nhttps://t.co/RfqHXKw7BS\u201d

— Kat Abu (@Kat Abu) 1666994844
Already, nearly 63 percent of Republican voters have signaled their mistrust of the legitimacy of the midterm elections, saying they think it would be manipulated, a USA TODAY/Suffolk University Poll found.

The poll also found that 64 percent of right-leaning voters would vote for an election denier, 253 of whom are currently running for office as Republican nominees, propagating divisive rhetoric and falsehoods that have maligned the midterms and are already eroding trust in future elections, experts say.