MAGA Republicans Melting Down Over Lake Defeat In Arizona
@DavidNeiwert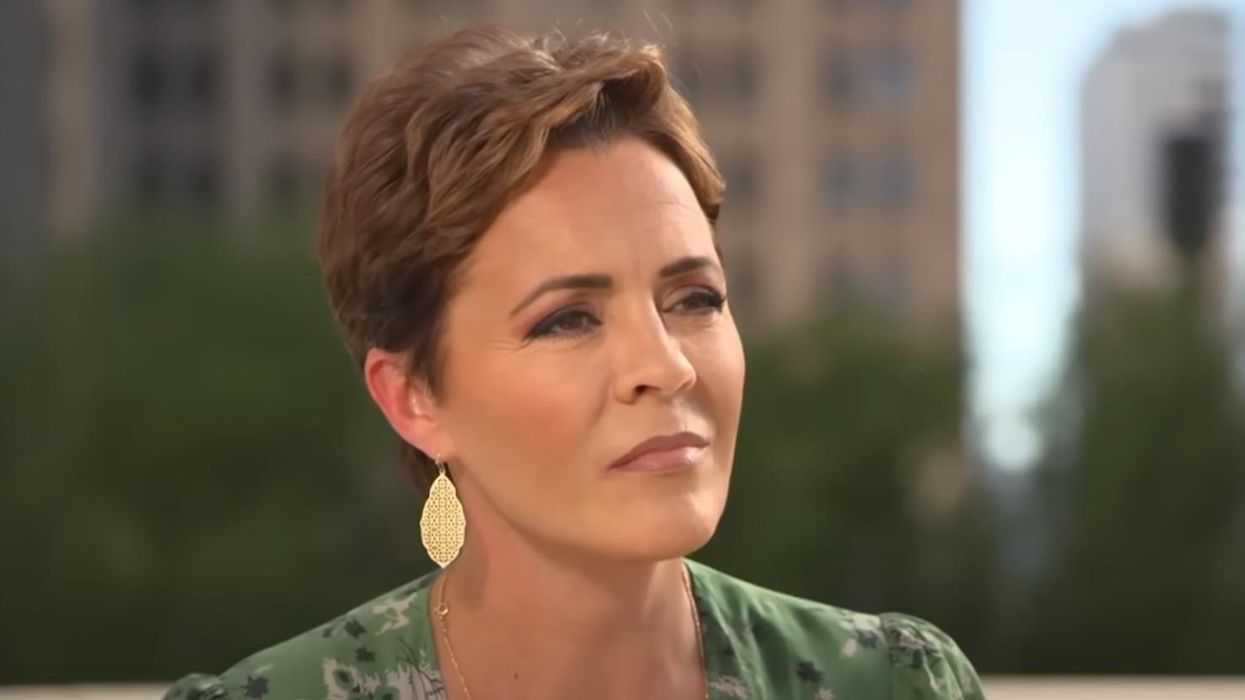 Youtube Screenshot
MAGA fanatics are nothing if not predictable. Almost from the moment that Democrat Katie Hobbs was declared the winner of the Arizona governor's race, the army of election denialists lined up behind loser Kari Lake—their last possible hope for taking control of the voting apparatus in a battleground state—donned their well-worn tinfoil hats, and howled an all-too-familiar cry: It was stolen! Voter fraud! Democrats are cheating.
Lake herself remained mostly mum about the outcome, other than tweeting her skepticism, doubtless to set up her looming lawsuit and ongoing denialist campaign: "Arizonans know BS when they see it." Steve Bannon, the onetime Trump adviser who campaigned with Lake, claimed that elections were being manipulated by the Chinese communists in collusion with the Biden administration. And the "MyPillow" guy, Mike Lindell, ranted at length about "computer manipulation." Another ex-Trump adviser, Boris Epshteyn, lamented that Lake's opponents were "stealing this election from MAGA, stealing it from the American people."
It's unclear how Lake will be able to claim that the election was stolen, considering that she and everyone else monitored the ballots closely. On Nov. 11, she had tweeted: "Rest assured that I have the brightest & best attorneys in the Nation, right here on the ground in Arizona. Every ballot has eyes on it."
She also retweeted a post from notorious white-nationalist propagandist Jack Posobiec, who himself was retweeting a story from a dubious source—the far-right site Post Millennial—claiming that "Maricopa election officials launched PAC in 2021 to stop MAGA candidates." Lake remarked: "Shouldn't Election Officials be impartial? The guys running the Election have made it their mission to defeat America First Republicans. Unbelievable."
Bannon was particularly strident and conspiratorial, not to mention intent on revenge. He opened his "War Room" podcast on Monday with a recitation of the House investigations being planned by Republicans over the next two years, including a look into Hunter Biden's laptop, which he claimed showed corruption of President Biden by China's Communist Party.
He warned Attorney General Merrick Garland: "We're coming for you." And he claimed the House investigations are "gonna go after, hard, the infiltration—and that means traitors. Yes, let me be blunt, traitors. People that have betrayed this nation to an existential threat to the American people and an existential threat to the Chinese people."
Bannon also hosted prominent election denialists Gregg Phillips and Catherine Engelbrecht—both freshly out of jail, where they had been held on contempt charges for refusing to identify a supposed "FBI informant" who plays a key role in a lawsuit against them—of True the Vote, the election-denialist outfit that forged an alliance with the far-right "constitutional sheriffs" movement to organize ballot-box watches in the election.
Speaking with Bannon, both of them agreed that Chinese communists were behind the "election theft." Phillips said, "They are not only a threat, they are the threat—they're the threat to freedom, the threat to everything we all stand for." He and Engelbrecht spouted conspiracy theories about the Arizona election being stolen: "The fraud has been institutionalized," she claimed.
At the end, Phillips asserted: "You have Katie Hobbs who—depending on where this thing goes, may be certifying her own stolen election." Engelbrecht chimed in: "We have to stop the certification." Bannon agreed: "Yes, we have to stop the certification. No doubt."
Later in the episode, former Trump strategic adviser Boris Epshteyn asserted that "we do not have an election system in this country," and said "we're not gonna accept" the election outcome.
You better believe that if the Democrats were losing, you know, come out winning and then lose five days later, they wouldn't be accepting it, and Republicans and MAGA cannot be accepting it. What is happening in Arizona is a complete and utter and total travesty. Kari Lake won that election. Hear me loud and hear me clear. Kari Lake won that election. I know Arizona like the back of my hand and there's no way on God's green earth that Katie Hobbs was elected to be governor of that gorgeous Grand Canyon state.
Kari Lake won. Democrats in cahoots with media, with establishment Republicans … you are the ones stealing this election from MAGA, stealing it from the American people."
Epshteyn added, "We've got to be fighting, we cannot be accepting the rigging and stealing of American elections. We've been talking about it for two years."
Another prominent leader in the election-denialist movement, MyPillow CEO Mike Lindell, melted down in an hour-long rant on his "Lindell Report" podcast Monday that followed most of the same lines of argument: The election was stolen through "computer manipulation," all at the behest of Chinese communists who are secretly controlling our system with the collusion of Democrats.
"How did these all get taken?" Lindell demanded to know. "Why wasn't there a red wave? You can only have one answer: computer manipulation."
Claiming a Gateway Pundit story as evidence, he told his audience that "they're trying to steal this from Kari Lake like they have all the other.races," claiming that Mehmet Oz and Doug Mastriano actually won their elections in Pennsylvania as well. [Both Oz and Mastriano conceded defeat without protest.]
"Those are called deviations from norms, and they're impossible," Lindell claimed. "This is computers!" He later added: "If the machines and the computers aren't gone, we lose our country forever. I don't know how else to say it.
"And who is this that we lose it to? The Uni-Party! The Uni-Party, remember that. The CCP! China! The deep state and the globalists. … This was an attack by China. I don't see how you can put it any other way."
The ground has been laid for Lake to contest her electoral loss. Similarly, Republican candidate Joe Kent, who narrowly lost his election to Congress in Washington state's 3rd District to Maria Gluesenkamp Perez, has been holding out hope that he can mount a comeback in his race. He refuses to concede.
Kent dismissed the multiple calls in his race by mainstream media, calling them "irrelevant" and "another narrative designed to stop voters from ballot curing & to force me to concede." He also posted a video saying he would not concede "until every legal vote is counted." He's calling on his followers to check and cure their ballots if any of them were rejected.
While this kind of election denialism is deeply problematic—it is, after all, a direct attack on public confidence in the integrity of the democratic system in the United States—and its continuing spread is worrisome for obvious reasons, the Tuesday election outcome in fact was very encouraging for people fighting to defend democracy, even beyond the failures of the denialists to elect a single person to a key battleground-state position despite having a deep and formidable roster.
It was also manifest that election denialism is a losing game. "If you tell people that voting is hard, or voter fraud is rampant, or elections are rigged, it doesn't make people more likely to participate," David Becker, executive director of the Center for Election Innovation and Research, told The New York Times. "Why would you want to play a game you thought was rigged?"
Similarly, Lake's strategy of encouraging voters to hang on to their ballots until Election Day as a way to prevent fraud backfired badly, since it meant she missed out on early voting. "We would have never, ever thought about telling people to hold onto their ballots," said Wes Gullett, a Republican strategist. "The only reason to do that is to build this narrative about 'foul play' and keep that narrative going, but any time you encourage people not to vote immediately, you lose the opportunity to get that vote in the bank."
This is why election denialism badly cost Republicans in the midterms. "Some election deniers won," TheWashington Post's Aaron Blake reported, "but the hard-liners almost always ran behind their fellow Republicans and lost in places where the electorate was the most competitive."
Unfortunately, logic and reason have little effect in blunting the authoritarian fever that has seized the Republican Party. The hopes among centrists that it has broken are almost certainly futile. But the majority's affirmation is cause for hope.
"This was a threat we'd never faced before in this country. We'd never faced a threat of secretaries of state refusing to certify a result that they didn't like. We can now say with certainty that this movement was rejected by the American people in this election," Trey Grayson III, a former Republican election official in Kentucky, told The Guardian.
"In every swing state those deniers lost elections, as well as in many other races across the country. This was a clear message that Americans believe in free and fair elections."
Reprinted with permission from Daily Kos.