Lake Won't Concede, But Ducey Welcomes Hobbs As His Successor In Arizona
@next2godwin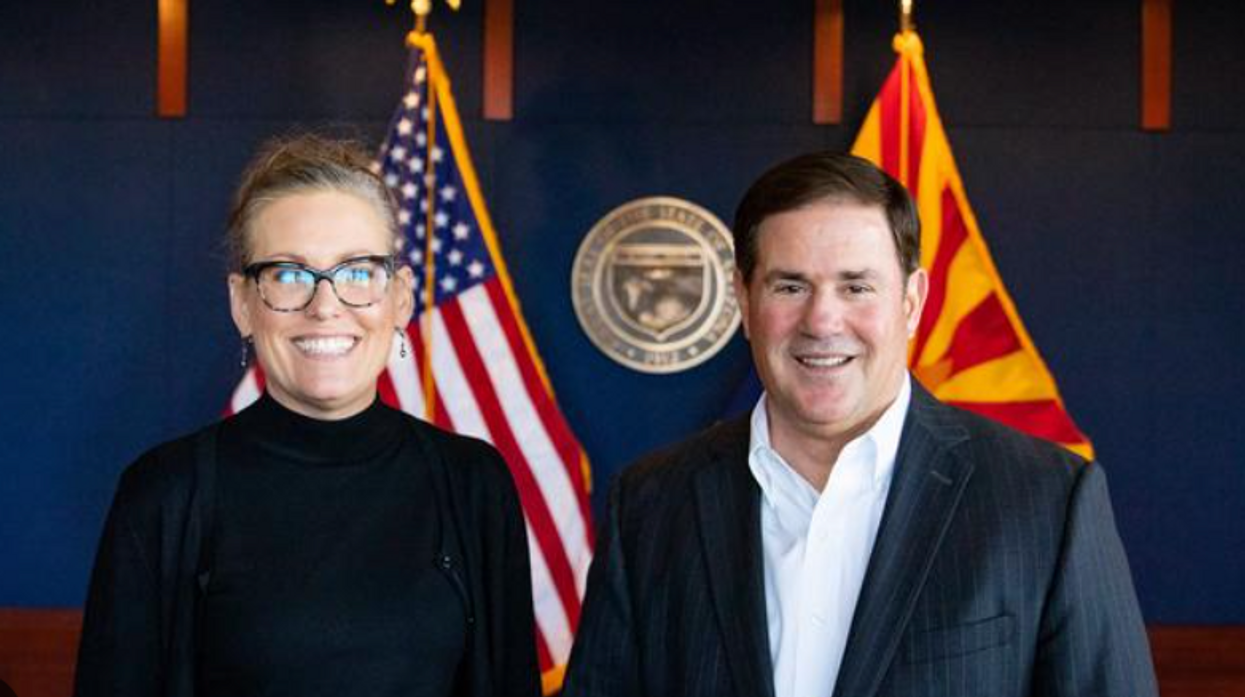 The lame-duck Republican governor of Arizona, Doug Ducey, congratulated Democratic Governor-elect Katie Hobbs on her victory more than a week after major networks called the race for her.
Ducey met Hobbs in his office and — in his first public statement on the outcome of Arizona's highly-charged gubernatorial race — promised her the full support of his administration in ensuring an orderly transition to her.
"Today I congratulated Governor-elect Katie Hobbs on her victory in a hard-fought race and offered my full cooperation as she prepares to assume the leadership of the State of Arizona," Ducey tweeted on Wednesday.
\u201cToday I congratulated Governor-elect Katie Hobbs on her victory in a hard-fought race and offered my full cooperation as she prepares to assume the leadership of the State of Arizona.\u201d

— Doug Ducey (@Doug Ducey) 1669232433
Unintimidated by the election-denying ravings of the Trump-backed Republican candidate, Kari Lake, who has yet to concede in what she called a "botched election," Ducey said in a statement that the result of the gubernatorial race reflected the will of Arizonans, peacefully communicated via a "democratic process."

"All of us have waited patiently for the democratic process to play out," he said. "The people of Arizona have spoken, their votes have been counted and we respect their decision."
"My administration will work to make this transition as smooth and seamless as possible," Ducey added. "Our duty is to ensure that Arizona's 24th Governor and her team can hit the ground running and continue our state's incredible momentum."
Despite trailing Hobbs by about 17,000 votes, a margin above the automatic recount threshold, Lake has rebuffed the notion of concession and, in the past week, repeated baseless allegations of election fraud without any evidence.
On Election Day, Lake, a rising star in the GOP's MAGA sphere, cited reports of basic printer malfunctions in Maricopa County, the most populous jurisdiction in Arizona, as evidence of electoral daylight robbery perpetrated by Democrats in an election run by Republicans.
"They did it in broad daylight. It was blatant. There was no subtlety to what they did when they discriminated against people who chose to vote on Election Day," Lake told indicted Trump ally Steve Bannon.
"This is just beyond 2020. I mean what they did in 2020, looks like they did it again, and then some. And for the Governor (@DougDucey), if he says he's going to certify this, and @KatieHobbs to certify this, I think they really better think long and hard," she added.
In July Ducey, the chairman of the Republican Governor's Association, blasted Lake — who in the run-up to the midterms declined to say whether she would concede if she lost — for predicting without evidence that the 2022 elections would be stolen.
"Kari Lake is misleading voters with no evidence. She's been tagged by her opponents with a nickname, Fake Lake, which seems to be sticking and actually doing some damage," Ducey snapped on CNN's State of the Union.
Ducey's aversion to false voter fraud allegations made headlines when he sank Trump's 2020 subversion efforts in fury-ridden depths by silencing a phone call from the election denier-in-chief while signing documents certifying Joe Biden's narrow victory in the state.
"Fake Lake," who built her brand on Trump's Big Lie, filed a lawsuit via her political action committee, Kari Lake for Arizona, "to compel the prompt production of public records pursuant to the Arizona Public Records Act," according to her court filing.
Lake's attorney Timothy La Sota alleged in the legal brief that the issue with some printers in Maricopa County, which officials identified and fixed a few hours later, angered some Republican voters into leaving without casting their votes.
Like Trump's failed 2020 "Kraken" lawsuits, Lake's action relies on statements from voters for the laundry list of demands the Republican is asking of Maricopa County Superior Court, including the contact information of voters alleging they witnessed printer malfunction, the number of overseas ballots cast by military members, and how they were verified.
"In the absence of an immediate and comprehensive production of the requested public records, [Kari Lake] cannot ascertain the full extent of the problems identified and their impacts on electors," La Sota wrote.
Lake's filing followed another lawsuit filed by the Republican candidate for attorney general of Arizona, Abe Hamadeh, and the Republican National Committee against Maricopa County's Republican election officials, alleging "certain errors and inaccuracies" in the management of some polling places and tabulation of some ballots.
Trailing his Democratic opponent, Kris Mayes, by 510 votes in a race set to go to a recount, Hamadeh said his lawsuit was the only means by which to restore voter confidence in Arizona's "broken election system."
Meanwhile Lake has continued to attack the election, tweeting on Wednesday night an image that said, "The cover-up is always worse than the crime."