Far Right Pushing Lawsuits And Armed Protests Over Defeat In Arizona
@johnknefel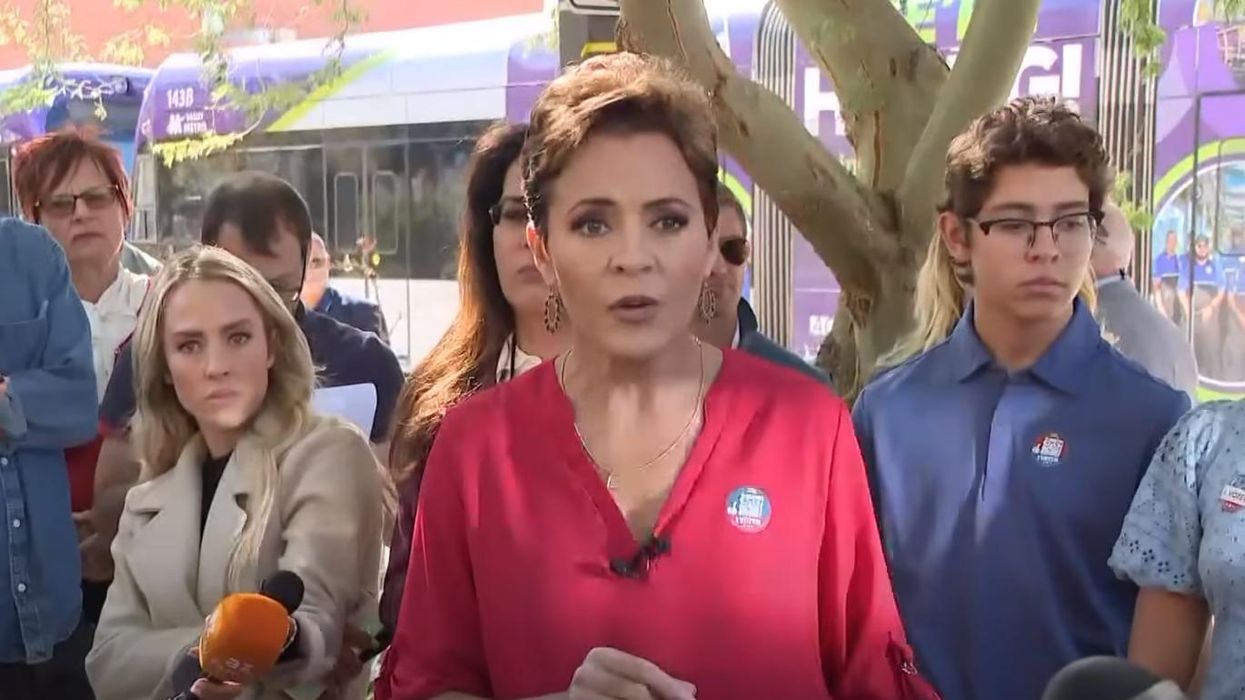 Youtube Screenshot
Despite multiple media outlets – including Fox News – calling the Arizona governor's race for Democratic nominee Katie Hobbs, Republican Kari Lake has refused to concede, with right-wing media figures pushing her to continue to question the results and possibly mount a legal challenge in court. What any eventual challenge might look like is unclear, but some of Lake's advisers are reportedly hoping that the vote results could ultimately get close enough to trigger an automatic recount.

From The New York Times:
Election officials have said that despite scattered problems, there were no issues that prevented voters from casting ballots on Election Day.
Still, Ms. Lake has given no sign that she is preparing to concede. Her only public words so far have been to suggest, without evidence, that the vote was tainted. "Arizonans know BS when they see it," she tweeted on Monday night, after The Associated Press called the race.
Lake is a close ally of former President Donald Trump and received significant support from those in his circle, including former senior strategist Steve Bannon. Both Trump and Bannon baselessly have now claimed the Arizona midterm elections were fraudulent, a clear echo of their denialist rhetoric following the 2020 election.
"Wow! They just took the election away from Kari Lake. It's really bad out there!" Trump wrote on Truth Social.
Bannon, who appeared with Lake at a rally in early November and repeatedly interviewed her on his War Room podcast during the campaign, has reportedly been advising Lake behind the scenes since Election Day. According to The Washington Post, Bannon was "clear-eyed about the unfavorable numbers" she faced before losing her race. Despite this, he has used vague innuendo to tell his audience the results cannot be certified.
On the evening of November 15, after Fox and other media outlets had declared Hobbs the winner, Bannon called the results "impossible," saying that there was "zero possibility this thing can be certified."
"Don't think that Kari Lake is not going to fight this one down to the bitter end because she is going to fight this one down to the bitter end," Bannon said.
On November 16, Turning Point USA founder Charlie Kirk declared, "we need to have a new election in Arizona," and partially blamed "fraud" for Lake's defeat. He also pushed back on a response from a listener accusing him of "legitimizing" Hobbs' win. "I'm the one that's actually encouraging Kari Lake to file a lawsuit … asking for a new election in Arizona," he said.
Turning Point Action activist Tyler Bowyer, who is also allegedly advising Lake and was instrumental in spreading early conspiracy theories about Arizona voting machines on Election Day, demanded that the statewide results be "fully litigated" in court.
\u201cWe CAN NOT let Maricopa County simply get away with what they did to the citizens of Arizona. \n\nThey must be held accountable\u2014 and this must be fully litigated for the people who have been treated like garbage by them for this entire cycle.\u201d

— Tyler Bowyer \ud83c\uddfa\ud83c\uddf8 (@Tyler Bowyer \ud83c\uddfa\ud83c\uddf8) 1668482689
Arizona secretary of state candidate Mark Finchem retweeted Bowyer's post, then wrote, "Less tweets more lawsuits." Finchem was a constant presence on Bannon's War Room throughout his candidacy, and became one of the most prominent election deniers in the country, in addition to being a member of the extremist militia the Oath Keepers.
Right-wing operative Floyd Brown, the founder of conspiracy theory website the Western Journal and the man behind the infamously racist "Willie Horton" campaign ad, has been working with Lake as well. According to Brown, Lake will "not go quietly into the night. She intends to stand and fight."
\u201cSpent hours last night working with Lake team on a continuing war for Arizona. She will not go quietly into the night. She intends to stand and fight. She knew when she entered this race that it would be tough. Her opponents lack her courage. She is fighting for us. @KariLake\u201d

— Floyd Brown (@Floyd Brown) 1668522362
The Western Journal has a long history of pushing extremist ideas, including early misinformation about COVID-19 and anti-LGBTQ propaganda. Now, Floyd and his colleagues are working to sow doubt about the Arizona vote totals.
On Twitter, the Western Journal's Olivia Brown asked her followers to send "testimonials" of potential election fraud they had witnessed, claiming, "All of these reports of #AZVoterSuppression occurred in heavy Republican areas."
Western Journal senior staff writer Randy DeSoto called the Arizona results "irreparably tainted" and argued that the "only fair remedy to address the fiasco that occurred in Maricopa County on Election Day is a redo."
Trump lawyer and former One America News host Christina Bobb echoed the point. "I think they need a new election," Bobb said on Tuesday evening. "I mean, the only way to restore confidence in the election in Arizona is to redo it."
The official Twitter account for Lake's campaign also called for a do-over. "We don't care if this is unprecedented," the account wrote. "The appropriate thing to do would be to let Maricopa County cast their votes again."
Others on the right pushed for a more extreme response to Lake's loss. Conservative radio show host Joe Oltmann responded to Hobbs' win by engaging in his typical violent rhetoric.
"Shut it down," Oltmann said. "I'm going to Arizona. I know a lot of people are going to Arizona. We shut it down. We shut down every road, we shut down everything. We shut it down. And if it takes a week, if it takes two weeks, if it takes five weeks, it takes two months, if it takes us through Christmas, it's OK."
"We start by starving off those people who are institutionally enslaving us," he declared, adding that this is "the Boston Tea Party moment — this is it."
"You make sure that when you're out there and you shut it down, and you have 5,000 cars on the street, and you're all out there having a barbecue, you're well armed," he continued, outlining suggested "rules of engagement" for election protests in Arizona. "But nobody sees you're well-armed. Nobody sees you're well-armed until you're actually protecting someone else. ... And when they do something to one of us, you make sure they pay for it."
"And that's not violent — we're peaceful and we're going to remain peaceful," he added, as a promotional crawl at the bottom of the screen advertised deals on guns and ammunition.
Reprinted with permission from Media Matters.