Arizona's Top Election Official Urges State Investigation Of Kari Lake
@next2godwin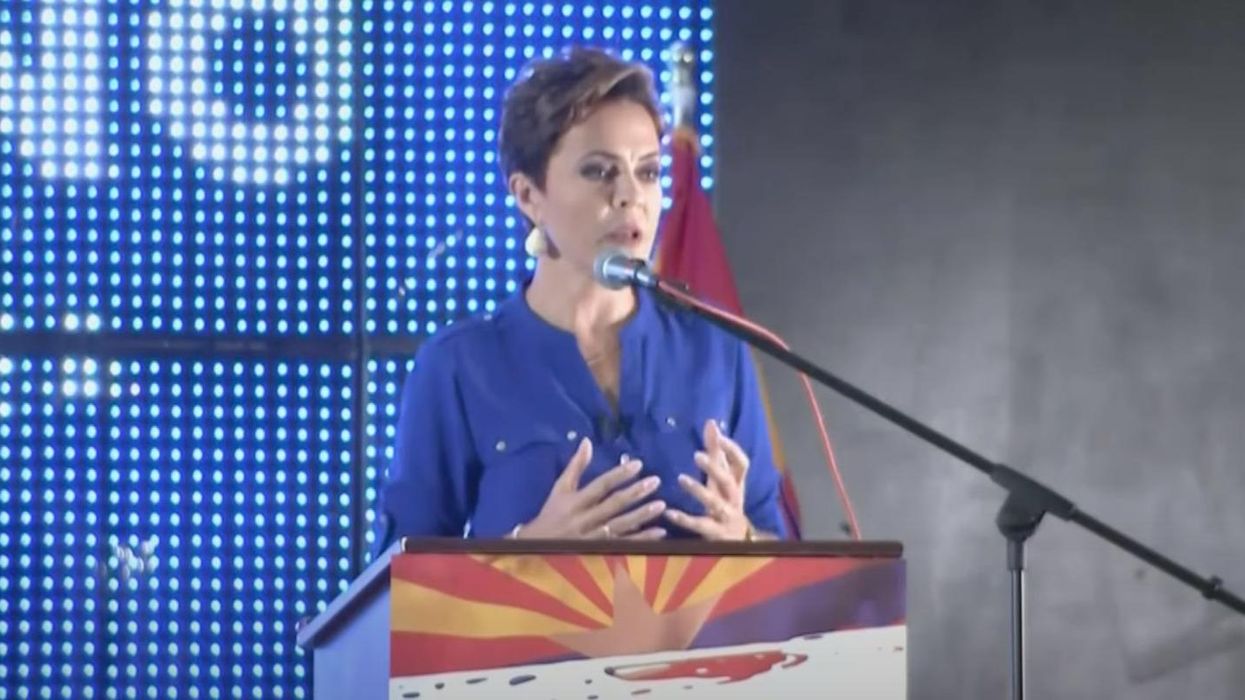 Republican Kari Lake, who lost the 2022 Arizona governorship election to her Democrat counterpart but has refused to acknowledge that outcome, has landed in legal hot water for posting voter information online as part of her continued effort to overturn her defeat.
Insisting that electoral misconduct had cost the GOP victory in Arizona's gubernatorial race last November, Lake has for months flooded the airwaves with baseless claims of fraud, mimicking her endorser, serial election denier and ex-president Donald Trump.
Lake's election denialism escalated to outlandish levels on January 23 when she claimed without evidence in a Twitter post that election officials "illegally counted" nearly 40,000 ballots with mismatched signatures and appended a graphic showing 16 voter signatures.
That graphic may have run afoul of state law, said Adrian Fontes, Arizona's Secretary of State, in a letter to the state's attorney general, Kris Mayes, on Monday, citing Arizona law (ARS 16-168, Section F). It prohibits "records containing a voter's signature" from being "accessible or reproduced by any person other than the voter [or] by an authorized government official in the scope of the official's duties."

"The protections afforded by this subsection prohibit posting any information derived from voter registration forms or precinct registers to the internet, and under no circumstance may a person other than the voter or an statutorily authorized person reproduce a voter's signature," Fontes noted in the letter.
Violating that law is a felony, Fontes wrote, asking Mayes to "investigate and take proper enforcement action against" Lake. A representative for Mayes confirmed receipt of the complaint, the Washington Post reported on Monday.
In a statement on Monday, Tim La Sota, a Pheonix-based conservative lawyer representing Lake, denounced Fontes' request as "another attempt to weaponize the justice system with a phony allegation against a Republican" and possibly an infringement of Lake's "absolute right under the First Amendment."
Lake, a former news anchor and rising MAGA star, trafficked in false claims of election fraud — many borne of Trump's Big Lie that the 2020 election was stolen — long before losing her governorship bid to Arizona Democrat Gov. Katie Hobbs by over 17,000 votes.
Like Trump, Lake has disseminated a hodgepodge of disproven conspiracy theories alleging voter fraud on social media and appearances on conservative media outfits, alleging that both Democrat and Republican election officials had a hand in her loss.
A former senior elections analyst with the Arizona secretary of state's office, Garrett Archer, blew a hole in Lake's new "bombshell," stating that the voter signatures hailed from the 2020 elections and there was more than one way by which officials authenticate ballot signatures.
According to the Arizona Republic, the Senate testimony on which Lake based her latest ballot signature allegation originated from an activist with a far-right election-denying group, We the People Arizona Alliance, with ties to pillow salesman and hoax peddler Mike Lindell.

The communications director for the Maricopa County Elections Department, Megan Gilbertson, labeled the assertions made by that activist, Shelby Busch, as "textbook misinformation" and accused Lake of seizing on "a common situation that occurs at a voting location and twisting it to cast doubt on the integrity of our elections," according to the Arizona Mirror.
Votebeat reporter Jen Fifield noted on Twitter that Republican lawmakers in the Arizona Senate and election denial groups had first circulated the voter signatures and that it remains uncertain how the confidential voter information was leaked.