GOP-Led House Approves Paul Ryan Budget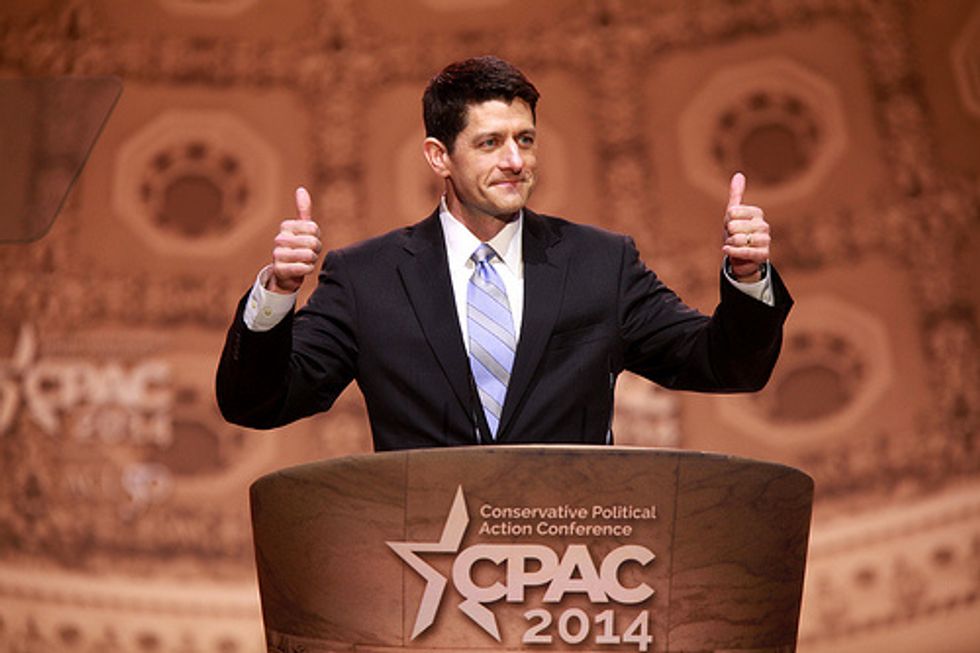 By Lisa Mascaro, Tribune Washington Bureau
WASHINGTON — With little drama Thursday, House Republicans easily approved a largely symbolic budget proposal from Rep. Paul Ryan (R-WI), closing out a floor debate over spending priorities and opening a new front on the midterm campaign trail.
As expected, no Democrats voted for the blueprint from Ryan. The former Republican vice presidential nominee's plan returns to ideas that have come to define the GOP, including ending federal deficits by cutting taxes on the rich, revamping Medicare and slashing almost every other aspect of government.
In a vote of 219-205, House Republicans showed an unusual display of cohesion, as they have for the last four years on Ryan's proposals, presenting voters with a unified snapshot of GOP priorities.
"This document is our vision for getting Americans back to work and our budget back in balance," said House Speaker John A. Boehner (R-OH).
Democrats swiftly showed how they would use the vote as campaign fodder in the coming midterm elections to portray the GOP as out-of-step with most Americans.
"This House Republican budget is the worst I have ever seen," said Rep. Chris Van Hollen of Maryland, the top Democrat on the budget committee, to applause on the House floor. "At every juncture in this House Republican budget, they choose to protect very powerful special interests and the most wealthy in the country at the expense of everybody else."
Like President Barack Obama's budget earlier this year, the GOP document is not expected to be adopted. Congress has already agreed to spending for this fiscal year and next under a previous agreement.
Ryan's proposal would overhaul Medicare for the next generation of seniors, boost defense spending beyond Obama's levels and slash most other domestic spending on college aid, food stamps and basic government investments. Tax rates for the wealthy would be cut to a top rate of 25 percent.
12 Republicans broke from the party to oppose the budget, many of them seeking deeper reductions than Ryan proposed. Even though Ryan's budget would repeal the Affordable Care Act, commonly known as Obamacare, he relied on the taxes and savings in the health care law to reduce deficits.
Obama's budget, by contrast, would continue deficit spending for the next 10 years, raise taxes on the wealthiest 3 percent of households and fund priority programs, including expanded investments in education and infrastructure.
But in a sign of how difficult budget issues remain for lawmakers, a Democratic proposal that largely mirrored the president's approach was put to a vote Thursday and 31 Democrats opposed it.
Gage Skidmore via Flickr