Trump 2024 Rivals Already Think He May Be Circling The Drain
@kerryeleveld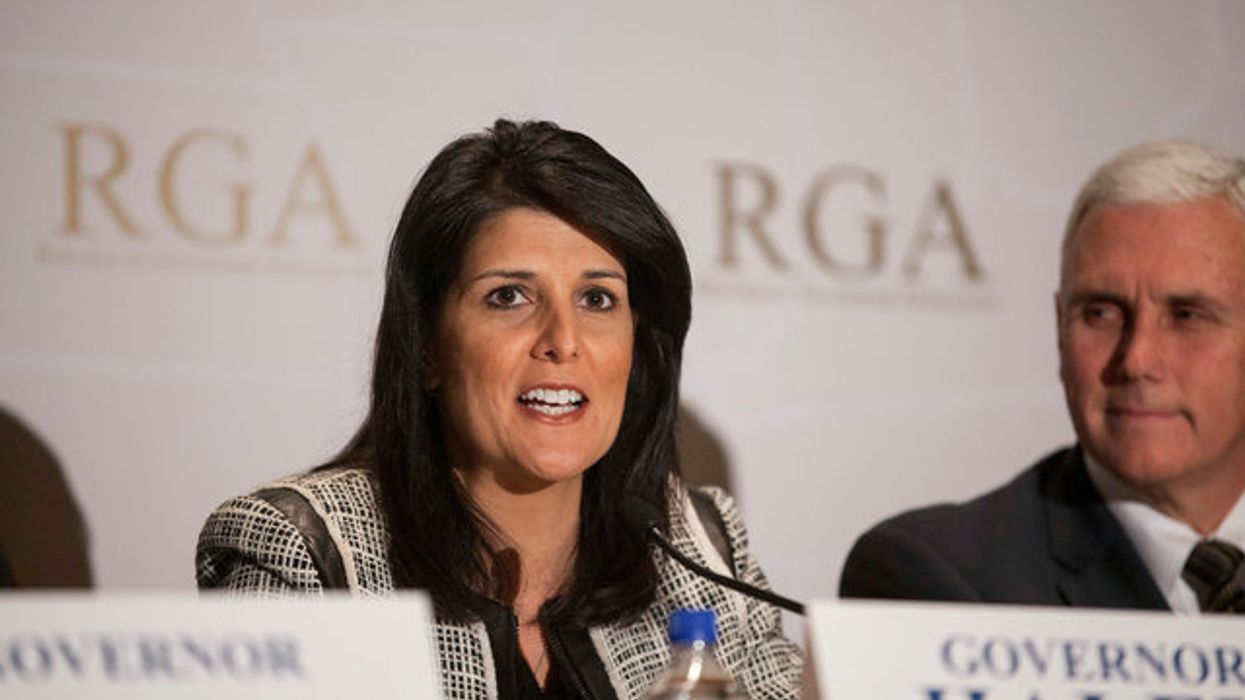 Donald Trump is looking more vulnerable every day. His legal vulnerabilities continue to mount. His standing among the party faithful is perhaps shakier than at any point since he won the 2016 GOP nomination. And his iron grip on the Republican Party just might— might —be starting to loosen.
The delicious Trump schadenfreude stew has GOP 2024 hopefuls more hopeful than ever that at least one among them will be able to topple Trump's nomination bid.
"You never know when that early front-runner is going to stumble," remarked Arkansas Gov. Asa Hutchinson, a Trump detractor who is currently exploring his own 2024 bid.
Hutchinson is surely not alone, according to reporting by The Washington Post . Florida Gov. Ron DeSantis just re-upped a national digital campaign to highlight his upcoming legislative agenda.
Former Vice President Mike Pence—having narrowly escaped a lynching at the hands of a Trump mob on Jan. 6—is on the hunt for fundraising staff.
And former Secretary of State Mike Pompeo is laying the groundwork to recruit staff in early primary states.
Pence and Pompeo seem like laughable long shots to be sure. So does Hutchinson for the simple fact that he's a relatively sane Republican. DeSantis is widely viewed as the baggage-free version of Trump. But then again, at this point in 2015, former Wisconsin Gov. Scott Walker was widely hailed as a rising Republican star until his lackluster performance on the national stage had cratered his chances by September .
But regardless of what kind of Republican might manage to prevail as the party devolves into fierce infighting, there's a growing sense that Trump has suffered some mortal wounds.
"Trump is certainly not who he used to be," Mike Dennehy, a longtime GOP consultant in New Hampshire, told the Post .
While Trump is the first and only GOP candidate to have formally announced his '24 run, it was a clear act of desperation following his devastating impact on the party's dismal midterm performance.
But Trump's attempt to put an early lock on the field has seemingly backfired, particularly with several polls finding his support lagging among the GOP base and GOP leaners.
A recent USA TODAY /Suffolk University poll found that j ust 31 percent of GOP and GOP-leaners want Trump to run in 2024, while 61 percent said they would prefer someone else claim the mantle of Trump's agenda. They basically like Trump, they just prefer not to suffer another drubbing at the polls.
Trump's weakness has drawn the eager attention of roughly a dozen potential challengers, including DeSantis, Pence, Pompeo, Hutchinson, Virginia Gov. Glenn Youngkin, New Hampshire Gov. Chris Sununu, Maryland Gov. Larry Hogan, former South Carolina Gov. Nikki Haley, Sen. Tim Scott of South Carolina, and North Dakota Gov. Kristi Noem.
Other possible contenders include Texas Gov. Greg Abbott of Texas, Sen. Rick Scott of Florida, former New Jersey Gov. Chris Christie—and don't worry, the ever-vainglorious Sen. Ted Cruz of Texas.
Frankly, the more interest, the better for Trump. His formula for winning the 2016 nomination was to simply take some 30 percent of each statewide primary while the other early candidates divided the rest of the electorate amongst themselves. In the GOP's winner-take-all schema, Trump easily amassed an early lead and it was almost over before it started.
But even so, this GOP primary contest certainly isn't shaping up the way Trumpworld had hoped.
Reprinted with permission from Daily Kos .
From Your Site Articles
Related Articles Around the Web