GOP Revives Paul Ryan's Austere Budget, Medicare Cuts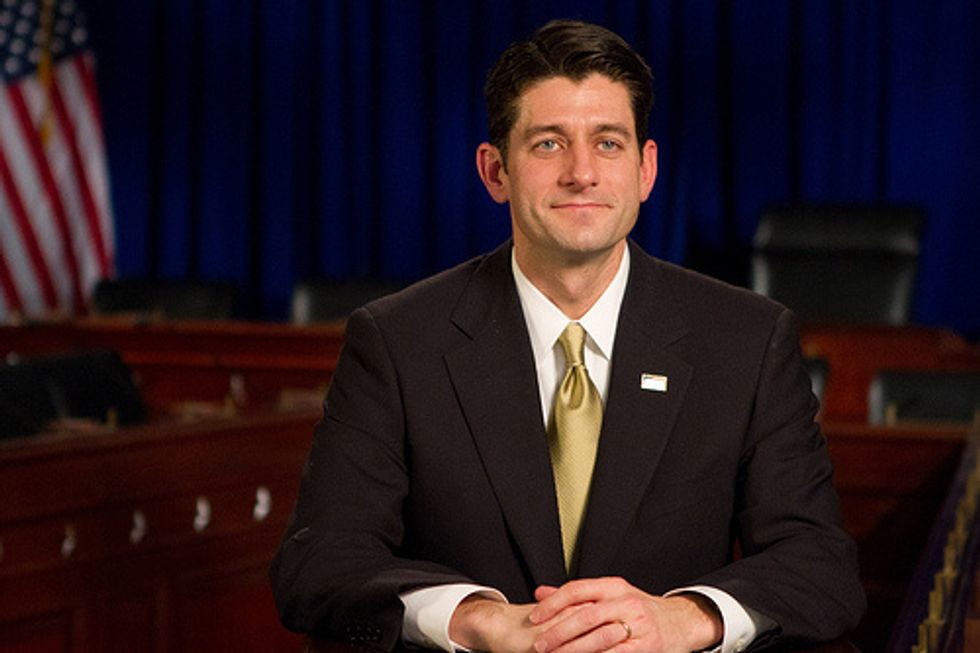 By Lisa Mascaro, Tribune Washington Bureau
WASHINGTON — House Republicans will revive Rep. Paul Ryan's (R-WI) lightning-rod proposals to slash the federal safety net, beef up military spending and reduce taxes for the wealthy in a budget unveiled Tuesday — an election-year calling card that Democrats are poised to use against the GOP.
The blueprint from Ryan, the party's former vice presidential nominee, is expected to be met with stiff opposition not only from Democrats, but also from hard-line Republicans who want deeper austerity cuts to more quickly balance the budget.
Like President Barack Obama's own budget earlier this year, Ryan's proposal for the 2015 fiscal year is largely a philosophical statement of principles. Neither document has much practical use this year because spending levels have already been agreed to by Congress.
But in a campaign season, Ryan's "Path to Prosperity" budget is expected to provide voters with a clear choice of party priorities.
House Republicans will return to the core ideas from Ryan, the Budget Committee chairman, that have come to define the party's approach: Cut federal spending on Medicare, Medicaid and other programs that make up the federal safety net, while reducing top individual and corporate tax rates to 25 percent, which Republicans argue will spur economic growth.
Ryan retained his idea for turning the Medicare health system into a voucher-like program for future seniors, providing a fixed amount of cash that can be applied toward the purchase of private health insurance. The voucher may also be used to enroll in traditional Medicare, but it may not fully cover the cost.
Republicans once promised that the Medicare changes would not start on anyone older than 55, but under Ryan's budget they would apply to those who are no older than 56 as of this year.
Drafting the budget for the 2015 fiscal year, which begins in October, was a challenge this time because the nonpartisan Congressional Budget Office projected sluggish economic growth. That made it more difficult to achieve Ryan's goal of eliminating federal red ink within 10 years.
To get to balance — especially while protecting Pentagon accounts — Ryan shifts the burden of reductions onto domestic programs.
He suggests money can be saved by cutting food stamps, capping college Pell grants, imposing more welfare work requirements, eliminating federal arts funds, even selling off public lands. He leaves the details to the House committees to sort out.
Largely gone is any hint of the agreement Ryan made last year in a moment of bipartisanship with Sen. Patty Murray (D-WA). Under his budget plan Democratic priorities would bear the brunt of austerity cuts, and national security would be spared.
"The Path to Prosperity is not just a budget — it is a blueprint for the country's future," Ryan's budget committee wrote.
Federal deficits are already on the decline this year from the record highs of the recession. But deficits will rise again, in large part because of the drop-off of the workforce and higher health care costs associated with the aging of the population, the Congressional Budget Office has said.
Ryan's budget faces almost certain opposition from both parties. It's unclear whether it will come to a vote, and if so, whether it would pass the House.
Photo: Speaker Boehner via Flickr