GOP Senate Candidate Compares Michelle Obama To 'Bonzo'
@FAWFULFAN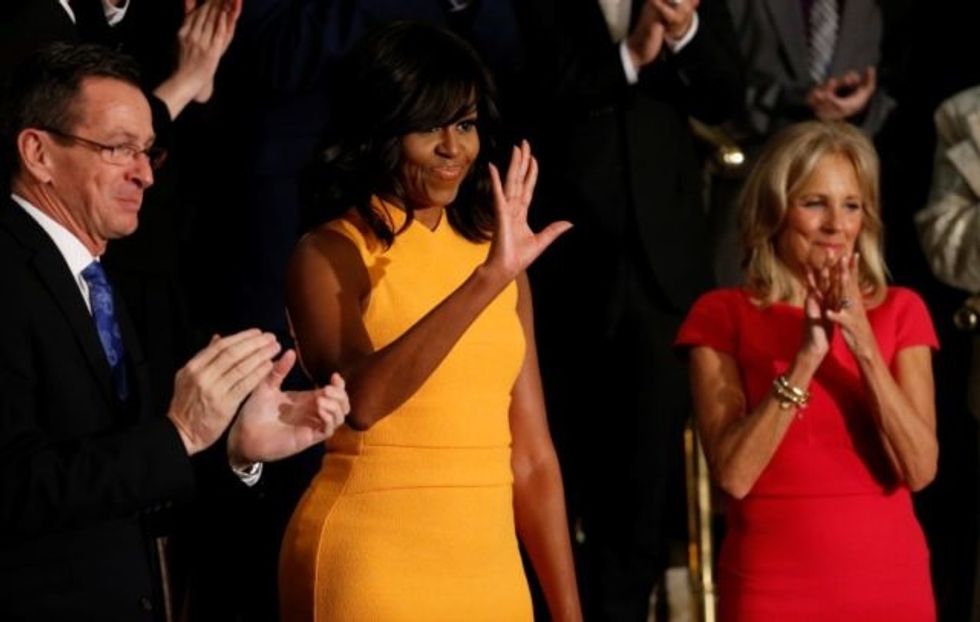 Reprinted with permission from AlterNet.
Minnesota Republican Senate candidate Karin Housley is facing fresh scrutiny for comments she posted to Facebook in 2009, in which she compared former First Lady Michelle Obama to the chimpanzee from the 1951 Ronald Reagan film "Bedtime for Bonzo" following Michelle's meeting with Queen Elizabeth II.
"Michelle is soooo far from cool. Don't we expect our First Ladies to at least stand up straight? (And my dear sister, know the proper etiquette and DO NOT TOUCH THE QUEEN!)," Housley wrote in postings revealed by the Huffington Post on Monday. "I do miss Nancy Reagan. Ronald even more. Speaking of Bedtime for Bonzo, I think even that chimp stood up straighter than Michelle. Uh-oh, someone is going to make a comment."
Housley spokesman Jake Schneider refused to apologize when reached for comment by the Huffington Post. "It's not surprising the Huffington Post—basically an extension of the Democratic Party—would do Tina Smith's dirty work for her. This is what the radical left does when they are losing—they attack Republicans so they don't have to come up with solutions to the problems Minnesotans are facing."
Comparing African-Americans to apes or monkeys is a common racist trope based on a supposed resemblance, and on the fact that many African cultures live alongside the great apes. During the slave era, it was a handy way of pretending black people were less evolved and thus less deserving of basic rights and freedoms.
Controversies over racist simian references have been commonplace in this year's election. Florida gubernatorial candidate Ron DeSantis has been on the defensive ever since he said Florida should not "monkey this up" by electing his Democratic opponent Andrew Gillum, the first black man to win a major-party gubernatorial nomination in the state. And Carla Maloney, secretary of the Republican Committee of Beaver County, Pennsylvania, resigned after social media posts were revealed in which she called black NFL players kneeling for the national anthem "baboons."
Moreover, Housley has a history of ugly personal attacks on social media. On another occasion in 2009, she referred to then-Secretary of State Hillary Clinton as a "porker in a royal blue pantsuit."
Housley, a Minnesota state senator, is challenging Democratic Sen. Tina Smith, a former Planned Parenthood executive and lieutenant governor who was appointed to the Senate after the resignation of Al Franken. Minnesota is one of two states this year which have a "double-barrel" Senate election; Democratic Sen. Amy Klobuchar is also facing off against state Rep. Jim Newberger.
Polls have consistently shown Smith leading Housley in her Senate race, with the most recent NBC/Marist survey giving her a 16-point lead.
Matthew Chapman is a video game designer, science fiction author, and political reporter from Austin, TX. Follow him on Twitter @fawfulfan.