GOP Senator Nails Trump Judicial Nominee On Women's Equality
@alexvhenderson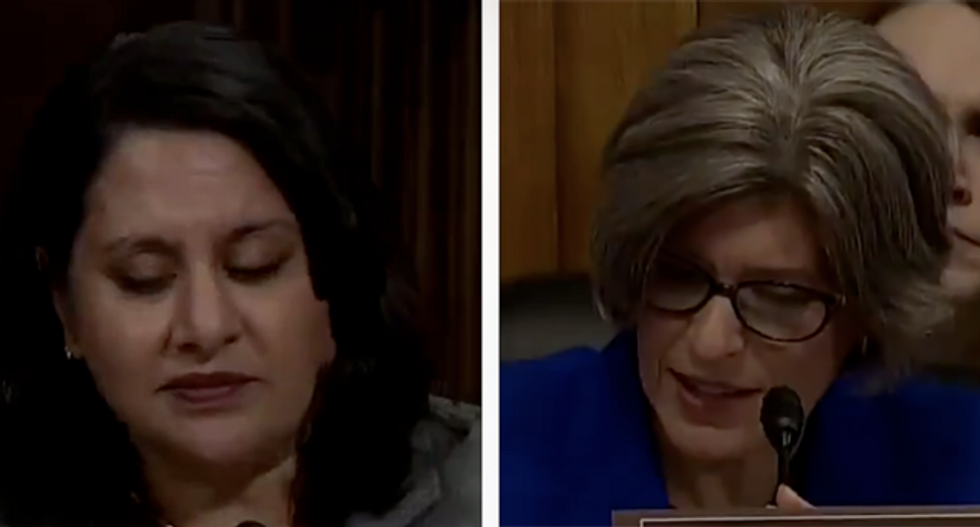 Reprinted with permission from AlterNet.
When Justice Brett Kavanaugh was confirmed to the U.S. Supreme Court after a contentious battle in the U.S. Senate, President Donald Trump needed a replacement to take over Kavanuagh's seat on the D.C. Circuit Court of Appeals—and he nominated attorney/law professor Neomi Rao. Trump's nominee was questioned by Sen. Joni Ernst during a Senate Judiciary Committee hearing on February 5, and the Iowa Republican asserted that she was troubled by Rao's previous statements on sexual assault.
Ernst (a survivor of sexual assault and domestic violence) told the 45-year-old Rao, "I'm not going to mince words…. I've had a chance to review a number of your writings while you were in college, and they do give me pause—not just from my own personal experiences, but regarding a message that we are sending young women everywhere. And I've said, time and time again, that we need to change the culture around sexual violence—from our college campus to the U.S. Olympic Committee to our military and beyond."
Ernst asked Rao, "Who is at fault in a rape?"—to which Rao responded, "The rapist. The man who commits the rape is, of course, at fault."
Ernst then brought up Rao's past assertions on author Camille Paglia's writings on date rape, noting that Rao wrote that Paglia "accurately describes the dangerous feminist idealism which teaches women they are equal." The senator asked Rao, "Is that a dangerous feminist ideal—that women are created equal?"
Rao responded, "Senator, I very much regret that statement. And I've always believed strongly in the equality of women and men and for equal rights and opportunities for women. I'm honestly not sure why I wrote that in college."
Although Ernst (who was first elected to the Senate in 2014) was fairly aggressive when questioning Trump's nominee, the Iowa Republican has been criticized by feminists more than once for her hard-right views and severe social conservatism. Ernst favors outlawing abortion, opposes same-sex marriage, and has introduced bills to defund Planned Parenthood.
Ernst has also drawn criticism from women's groups for voting to repeal the Affordable Care Act of 2010, a.k.a. Obamacare, which has brought health insurance to millions of low-income women who didn't have it before. And in 2018, Ernst voted for Kavanaugh's confirmation to the Supreme Court despite Palo Alto University psychology professor Christine Blasey Ford's testimony that he attempted to rape her at a party when she was 15 back in 1982.
Ernst is up for reelection in 2020 and is considered to be one of the more vulnerable GOP senators in a swing state. Although Trump won Iowa in 2016, President Barack Obama carried the state in 2008 and 2012.
Watch below:
Pressed on her past comments about racism being a "myth," Rao claims, absurdly, that she was "inspired by Martin Luther King's vision."@SenatorDurbin can't believe it.

"I would really struggle to reconcile what you said about racial oppression as a myth w/the legacy of MLK." pic.twitter.com/pO49jnoXih

— Aaron Rupar (@atrupar) February 5, 2019
Rao says she "very much regrets" writing that the idea that women are equal to men is "dangerous feminist idealism."

"I'm honestly not sure why I wrote that in college," Rao says.

(Where does Trump find these people?) pic.twitter.com/ZNlScPeKWe

— Aaron Rupar (@atrupar) February 5, 2019