GOP Smears Marine Vet Amy McGrath In Close Kentucky Race
@EricBoehlert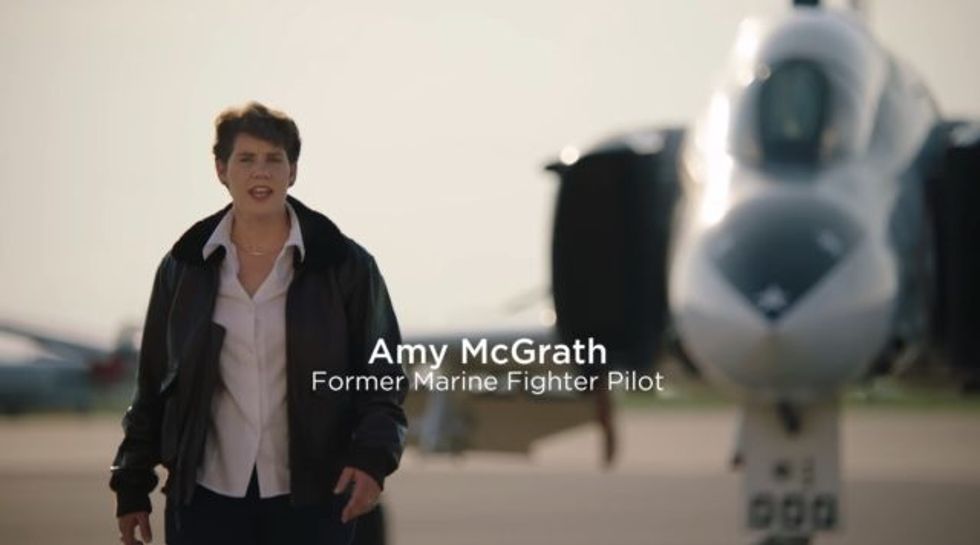 Reprinted with permission from Shareblue.
Registered Republicans in Kentucky are waging a coordinated smear campaign in an effort to derail a Democratic House candidate. Using right-wing talk radio, they're falsely accusing Amy McGrath of misrepresenting her stellar military record.
It's another instance of desperate Republicans trying to launch last-minute attack while Democrats like McGrath make inroads in traditionally Republicans districts.
McGrath is trying to oust Rep. Andy Barr (R-KY), who has been serving in the House since 2013 in Kentucky's 6th Congressional District. Though Trump won it by 15 points, the Cook Political Report currently rates the Republican-held seat a "toss-up."
McGrath's candidacy became something of a Democratic sensation when her first campaign ad went viral in the summer of 2017.
Now, at the eleventh hour, Barr supporters are making ugly claims about the two decades McGrath spent serving her country.
The latest GOP swiftboating campaign suggests McGrath has lied about piloting F-18 fighter jets into combat.
But as the Lexington Herald-Leader notes, the allegation is categorically false. McGrath, the paper points out, "has been consistent about her role in the military and careful to say she was the first woman Marine to fly in an F-18 into combat."
In other words, McGrath has been clear that she was in F-18 jets while they flew into combat, not that she was piloting them at the time.
Indeed, "A Herald-Leader review of McGrath's commercials and many of her public comments found no evidence that she has ever claimed to have piloted an F-18 during combat."
Jon Soltz, the chairman of Vote Vets, dismisses the GOP allegation as "clearly a political stunt."
McGrath is a graduate of the United States Naval Academy. She served in the U.S. Marine Corps as a Weapon Systems Officer for the F/A-18D Hornet.
She later flew combat missions in Afghanistan as part of Operation Enduring Freedom, then completed a second tour in the Iraq War.
She retired from the Marine Corps in 2017 as a Lieutenant Colonel.
McGrath's distinguished military career has at times bedeviled Barr during the campaign.
This summer, he compared his time earning six-figures in Congress with McGrath's time as a Marine. "We both served our country," he stressed. "I've served in a position where ideas matter. My opponent has served her country in the military, where execution matters."
The last-minute attack on McGrath appears to be part of a larger trend with Republicans trying to besmirch the military service of Democratic candidates.
In Minnesota, Republicans supporting Jim Hagedorn, who never served in the U.S. military, are attacking Democrat Dan Feehan, who served two tours in Iraq and won a Bronze Star, for not being a "real patriot."
For Republicans, patriotism now seems to mean trying to smear U.S. veterans.
Published with permission of The American Independent.