GOP Still Silent On North Carolina Vote Fraud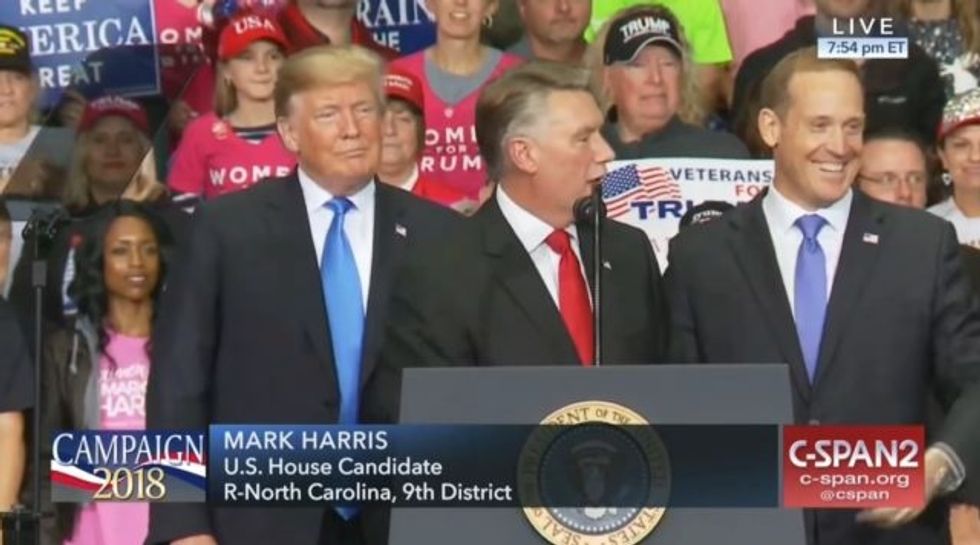 Reprinted with permission from Shareblue.
The entire Republican Party machine — from Trump to Congress to Fox News — is refusing to acknowledge evidence of rampant election fraud in a North Carolina congressional race.
There are serious and credible reports that in at least one county, an operative working for Republican Mark Harris' campaign ran a systemic fraud campaign in which absentee ballots belonging to real voters were either filled in with fake votes for Harris, or thrown away if they had already been filled in for Democrat Dan McCready.
The evidence of this fraud is so strong that the North Carolina State Board of Elections is refusing to certify results that would give Harris a victory over McCready in the 9th Congressional District. House Democrats are even considering refusing to seat Harris in the new Congress unless the controversy is resolved.
But after years of hyping the completely imaginary "threat" of in-person voter fraud, Republicans have suddenly gone silent about the very real election-rigging on their own side.
Trump hasn't discussed the 9th District election at all, even though he often uses his Twitter account to push nonsense conspiracy theories about election fraud.
Neither has Mike Pence, even though his wife campaigned on behalf of Harris in October.
The National Republican Congressional Committee (NRCC) did not respond to multiple requests for comment on the election fraud from Buzzfeed. The Republican National Committee also didn't respond. The Congressional Leadership Fund, the super PAC led by Speaker Paul Ryan, has not been involved in the race, and Ryan's office declined Buzzfeed's request for comment.
And the Republican Party's all-but-official propaganda arm, Fox News, has done all it can to avoid reporting on the very credible allegations of GOP election fraud in North Carolina. On the rare occasions that the scandal was even mentioned, Fox has shamefully minimized it and told lies about Democrats doing something similar.
For years, Fox has banged the drum on bogus claims of voter fraud whenever such allegations seemed likely to help Republican candidates.
But now that Republicans might have committed real election fraud in North Carolina, Fox has chosen instead to report on topics like toy bananas, a teacher who told children Santa isn't real, and the reunification of the band Hootie and the Blowfish.
In-person voter fraud, the kind Republicans love to fearmonger about, almost never happens. But election fraud, like the illegal harvesting of absentee ballots that's alleged in North Carolina, can and does happen.
Rep. Gerry Connolly (D-VA), ranking Democrat on the House Oversight Committee is now calling for an emergency hearing on the race.
"Votes have been stolen by preying on senior and minority voters, and now a cloud of doubt and suspicion hangs over this election result," Connolly said in a press release.
But it's not clear yet whether Rep. Trey Gowdy (R-SC), the outgoing Oversight Committee chair, will agree to hold a hearing before the end of the current session.
Republicans just don't want to talk about their own party's alleged attempt to commit election fraud, nor do the vast array of organizations designed to help Republicans win elections.
The silence is complete, and the cynicism is obvious.
Published with permission of The American Independent.