GOP Voter Suppression Continues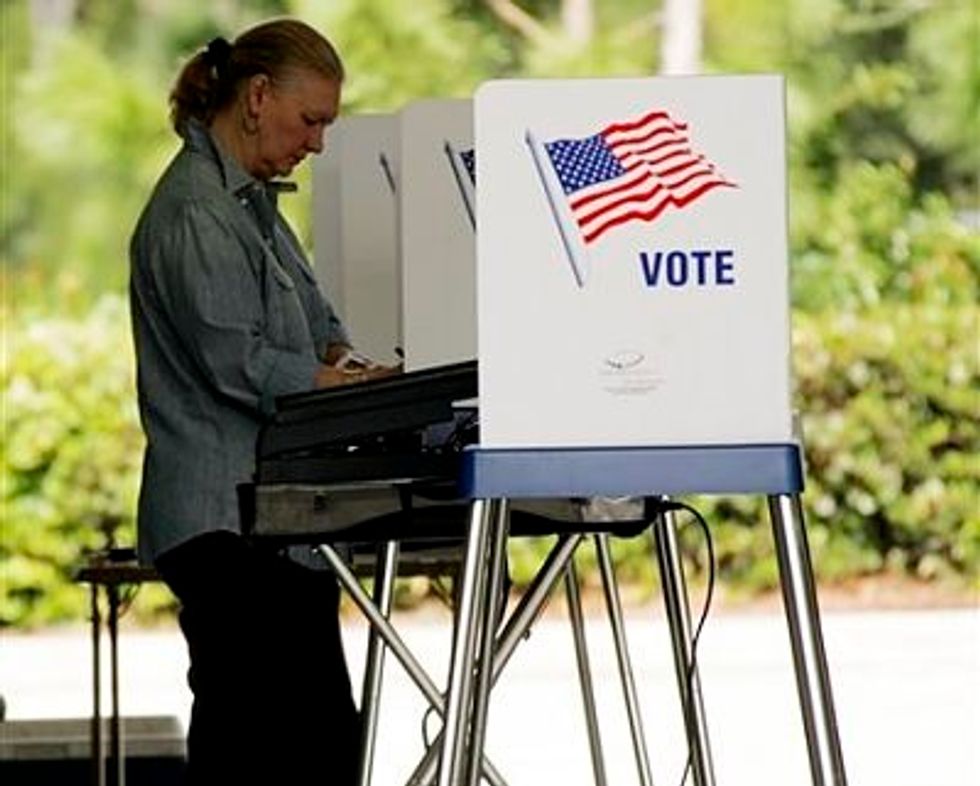 It really is no secret that Republicans want to make it harder for people to vote. Some are even upfront about it.
In 2011, Mike Bennett, then a Republican senator from Bradenton, Fla., told his colleagues during a debate on an elections bill that voting shouldn't be easy: "The [African] people in the desert, who literally walk two and three hundred miles so they can have the opportunity to do what we do, and we want to make it more convenient?" (His Africa comments were rated a "Pants on Fire" falsehood by PolitiFact.)
Well, Bennett got his wish. In 2012, Florida voters resembled those in the Third World. In a disastrous election that caused President Barack Obama to remark that, "we have to fix that," people in Miami-Dade County waited up to seven hours to vote during a contracted early-voting period prescribed by that 2011 election bill that became law. On Election Day, some voters were in line past midnight. And get this, Bennett is the newly elected supervisor of elections in Manatee County and has since defended the law.
Then there's Charlie Webster, who was Maine's GOP chairman when he made the paranoid charge last year that the state should repeal Maine's same-day registration because it's "how the Democrats have managed to steal elections." Webster's deluded assertion to the Portland Press Herald was that Maine's same-day voter registration allowed Democrats to bus in "Job Corps people," referring to a federal job training program for low-income young people. "[Democrats] move 'em around to wherever they have a tough seat," Webster claimed.
Equal frankness came from New Hampshire Republican lawmaker William O'Brien, who, as state House Speaker last year, pushed for a law to end the state's same-day voter registration and prohibit most college students from using their school addresses to vote. He was caught on tape telling a Tea Party group that the change was needed because young people end up "voting as a liberal." The effort failed.
Since the midterm elections of 2010, almost every state where Republicans took political control made a concerted push to make voting harder for groups whose demographics lean Democratic, such as minorities and college students. Republicans publicly claim the rules are to prevent voter fraud — a problem that essentially does not exist for in-person voting. But Jim Greer, the disgraced and indicted former Florida Republican Party chairman, admitted that Florida's early voting limits were to tamp down Democratic votes, not due to any problem of voter fraud.
According to the Brennan Center for Justice, a nonprofit group specializing in election issues, no fewer than 25 new laws and two executive actions were passed in 19 states over the last two years to make it more difficult for eligible Americans to vote. Courts came to the rescue by blocking many of the most restrictive laws. But these aggressive state efforts to reduce voter registration, contract early voting and raise burdensome voter ID requirements show the states can't be trusted. For the integrity of America's democratic process, these efforts warrant a national response.
America needs to modernize and standardize elections by passing a new "motor voter"-type law. That law passed in 1993 to expand the franchise by telling states to make voter registration available in DMV and social services offices.
Currently in the U.S. Congress, the Voter Empowerment Act is a 21st-century fix to our election mess. Among other advances, the VEA would automate voter registration in a way that could bring more than 50 million additional eligible voters onto the rolls, while saving millions of dollars and reducing opportunities for fraud, mistakes and manipulation. Voters would stay registered even if they moved, since registration updates could be instantaneous.
But with Republicans committed to blocking efforts to make voting easier, the VEA is DOA. Unless Democrats regain control of the House of Representatives and retain the Senate, there is no reason to hope that our elections will improve.
(You can respond to Robyn's column at blumner@sptimes.com.)
(c) 2012 Tribune Media Services, Inc.
Photo credit: AP/J. Pat Carter, File