The GOP's Tax Cut Bonanza Is A Major Attack On Medicare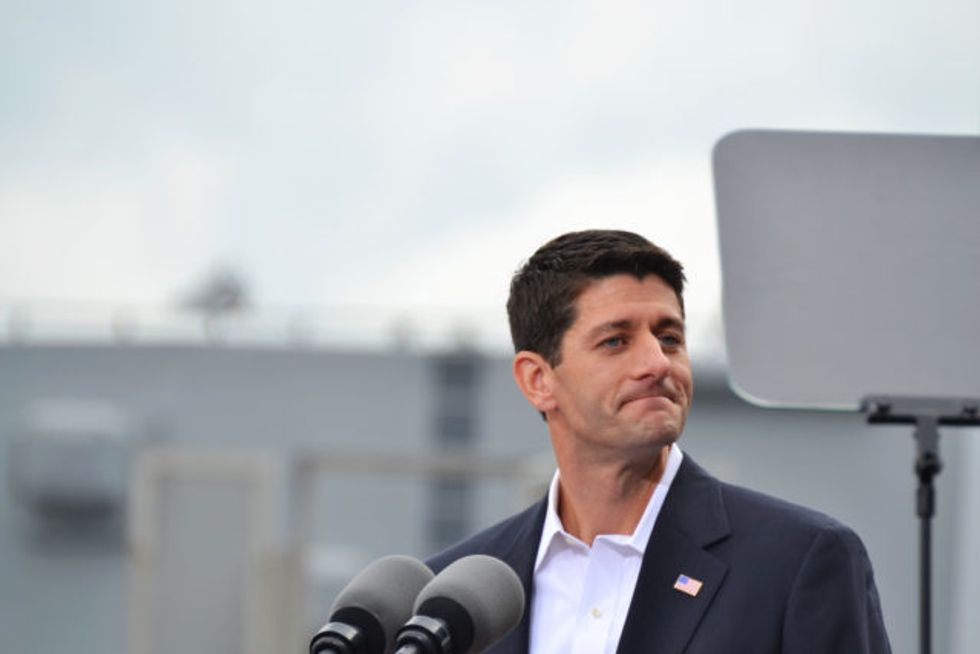 Reprinted with permission from AlterNet.
Do you trust Paul Ryan to protect your Medicare benefits? How about White House budget director Mick Mulvaney, a former member of the House Freedom Caucus, and like Ryan, a longstanding foe of Medicare?
If the just-passed House tax bill, its Senate counterpart or some compromise of the two is signed into law, the enactment will put Medicare's future in the hands of Ryan and Mulvaney.
According to the Congressional Budget Office, the GOP tax bill will instantly trigger $400 billion in automatic cuts to Medicare in the next 10 years, including $25 billion in the first year after enactment alone.
These cuts are the result of a law known as Statutory PAYGO. That law requires an automatic cut in spending when Congress increases the deficit. The tax bill is, in Donald Trump's words, "a big, beautiful Christmas present"—for Trump's family and other billionaires. If the Republicans are successful in passing a tax bill that increases the deficit by $1.5 trillion, as they intend, the provisions of PAYGO will be activated.
To be clear: If the tax bill passes the Senate and is signed into law by Trump, nothing more needs to be done to cut Medicare. If the House and Senate do nothing, the cuts take effect immediately after the end of the congressional session and get bigger every passing year. A vote for this tax bill is a vote to cut Medicare.
These Medicare cuts could be waived if a majority of the House and 60 senators vote to do so. But given the Republican hostility to Medicare, together with Social Security and Medicaid, not acting and then blaming an Obama-era law is much more likely. Paul Ryan readily admits that he has been dreaming of cutting Medicare, Medicaid and Social Security since he was a college student "drinking out of kegs." There's no way he would pass up such a golden opportunity.
The law gives the White House Office of Management and Budget the exclusive power to determine how to implement the Medicare cuts. The head of that office is Mulvaney, a self-described "right-wing nutjob" and anti-government zealot who shares Ryan's desire to cut and destroy Medicare, Medicaid and Social Security (along with just about every other non-defense government program). Passing this tax bill gives him the power to decide how to cut Medicare. Given his desire to destroy Medicare, he is likely to implement the most destructive cuts possible.
Statutory PAYGO is a law that never should have been passed. It makes it much easier for Congress to force cuts to vital programs like Medicare by passing unrelated bills which then need to be offset. But that said, just like the similarly misguided debt limit that Republicans regularly use for hostage taking, it is the law of the land.
That means every House member who voted for the tax bill voted for a massive cut to Medicare. Every senator who votes for the Senate counterpart will be responsible as well. The American people must hold them accountable for it.
That accountability starts by putting relentless pressure on senators ahead of their vote on the bill, which is scheduled for the week after Thanksgiving. Now is the time to hold huge protests outside the offices of Republican senators, demanding that they vote no on a bill that would gut Medicare to pay for an unconscionable tax giveaway to the wealthy. If senators are making any public appearances such as marching in a Thanksgiving parade, they need to be faced with a large and angry crowd.
The tax bill is one enormous attack on our health. It takes away the ability of those with large health care costs to deduct those costs from their taxes. It repeals the part of the Affordable Care Act that seeks to make health insurance affordable. The consequence of that is $185 billion less in health insurance subsidies and $179 billion in Medicaid cuts. All so Republicans can shower huge tax giveaways on their wealthy donors. And those tax giveaways trigger automatic cuts to Medicare.
The Republicans are trying to enact this assault on our health care as rapidly as possible while the American people are distracted by the holiday season. When health care premiums go up, when Medicare gets cut, and when Medicaid gets cut, they will blame Obamacare—even though that is a shameless lie.
We cannot let them get away with this. Defeating this anti-health monster is essential. Since last January, Trump and his congressional allies have engaged in a nonstop war—a war on seniors, on people with disabilities, on children with pre-existing conditions, on everyone but the plutocrats.
The plutocrats have the money. But we have the numbers. If we stand together and continue to resist, we will win.
Write to your Members of Congress and demand they vote no on the Trump/Ryan Tax Scam.
Linda Benesch is the communications director at Social Security Works, a national organization fighting to address our nation's retirement income crisis by protecting and expanding Social Security.