Gov. Perry's Legal Team Call Charges 'Outrageous Assault'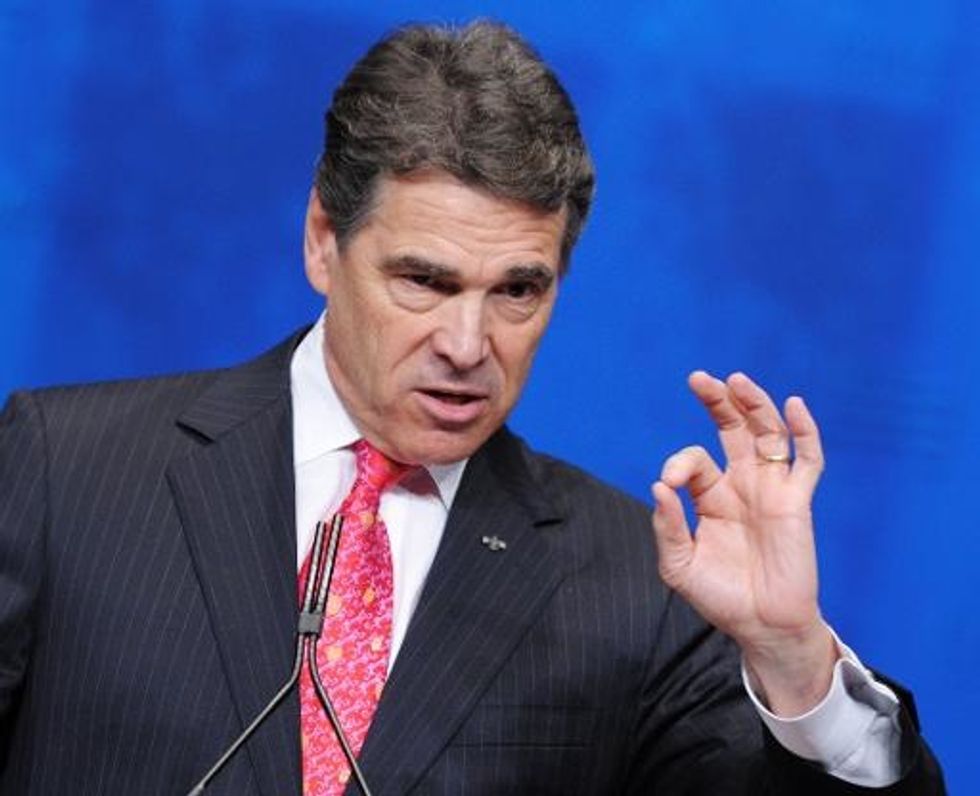 By Christy Hoppe and Wayne Slater, The Dallas Morning News
AUSTIN, Texas — Texas Gov. Rick Perry's team of nationally prominent lawyers previewed his legal and public relations strategy Monday, blasting the coercion and abuse of power charges against him as an "outrageous assault on the rule of law."
The attorneys, in their first appearance, made it clear that they will put the local district attorney on trial.
"This is nothing more than banana republic politics," said Houston personal injury attorney Tony Buzbee, who is leading the legal team.
Perry is accused of threatening to withhold funding last year for an anti-corruption unit overseen by Travis County District Attorney Rosemary Lehmberg unless she resigned. Perry has said he lost confidence in Lehmberg, a Democrat, when she was charged with drunken driving and became belligerent with sheriff's deputies.
She refused to quit, and Perry vetoed the $7.5 million for the Public Integrity Unit, which investigates state officials. But even after the veto, Perry's office continued to try to entice her to step down, promising to restore the funding and to allow her to stay working in another job at the DA's office, according to reporting by the San Antonio Express-News.
The governor's lawyers made clear that Lehmberg's behavior the night of her 2013 arrest would be a big part of their case, playing video of her shouting at officers. Building on his defiant tone after his indictment was announced Friday, they suggested Perry was targeted by political opponents, although a special prosecutor appointed by a Republican judge is handling the case.
"Anybody who saw that tape would have lost confidence in the Travis County district attorney," Buzbee said.
Ben Ginsberg, a veteran GOP lawyer who led George W. Bush's legal team during the 2000 Florida ballot recount, said that he has seen "a lot of cases that go beyond the pale. This goes furthest beyond the pale of any I've seen in my time."
Democrats contend Perry wanted her out so his own appointee could control the Public Integrity Unit and shut down an investigation into a cancer research institute, which Perry had championed. They said Perry's attorneys were trying to hide the real issue _ that the governor used public money to try to coerce an official.
"We didn't expect Governor Perry to take responsibility for his actions, but smearing Rosemary Lehmberg and complaining the indictment was political does not answer the charges," said Joe Deshotel, a spokesman for the Travis County Democratic Party. "Perry's defense by character assassination and deflection may work in the court of public opinion, but it won't work in a court of law."
Perry is expected to be arraigned this month on the two felony charges, which could bring a sentence of more than 100 years in prison. And while he will have to be booked and have a mug shot taken, he's not expected to have any restrictions on travel. He's been building toward another run for the GOP nomination for president and is scheduled to appear in Washington, New Hampshire, and South Carolina this week and next.
Since the charges were announced, Perry has taken to friendly media outlets to try to build support among Republican politicians and conservative voters. He told conservative radio host Erick Erickson, an influential tea-party blogger, that he is a victim of "a prosecutor run amok."
"These are the types of things we would expect in the old Soviet Union, not the United States of America," he said.
Prosecutor Michael McCrum, a San Antonio lawyer, was not available for comment Monday. He has little history of public partisanship, and he has served and been recommended to various posts by prominent Republicans.
Lehmberg's office recused itself from the case, and when Erickson incorrectly said twice that it was Lehmberg who indicted Perry, the governor did not correct him.
Buzbee, who won a $1 billion judgment in the BP oil spill in the Gulf of Mexico, and Ginsberg were joined by Bobby Burchfield, who was general counsel for the George H.W. Bush campaign. Also on the team is former Texas Supreme Court Chief Justice Tom Phillips, who did not attend the news conference, and top Austin criminal attorney David Botsford.
The state is paying Botsford $450 an hour on Perry's behalf — a bill that already has reached $80,000. Attorney General Greg Abbott, who is the GOP nominee to replace Perry, was asked several months ago for an opinion on whether the public should be expected to pay the legal bill, but he has yet to respond.
Buzbee said he expected that part of the new team's fees will come from taxpayers but that a Perry defense fund also will be established.
The governor, whose term ends in January, indicated he's going to push for a quick resolution.
"Hopefully we can expedite this, get it over with and shine the sunshine of appropriate righteousness" on the case, Perry said on the radio show. "We're going to fight it."
AFP Photo/Mandel Ngan
Interested in U.S. politics? Sign up for our daily email newsletter!