Governor Trump? The Donald Floats Another Fake Campaign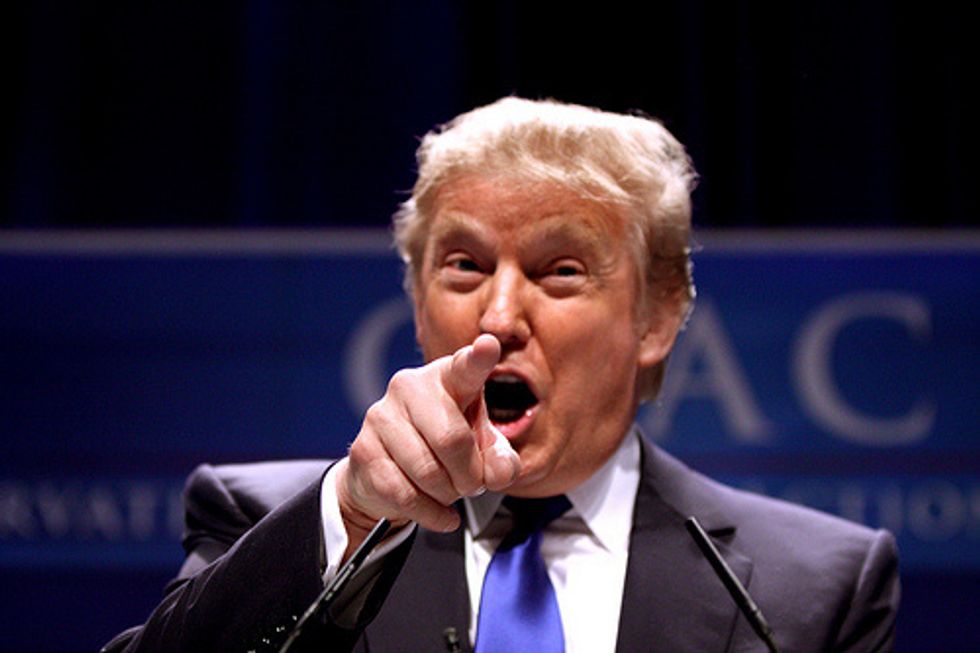 In news that's sure to thrill New York governor Andrew Cuomo, political satirists, and no one else, Donald Trump says he is considering a run for governor of New York in 2014.
Trump made his latest grasp for political relevance during an interview with Fox News' Greta Van Susteren on Friday.
"Are you running for governor? I understand you are meeting with people or have met with people about running for governor of New York?" Van Susteren asked the perennial fake candidate.
"A group of people, a great group, a big group of people, over 50 just came in to my office and I was very honored by it," Trump replied. "As you know, the state of New York is doing very, very poorly. Tremendous unemployment. Tremendous. And the highest taxes in the United States. So, they are talking to me. And I have given them certain ideas and certain parameters. And we will see what happens. But certainly it's something I'm considering and I will make a decision pretty much by the end of the month or early February."
He later added that "If there is unity in the Republican Party, I would do it," echoing his previous assertion that he won't run if he has to face a Republican primary. When pressed, he pegged his odds of joining the race at "50/50."
Of course, Trump — who also expressed interest in running for governor in 2006, and for president in every election since 2000 (he has even spent $1 million "researching" a 2016 presidential bid) — is extremely unlikely to actually mount a gubernatorial run. To this point, he's been unwilling to expose his various business interests to the spotlight that would accompany a serious campaign, and there's no reason to believe that this year will be any different.
But in the extremely unlikely scenario that Trump does decide to run for governor, voters would be even less likely to send him to Albany than they would be to send him to the White House. New York is an overwhelmingly Democratic state, and its voters overwhelmingly support Governor Cuomo (who held a 62 percent approval rating in the most recent poll of his job performance). The notion that New Yorkers would swap Cuomo for a racist, sexist, birther with ties to organized crime (and who last made headlines across the state for being sued over his real estate "university") is laughable.
Even Republicans seem to want little to do with Trump; New York State GOP Chairman Ed Cox responded to the rumors of a Trump campaign by essentially telling him to put up or shut up.
"If Donald Trump is serious about running for governor, he should declare his candidacy, run and go through the process," Cox told the New York Daily News.
Based on the muted reaction to his speech at CPAC 2013, conservative activists have evidently moved on from their shortlived infatuation with the reality TV star as well.
Perhaps there is a small chance that Trump bucks his trend of fake campaigns, and volunteers to get steamrolled by Cuomo. The incumbent Democrat would certainly appreciate the free publicity in advance of a potential 2016 presidential campaign. But until he actually runs for something, Donald Trump is basically just Sarah Palin with a worse haircut.
Photo: Gage Skidmore via Flickr