Governors Take Partisan Parting Shots From White House Lawn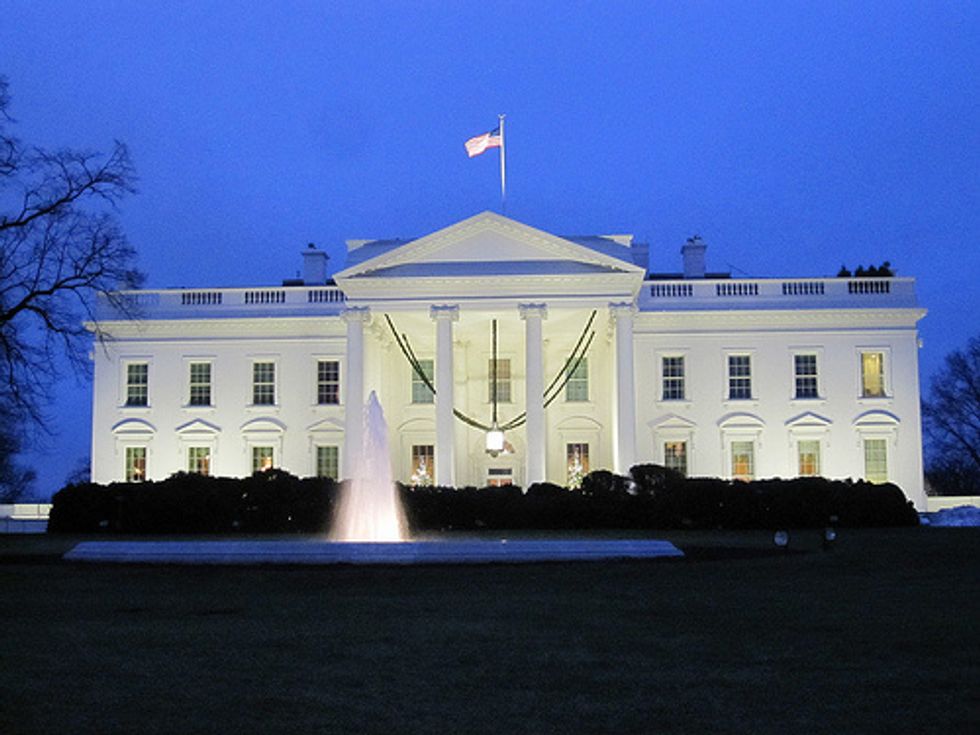 By David Lightman, McClatchy Washington Bureau
WASHINGTON — A genteel weekend of governors' meetings suddenly became a partisan showdown at the White House on Monday, as Republicans and Democrats accused each other of being insensitive and, in one case, criticizing a colleague's remarks as insane.
The governors had just finished an hourlong meeting with President Barack Obama and administration officials. That meeting was described as cordial.
Obama did give the governors a veiled warning that he was prepared to act through executive order on issues not tackled by Congress. "My hope is, is that despite this being an election year, that there will be occasions where both parties determine that it makes sense to actually get some things done in this town," the president said.
"But wherever I can work on my own to expand opportunity for more Americans, I'm going to do that."
After the meeting, Louisiana Governor Bobby Jindal, a Republican, wasn't pleased as he spoke in a driveway outside the West Wing.
He said Obama "seems to be waving a white flag of surrender" and charged, "The Obama economy is now the minimum-wage economy."
The president had continued to push his effort to increase the minimum wage, now $7.25 an hour, to $10.10. Most Republicans weren't buying it.
Democrats quickly fired back.
"I don't know what the heck he was referring to, a white flag?" said Connecticut Governor Dannel Malloy, a Democrat. He added that Jindal's comment was "the most insane statement I've ever heard."
The tone at the meeting itself was respectful. Obama, who annually hosts this meeting on the final day of the four-day National Governors Association meeting, recalled Sunday night's dinner with the executives.
"I enjoyed watching some of you with your eyes on higher office size up the drapes — and each other," he said to a room full of potential 2016 successors.
Throughout their annual gathering, the governors have tried to unify around a host of issues that affect their states, such as more flexibility for implementing Medicaid or keeping a strong National Guard.
Many governors were miffed last year when Pentagon officials weren't present at one of their meetings where the National Guard issue came up. This time, they were more confident they'd continue to get a hearing. Governor Terry Branstad of Iowa, a Republican, said he had assurances that Vice President Joe Biden would follow up.
There was less certainty about the Keystone XL pipeline, which would carry oil from western Canada through the U.S. Midwest to the Gulf Coast.
Republican Oklahoma Governor Mary Fallin, the association's chairwoman, asked Obama about its fate, and was told there would be a decision "one way or the other in a couple of months."
Despite the partisan jabs, governors said there was talk of cooperation inside the closed meeting.
North Carolina Governor Pat McCrory, a Republican, emerged from the White House saying he was pleased to have "an opportunity to have a dialogue," and called the discussions "very general."
Fallin was also diplomatic, noting, "We are divergent on some issues, like health care."
Obama said he understood. "At the state level, you guys are governed by practical considerations," he said. "You want to do right by your people and you see how good policy impacts your citizens, and you see how bad policy impacts your citizens, and that means that there's less room for posturing and politics, and more room for getting stuff done."
The tone this year was driven by a need for help and cooperation on pressing problems such as Medicaid, but also a desire to get re-elected. Thirty-six gubernatorial seats — 22 Republicans and 14 Democrats — are up this year.
Some governors also have their eyes on 2016, but much of the presidential buzz here concerned someone who wasn't around Monday. Republican New Jersey Governor Chris Christie had left Sunday, heading home for his daughter's 18th birthday.
Christie, who Democrats once thought would be their toughest 2016 presidential rival, has been entangled in controversy over the closing last year of lanes to the busy George Washington Bridge. He didn't talk to reporters during the meetings.
And though he's the chairman of the Republican Governors Association, he didn't appear on Sunday network talk shows, as such officials usually do, nor did he appear at the organization's wrap-up news conference Monday.
Photo: Tom Lohdan via Flickr