Grabbing TV Limelight, Giuliani Forfeits Law Firm (And Dignity)
@EricBoehlert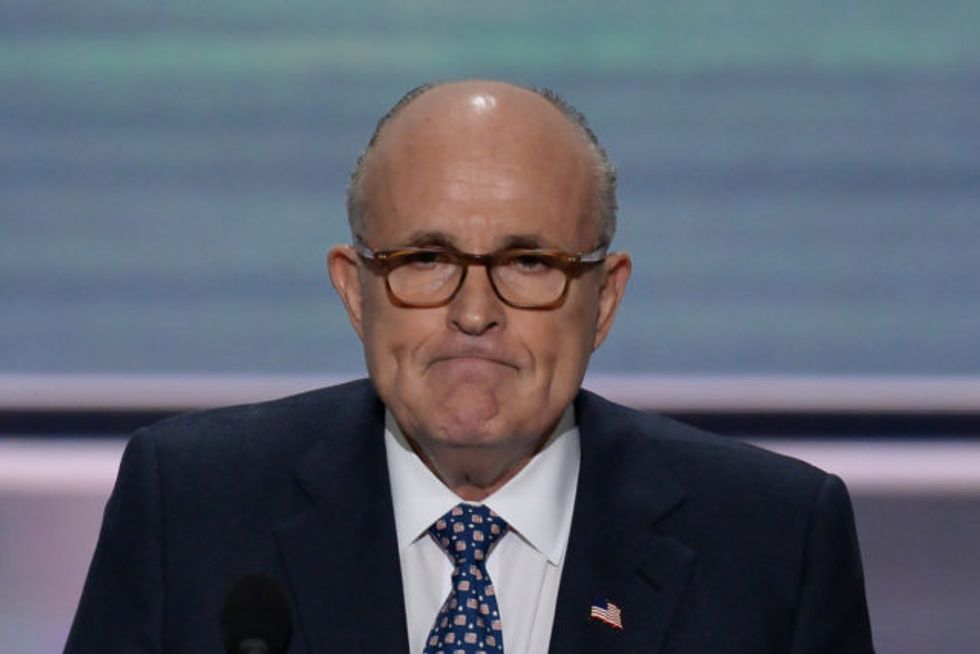 Reprinted with permission from Shareblue.com
Last week Trump mocked his own attorney in public when he suggested Rudy Giuliani would soon get "his facts straight." This week, Giuliani's law firm took its turn making New York City's former mayor look bad.
Somehow, Giuliani seems to be enjoying the legal and political chaos his media tour has created, telling the New York Times that he had "missed" being on television during Trump's first year in office. He's clearly itching to do more TV hits.
But it's likely those at-times baffling television appearances are what cost Giuliani his law job.
By announcing Giuliani's sudden resignation, the firm of Greenberg Traurig, one of the nation's largest, made it clear there was no longer room for Giuliani's freelancing on behalf of Trump.
Specifically, the law firm went out of its way to debunk Giuliani's claim that lawyers often make hush money payment on behalf of their clients without ever informing their clients of the clandestine deals.
Incredibly, that's what Giuliani told Sean Hannity during his how infamous interview two weeks ago, while trying — and failing — to explain the $130,000 hush-money payment that Trump's attorney made to Stormy Daniels on the eve of the 2013 election. "That was money that was paid by his lawyer, the way I would do, out of his law firm funds," Giuliani said on Fox News. He added, "Michael [Cohen] would take care of things like this like I take care of this with my clients."
Not so fast, said the law firm.
"We cannot speak for Mr. Giuliani with respect to what was intended by his remarks," Jill Perry, a spokesperson for Greenberg Traurig, said in a statement to the New York Times. "Speaking for ourselves, we would not condone payments of the nature alleged to have been made or otherwise without the knowledge and direction of a client."
Giuliani was actually hired by Trump to handle negotiations with special counsel Robert Mueller's Russia investigation, the need for a sit-down interview between Trump and investigators. That was before Giuliani became completely entangled in the hush money story.
On the Mueller front, Giuliani's recent spin is making as little sense as his hush-money explanations.
At the time of his hiring, Giuliani bragged that he could wrap up the Mueller negotiations within two weeks.
Now he's claiming the whole thing could drag out for months.
"[W]e're not going to let him make a decision without full analysis, so, I'm sorry, they're just going to have to wait a while," Giuliani told Buzzfeed. "They walked themselves into this by waiting so long."
In truth, Mueller's attorneys have been pressing for an interview since late last year.
But remember what Trump said, Rudy will "get his facts straight" eventually.