Resisting Subpoena, Graham Insists Call To Georgia Officials Was Innocent
@next2godwin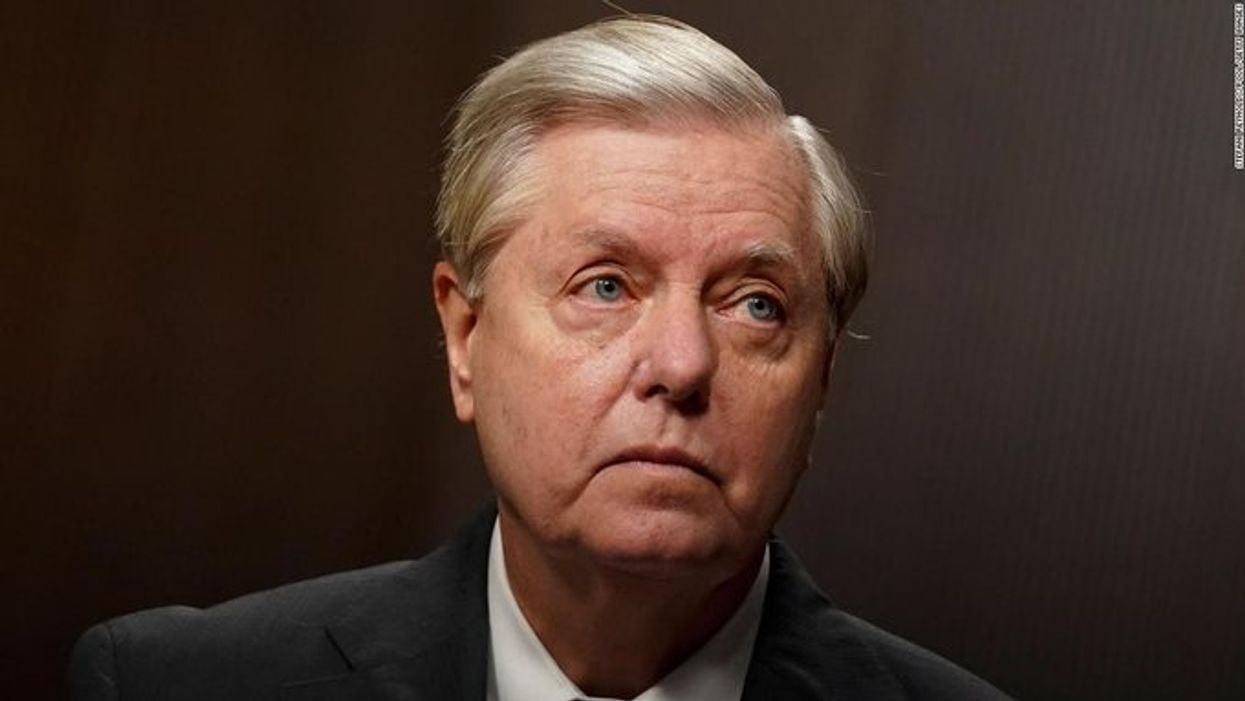 Photo by Kyle Griffin/ Twitter
Barely a day after a stinging loss in a Georgia court, Senator Lindsey Graham (R-SC) is once again before a judge citing "immunity" in an attempt to quash a subpoena demanding his testimony before a special purpose grand jury in Fulton County, Georgia.
The 23-person special grand jury was convened in early May, advancing Fulton County district attorney Fani Willis' criminal investigation into former President Trump's efforts to overturn Georgia's results in the 2020 presidential election.
The special grand jury issued Graham a subpoena on July 5 for two phone calls he allegedly made to Georgia Secretary of State Brad Raffensperger, a Republican, whom Trump would later pressure to "find 11,780 votes" -- enough to undo then-President-electJoe Biden's victory in the state.
Graham's attorneys filed a 13-page motion in a South Carolina federal court, arguing that the Republican senator cannot be compelled to provide testimony to the grand jury in Fulton County because he had "sovereign immunity" under the Constitution of the United States.
In their filing, Graham's attorneys wrote "the Constitution's Speech or Debate Clause protects him from this legal process," and that "sovereign immunity prohibits enforcement of the state court process on him as a federal officer."
"No extraordinary circumstances exist for compelling his testimony," the lawyers also argued.
However, Raffensperger told the Washington Post at the time that Graham had suggested on the call that he throw out legitimately cast mail-in ballots just days after the South Carolinian had, in an earlier phone call, floated the groundless notion that biased poll workers counted ballots with mismatched signatures.
Graham denied making such assertions. "Senator Graham was asking about how the signature verification process worked," a spokesperson for the senator told CNN at the time. However, the subpoena issued to Graham accused the Republican of "reexamining certain absentee ballots cast in Georgia in order to explore the possibility of a more favorable outcome for former President Donald Trump."
In a statement to Fox News, Graham accused Fulton County prosecutors of interfering with his duties as a Senator.
"What I'm trying to do is do my day job," Graham said. "If we open up county prosecutors being able to call every member of the Senate based on some investigation they think is good for the country, we're opening Pandora's Box."
For its wide-ranging investigation into possible criminal interference, the special grand jury subpoenaed several members of Trump's inner circle, including Rudy Giuliani, former Trump lawyer and leader of the ex-president's "Team Crazy" lawyer group; John Eastman, far-right attorney and coup plotter; Cleta Mitchell, a veteran Washington conservative lawyer and eager participant in Trump's coup efforts; and others who lent their efforts to overturning the 2020 elections in Trump's favor.
Graham has so far refused to cooperate with the ongoing investigation into Trump's failed attempt at election subversion in Georgia, blasting the probe as a "fishing expedition" that he'll fight in court.
Shortly after Graham filed his motion, South Carolina federal court Judge Henry Herlong Jr. placed a temporary stay on the subpoena and scheduled a hearing on the senator's motion for July 20. Herlong is a senior judge who was appointed by George H.W. Bush.