Grand Jury Deadline For Sheldon Silver Tests Case's Strength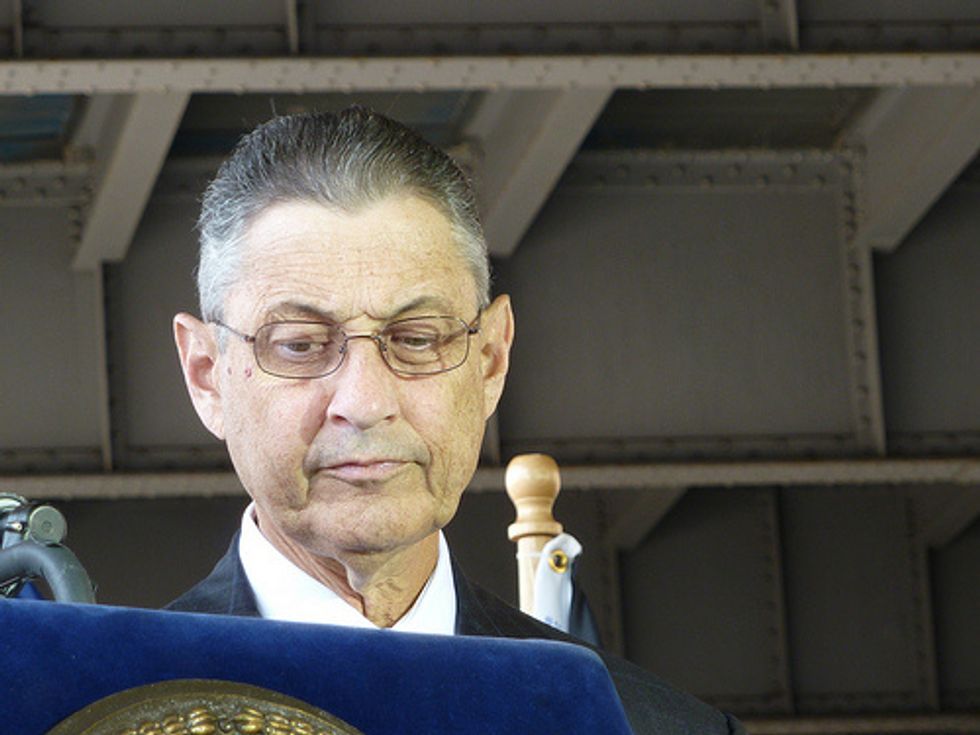 By Patricia Hurtado, Bloomberg News (TNS)
NEW YORK — The fate of Sheldon Silver, one of New York's most powerful politicians until last month, turns largely on whether millions of dollars paid to him by two law firms were legitimate fees or payoffs as he used his Assembly speaker post to enrich himself.
"Were these truly legal referral fees?" asked Anthony Sabino, a business law professor at St. John's University in New York. Or "did he take the money in exchange for an explicit official act?"
How confident prosecutors and Silver are in answering this question may come into play as the U.S. faces a Monday deadline to formalize charges against him with a grand jury indictment.
If Silver fears jurors will find the money was part of a cash-for-favors scheme, he may bargain for a plea deal before the deadline or push for an extension for talks to continue. If Silver believes the evidence will show the payments were legal, he may decide to take his chances at a trial as he seeks to clear his name and perhaps return to his perch atop New York's Assembly.
Silver, 71, an assemblyman representing lower Manhattan who had reigned over state politics since 1994, was arrested Jan. 22 on charges of conspiracy and fraud. He resigned as speaker this month. The case against him stems in part from his part-time job as counsel to New York-based Weitz & Luxenberg PC, which specializes in lawsuits on behalf of workers exposed to asbestos. Silver, like most members of New York's Legislature, was allowed to do outside work while serving in Albany, the capital.
Silver, a lawyer, pocketed almost $4 million in kickbacks from Weitz & Luxenberg and another law firm that sought tax breaks for developers, according to prosecutors.
In response to Silver's requests, a doctor with expertise in asbestos-related diseases routed patients to the law firm, which paid Silver $3 million disguised as referral fees, prosecutors say. In return, Silver later directed $500,000 from a fund he controlled as speaker to a research center established by the doctor. The doctor, who is cooperating in the case, and the law firm were not charged.
In the second scheme, Silver is accused of pointing developers with business before the state to another law firm, which also is cooperating. Prosecutors say the developers paid the firm millions of dollars in fees, the firm secretly routed $700,000 in payoffs to Silver, and Silver shepherded legislation the developers wanted through the Assembly.
Silver did no legal work on any of the cases, according to charges against him. He denies wrongdoing. Silver's attorney, Joel Cohen, declined to comment on the case.
"We believe the jury will find a quid pro quo," U.S. Attorney Preet Bharara said at a Jan. 22 press conference announcing the charges.
The notion of crooked bargains is at the heart of the case.
To convict Silver, prosecutors must prove he awarded state grants and won passage of legislation in exchange for cash, Sabino said. It's not enough to show that Silver pocketed fees without taking some sort of official action in return.
"It has to be a pretty explicit tradeoff," Sabino said. "The government's burden is to demonstrate there was a direct link between what Silver did, acting in his official capacity," and the payoffs he got.
Daniel Richman, a Columbia Law School professor and ex- federal prosecutor in New York, said the government's allegations paint a stark picture of an illicit quid pro quo.
The U.S. in its complaint has laid out a circumstantial case: Silver awarded grants to the doctor 18 months after he began referring clients, and the doctor ceased his referrals when the speaker stopped making payments. Testimony by the doctor is key to the U.S. case, as may be evidence from patients who never spoke to Silver.
"This case is a theory of essentially bribes, kickbacks" in return for "discretionary official acts," Richman said in an interview. "As long as there's an alleged connection between the official acts and promises of official acts, you're well within" the statutes outlawing bribery and extortion, he said.
Susan Necheles, a former prosecutor who has defended political corruption cases, raised doubts about the charges and said they'll fail without convincing proof of a quid pro quo.
"We have a part-time Legislature which is allowed to earn money on the side, even when the people they're earning money from also want political favors from them," she said.
"That's not criminal," she added. "It's just politics."
E. Stewart Jones Jr., a lawyer who last year won an acquittal for former New York Senate Majority Leader Joseph Bruno on corruption charges, said there's nothing illegal about referral-fee arrangements that are disclosed to clients.
"These relationships have existed for decades," he said in an interview. "The lawyers have done nothing but refer a case, and that's been permissible and ethical."
Some fees were not revealed in Silver's case, prosecutors contend.
The case is U.S. v. Silver, U.S. District Court, Southern District of New York (Manhattan).
Photo: Azi Paybarah via Flickr